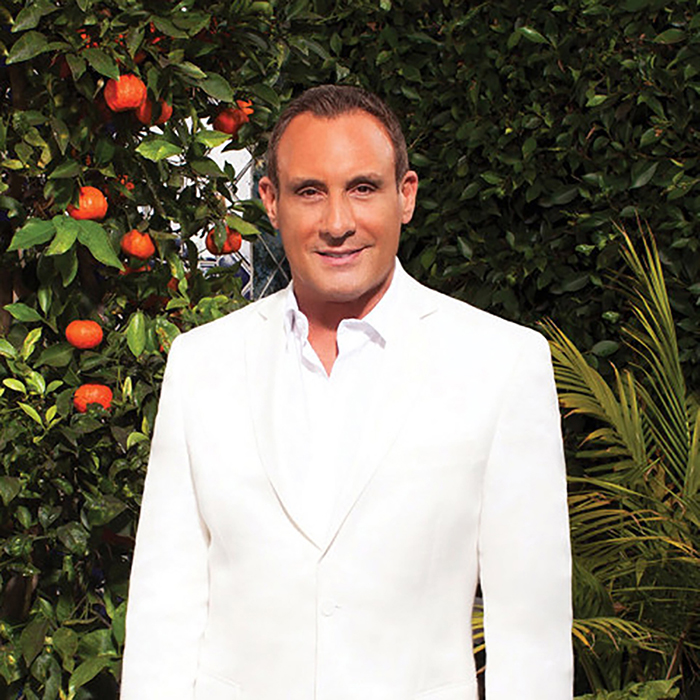 WEST HOLLYWOOD
WHITE PARTY FOUNDER JEFFREY SANKER DEAD AT 65. RIP
Jeffrey Sanker, the CEO and founder of White Party circuit party events, passed away last month. The cause of death according to several sources was liver cancer. He was 65.
"He was an iconic figure in gay history with his creation of the White Party," friend John Duran told WEHO TIMES after learning of his passing. "For many gay men, he created a space for gay men to find their tribe and sexuality. While had his critics, he loved his gay community and left a lasting mark. So many of us found a place to belong because of his vision."
Sanker was credited by the Miami Herald as being "the father of the modern gay event party."
Sanker proudly produced fundraising events on behalf of numerous charities and community organizations, including Gay & Lesbian Elder Housing (GLEH), The Trevor Project, and Desert AIDS Project.
WEST HOLLYWOOD
LADY GAGA HONORED WITH KEY TO THE CITY, THE ABBEY CELEBRATES 30 YEARS
The City of West Hollywood honored Lady Gaga with a Key to the City and presented the pop icon with a proclamation declaring May 23, 2021 Born This Way Day in recognition of the 10-year anniversary of the LGBT+ themed album. A Born This Way Mural was painted on the street on Robertson Boulevard to welcome the singer to the city. Gaga thanked her fans for being warriors and gave a shoutout to Carl Bean a gay preacher who inspired the song. She later danced and sang to her own music at The Abbey Food & Bar with fans and friends. The event coincided  with The Abbey's 30th anniversary. The bar first opened as a coffee shop across the street from its current location on May 23, 1991. CEO and owner David Cooley was presented with Proclamation by the Mayor of West Hollywood, Lindsey Horvath. Guests included fashion designer Calvin Klein, singer Lance Bass and several drag queens from RuPaul's Drag Race.
LOS ANGELES
LA PRIDE ADDS TWO OUTDOOR, IN-PERSON EVENTS
Christopher Street West, the nonprofit that produces LA Pride announced two live in-person events to its monthlong "Thrive with Pride" June calendar. LA Pride goers will be able to celebrate Pride in-person at two events on June 11 and June 26. The first in-person event for LA Pride since 2019 will be June 11 with longtime community partner, the World Series-winning Los Angeles Dodgers. The second confirmed in-person event on June 26 represents a new collaboration with Cinespia, the producers of the legendary Hollywood Forever Cemetery outdoor movies. Film title, event details, and tickets will be announced in the coming weeks. 
---
For up to date info visit: www.lapride.org.
SAN DIEGO
UNIFORMED POLICE OFFICERS NOW BANNED AT PRIDE EVENTS
San Diego is among pride organizers in several US and Canadian cities that will ban LGBT+ police officers from wearing their uniforms during Pride events this summer as anger about police brutality against minorities simmers a year after the murder of George Floyd. A call for Pride events to return to their roots as protest marches against police harassment has forced some organizers to recognize the anti-racism movement triggered by Floyd's murder by a white police officer. San Diego joins NYC Pride, San Francisco and Toronto in their ban of uniformed police officers at their pride events.
PALM SPRINGS
JACKIE BEAT RETURNS WITH "THE HO MUST GO ON" AT OSCAR'S CABARET
Jackie Beat performed for the first time in over a year at Palm Springs. Her one woman show "The Ho Must Go On" sold out for two nights at Oscar's Cabaret on April 24th. The foul-mouthed drag pioneer has been doing the club circuit since. She returns to the desert for another night of drag and live music at Oscars Downtown Palm Springs on June 26. "An Evening with Drop Dead Gorgeous Larger Than Life World Famous Drag Superstar Jackie Beat" is scheduled for June 26.
---
Visit oscarspalmsprings.com for ticket info.