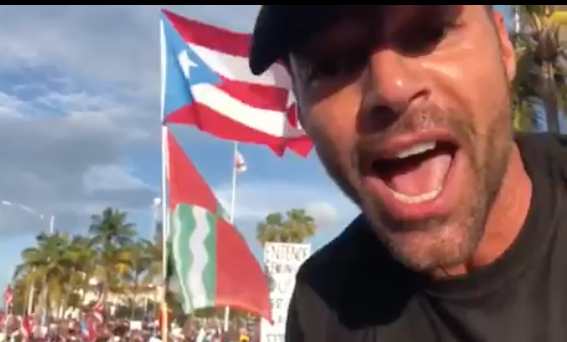 Ricky Martin joined a mass protest in front of the house of Puerto Rico Governor Ricardo Rosselló last night, reports LGBTQ Nation.
Thousands of people protested Rosselló after a set of messages between him and senior administration officials showed him repeatedly using and condoning misogynist and anti-LGBTQ language.
The leaked messages between Rosselló and administration officials showed Rosselló using the word "faggot" repeatedly to refer to political rivals, many of whom are not gay. Officials also referred to rivals as "cocksuckers" and implied that they were gay as an insult.
The messages also targeted Ricky Martin himself at one point. Puerto Rico's chief financial officer Christian Sobrino wrote that Ricky Martin is gay because he's sexist, reports LGBTQ Nation.
"Nothing says patriarchal oppression like Ricky Martin," Sobrino wrote. "Ricky Martin is such a male chauvinist that he fucks men because women don't measure up. Pure patriarchy."
READ MORE HERE:
https://www.lgbtqnation.com/2019/07/ricky-martin-joins-mass-protest-puerto-ricos-homophobic-governor/