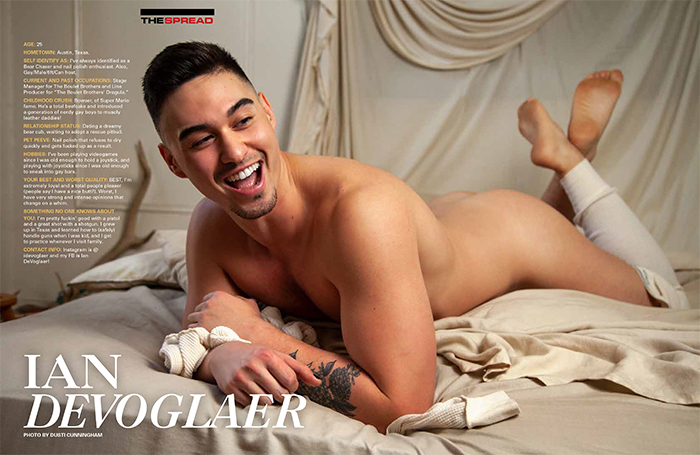 IAN DEVOGLAER
PHOTO BY DUSTI CUNNINGHAM
AGE: 25
HOMETOWN: Austin, Texas.
SELF IDENTIFY AS: I've always identified as a Bear Chaser and nail polish enthusiast. Also, Gay/Male/6ft/Can host.
CURRENT AND PAST OCCUPATIONS: Stage Manager for The Boulet Brothers and Line Producer for "The Boulet Brothers' Dragula."
CHILDHOOD CRUSH: Bowser, of Super Mario fame. He's a total beefcake and introduced a generation of nerdy gay boys to muscly leather daddies!
RELATIONSHIP STATUS: Dating a dreamy bear cub, waiting to adopt a rescue pitbull.
PET PEEVE: Nail polish that refuses to dry quickly and gets fucked up as a result.
HOBBIES: I've been playing videogames since I was old enough to hold a joystick, and playing with joysticks since I was old enough to sneak into gay bars.
YOUR BEST AND WORST QUALITY: BEST, I'm extremely loyal and a total people pleaser (people say I have a nice butt?). Worst, I have very strong and intense opinions that change on a whim.
SOMETHING NO ONE KNOWS ABOUT YOU: I'm pretty fuckin' good with a pistol and a great shot with a shotgun. I grew up in Texas and learned how to (safely) handle guns when I was kid, and I get to practice whenever I visit family.
---
CONTACT INFO: Instagram is @idevoglaer and my FB is Ian DeVoglaer!