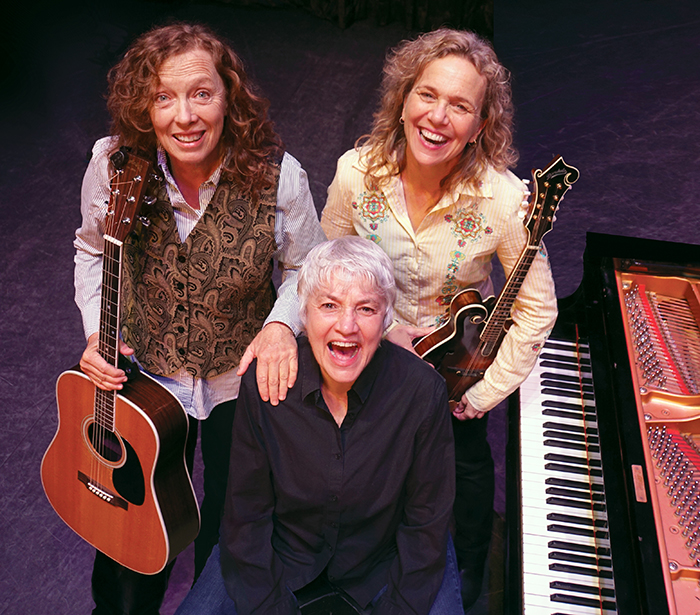 WOMEN IN CONCERT. SEE SUNDAY, SEPTEMBER 30
SATURDAY, SEPTEMBER 8
RUSH—TOM OF FINLAND FOUNDATION 9PM–2AM
Tom of Finland Foundation, 1421 Laveta Ter, Los Angeles, 90026. Tickets & Info: www.labandofbrothers.com/rush-2018. A play party for men presented by the Los Angeles Band of Brothers. Discover the depths of fraternity. Pledging is only the beginning!
MONDAY, SEPTEMBER 10
STANDUP COMEDY WORKSHOP 3PM–5PM
The Village at Ed Gould Plaza, Los Angeles LGBT Center, 1125 N McCadden Pl, Los Angeles, 90038. RSVP: seniors@lalgbtcenter.org. Join Caitlin Durante for another six weeks of her Standup Comedy Workshop. Students will learn the basics of standup comedy and how to perform a short set. 
FRIDAY, SEPTEMBER 14

 
OUT ON MAGIC MOUNTAIN 8AM–11PM
26101 Magic Mountain Pkwy, Valencia, CA. Six Flags Magic Mountain's annual "Out on the Mountain"—the entire park goes gay for the night, which provides an safe and inclusive environment of fun for the LGBTQ community, with rides, dance parties, and performers. 
SATURDAY, SEPTEMBER 15
THE ROCKY LEATHER PORNO SHOW 8PM–2AM
Come up to the lab and see what's on the slab. Hosted by Los Angeles Sisters of Perpetual Indulgence.
FILMS4FAGS—TORCH SONG 7PM–10PM
Tom of Finland Foundation, 1421 Laveta Ter, Los Angeles, 90026. Arnold Beckoff (Harvey Fierstein) is looking for love and acceptance, but as a Gay man working as a female impersonator in 1970s New York City, neither come easily. 
MONDAY, SEPTEMBER 17
JQ LGBTQ+ & ALLY MARCH OF THE LIVING 7:30PM–9PM
JQ International, 801 Larrabee St., #10, West Hollywood, 90069. For more info visit: www.motl.org. The single largest Jewish educational program in the world, bringing together over 12,000 individuals from 50+ countries to experience Yom HaShoah in Poland commemorating the Holocaust, marching OUT of the concentration camps, and then going to Israel to celebrate Yom Ha'Atzmaut.
SATURDAY, SEPTEMBER 22
SOUND OF MUSIC SING-A-LONG 5PM–9PM
Hollywood Bowl, 2301 North Highland Avenue, Los Angeles, CA 90068. UCLA Lambda Alumni Association and Ivy Pride Alliance L.A. present Sing-A-Long Sound of Music at the Hollywood Bowl. 
VANGUARD AWARDS—49TH ANNIVERSARY GALA 6PM–10PM
The Beverly Hilton, 9876 Wilshire Boulevard, Beverly Hills, 90210. Tickets: lalgbtcenter.org/gala. More than 1,000 leaders from the civic, corporate, entertainment, and philanthropic communities celebrate this year's inspirational honorees for their unwavering support of the LGBT community and their dedication to creating positive change in the world. 
SATURDAY, SEPTEMBER 29
2018 LOS ANGELES EQUALITY AWARDS 6PM–11PM
JW Marriott Los Angeles L.A. LIVE, 900 West Olympic Boulevard, Los Angeles, 90015. Equality California's Equality Awards honor the inspirational leaders and organizations whose selfless work helps create a world that is healthy, just and fully equal for all LGBTQ people. 
FILMS4FAGS—BORN TO RAISE HELL 7PM–10PM
Tom of Finland Foundation, 1421 Laveta Ter, Los Angeles, 90026. The standard that all Gay SM films are judged by around the world. The SM is authentic and the men are very masculine, very real. Legendary filmmaker Fred Halsted said, "The best SM film I've ever seen."
SUNDAY, SEPTEMBER 30
CRIS WILLIANSON, BARBARA HIGBIE, TERESA TRULL: THE REUNION TOUR 7PM
Plaza del Sol Performance Hall, CSUN, 18111 Nordhoff St., Northridge, CA 91330.Tickets: Ticketmaster https://tinyurl.com/ybugc9x5 and CSUN box office 818-677-3000. This power trio of Women's Music brings an evening of rollicking music and friendship. Gutsy blues/rock vocal dynamo and songwriter, Teresa Trull; Grammy-nominated multi-instrumentalist and singer, Barbara Higbie; and the iconic singer/songwriter Cris Williamson, bring a mixture of brand new material and old favorites to the stage—for a deep, joy-filled musical event. 
---
The
Resources
AIDS PROJECT LOS ANGELES
611 S. Kingsley Drive, Los Angeles, CA 90010.
www.apla.org. (213) 201-1600. 
ASIAN PACIFIC AIDS INTERVENTION TEAM
605 West Olympic Boulevard Suite 610, Los Angeles, CA 90025. www.apaitonline.org. (213) 553-1830. Provides services to all Asian and Pacific Islanders. 
BIENESTAR AIDS PROJECT
4955 Sunset Boulevard, Los Angeles, CA 90027.
www.bienestar.org.
CHILDREN OF THE NIGHT
14530 Sylvan Street, Van Nuys, CA 91411. www.childrenofthenight.org. 800) 551-1300. Shelter for sexually exploited LGBT youth ages up to 17 yrs old.
COVENANT HOUSE
1325 North Western Avenue, Hollywood, CA 90027.
www.covenanthousecalifornia.org. (323) 461-3131. Shelter for youth ages 14-24 yrs old, HIV support, employment assistance, counseling.
GAY AND LESBIAN CENTER OF LONG BEACH
2017 East 4th Street, Long Beach, CA 90814. www.centerlb.org. 
GAY AND LESBIAN CENTER OF LOS ANGELES
1625 Schrader Boulevard, Los Angeles, CA 90028. www.laglc.org. Supports groups, legal help, counseling, HIV+ services, substance abuse treatment and more.
GENDER WELLNESS OF LOS ANGELES
116 North Robertson Boulevard, Suite 702, Los Angeles, CA 90048. www.genwell.org. Counseling for individuals, couples, families coping with gender identity issues. 
JEFFREY GRIFFITH YOUTH CENTER
7051 Santa Monica Boulevard, West Hollywood, CA 90038. www.laglc.org. (323) 461-8163. Drop-in services, support for at risk, homeless trans youth. 
LOS ANGELES FREE CLINIC
8405 Beverly Blvd., Los Angeles, CA 90048. www.sabancommunityclinic.org. (323) 653-1990. 
LOS ANGELES GENDER CENTER
1923 1/2 Westwood Boulevard #2, Westwood, CA 90025.  www.lagendercenter.com. (310) 475-8880. Sliding scale clinic.
ORANGE COUNTY THE CENTER
12832 Garden Grove Boulevard, Suite A, Garden Grove, CA 92843. www.thecenteroc.org.