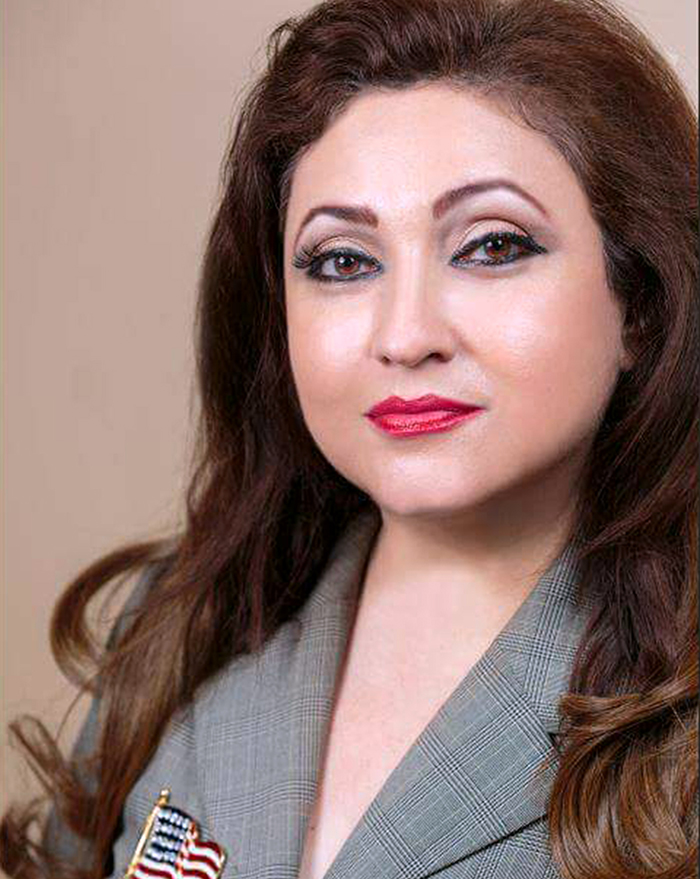 Jazmina Saavedra
LOS ANGELES
Congressional Candidate To Face Investigation After Harassing Trans Woman In Bathroom
The Human Rights Campaign (HRC) and the Lawyers' Committee for Civil Rights Under Law are calling on California's Attorney General to investigate congressional candidate Jazmina Saavedra.
Earlier this month, Saavedra, a candidate for California's 44th Congressional district, posted a Facebook Live video that showed her harassing a transgender woman in a Denny's restaurant in Los Angeles. In the video, she complains about protections for trans people under California's civil rights law. She frequently misgenders the woman and alludes to the fact she had pepper spray and was prepared to use it. The video has since been removed from Facebook.
HRC and the Lawyers' Committee for Civil Rights Under Law believe this incident potentially constitutes a hate crime.
---
WEST HOLLYWOOD
STORMY DANIELS RECEIVES KEY TO THE CITY
Stormy Daniels, the adult film actress, stripper, screenwriter and director who is widely known for her legal dispute with Donald Trump and his attorney Michael Cohen, was presented with the keys to the city of West Hollywood, by newly sworn-in mayor John Duran, who also declared May 22, Stormy Daniels Day. 
Daniels also conducted a meet and greet Chi Chi LaRue's porn shop in West Hollywood, where people lined up for over three hours to take a picture with her. She sold t-shirts from her online store at stormystore.com. She collaborated with her photographer Keith Munyan and his husband J.D. Barrale—two men she refers as her "two gay dads," to create anti-bullying bracelets, #TeamStormy shirts as well as  two other designs that take aim at Trump.
---
LONG BEACH
THOUSANDS ATTEND LONG BEACH LESBIAN AND GAY PRIDE
Thousands gathered for the 35th Annual Long Beach Lesbian and Gay Pride weekend last month. This year's theme  «Remember The Past, Create The Future" brought a collaboration of old and new community partners to make this year a fun and interactive weekend. The event offered a Teen Pride Wonderland, a Family Fun Zone and Senior Fun Zone.
Drag queen Jewels Long Beach emceed the parade that ran down Ocean Drive. She introduced hundreds of organizations, businesses, and politicians who participated in the festivities.
---
ORANGE COUNTY
REPUBLICAN CONGRESSMAN: IT'S OK TO DISCRIMINATE AGAINST GAYS
Rep. Dana Rohrabacher (R-Calif.) told a group of realtors in Orange County last month that homeowners should be able to refuse to sell their property to gays and lesbians, a statement that cost him the support of a key national Realtor group, reported The Orange County Register.
"Every homeowner should be able to make a decision not to sell their home to someone (if) they don't agree with their lifestyle," Rohrabacher told an Orange County Association of Realtors delegation at a May 16 meeting in Washington, D.C.
The statement ignited a protest by a Realtor gay-rights group, prompting the National Association of Realtors to withdraw its recommendation that members send campaign contributions to Rohrabacher.
---
PALM SPRINGS
NEW MURALS CELEBRATING PALM SPRINGS AND THOSE WE HAVE LOST
Artist Juan-Manuel Alonso has created new murals at the LGBT Center of the Desert,l covering two curved walls of the staircases. Between the first and second floor is his depiction of what Palm Springs means to him. There are mountains and a deep blue sky, as well as the bell tower of Desert Regional Medical Center rising above palm trees and buildings, complete with swimming pools.
The wall between the second and third floors reveals five life-size dancers floating in the same deep-blue sky, one for each of the letters L, B, G, T and Q. It's a reminder that although many loved ones might no longer be in our physical presence, our memories keep them alive, and they are still watching over us.
---
For more information, visit www.alonso-art.com.