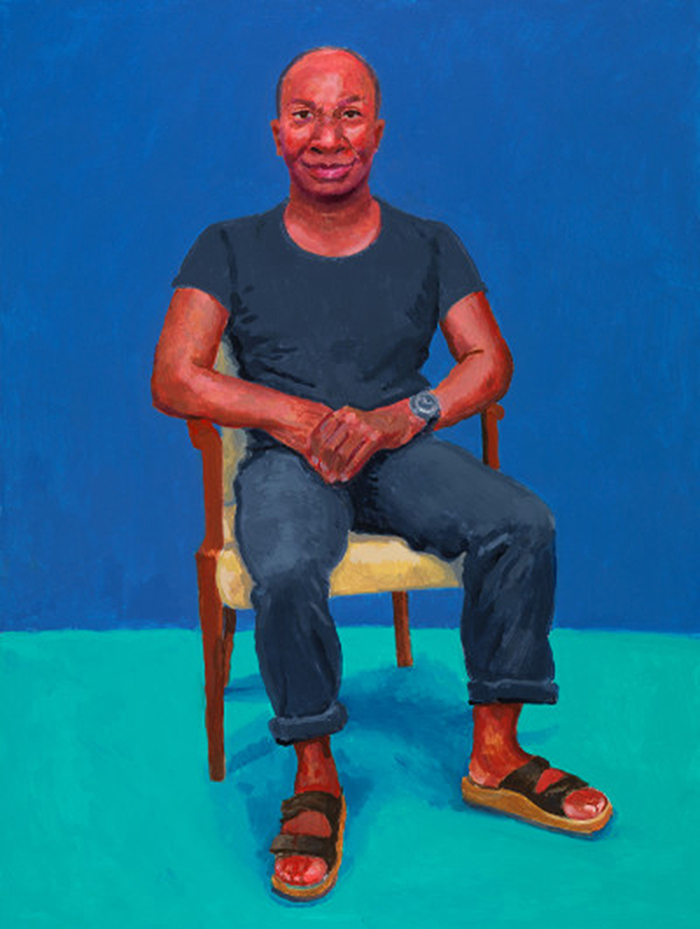 PORTRAIT BY DAVID HOCKNEY. AT LACMA. SEE SUNDAY, APRIL 15.
WEDNESDAY, APRIL 4
DRAG QUEEN BINGO FUNDRAISER
Hamburger Mary's, 8288 Santa Monica Blvd, West Hollywood, 90046. 7pm. WH2O fundraiser for a fun evening of BINGO hosted by glamorous drag queens! A suggested donation of $20 will get you a stack of bingo sheets. They are raising funds for their upcoming competitions at Nationals in Indianapolis and the Gay Games in Paris.
THE L WORD RETURNS TRIVIA NIGHT  
Bar 10, 8933 Santa Monica Blvd, West Hollywood, CA 90069. 7pm-2am. A three part spectacular event at Bar 10 in West Hollywood. Starting at 7pm, 12 lucky people will be able to purchase a walk in ticket for $10. First come first serve!
SATURDAY, APRIL 7
FULL FRONTAL DISCO 9 YEAR ANNIVERSARY
Akbar, 4356 W Sunset Blvd, Los Angeles, CA 90029. 9pm-2am. Midnight Roller Disco Duet with Trey Knight & Kim Manning. Disco Dolls Isreal Zamora & All American Drew. Your Dance Commanders Mario Diaz &N Nelstar. Resident DJs Slash Fiction (Henry Self & Mick Dimaria). $5.
DRAGTASTIC NYC 
The Village at Ed Gould Plaza—LA LGBT Center, 1125 N McCadden Pl, Los Angeles, CA 90038. 8pm. Tickets: www.eventbrite.com. World premier screening. Filmed in 2010 for the Logo Network. There will be live performances by Pandora Boxx, Kelly Mantle and Harmonica Sunbeam along with Q&A with Pandora, Kelly, Harmonica and the film's producer/director Andrea Meyerson.
11TH ANNUAL DON THOMPSON LGBT FILM FESTIVAL 
Ray Stark Theatre—USC, SCA 108, George Lucas Building Lobby, USC School of Cinematic Arts Complex, 900 W. 34th Street, Los Angeles, CA 90007. 2pm-6pm. The festival showcases the work of up-and-coming LGBTQ and ally Trojan filmmakers and has become one of USC Lambda's signature events, with proceeds benefiting the Don Thompson Scholarship in Cinematic Arts.
SUNDAY, APRIL 8
GAY CAMPING 101 & BIG GAY PICNIC! 
Beacon (Echo Park Boathouse) , 751 Echo Park Ave, Los Angeles, CA.90026. 2pm-6pm. Info: www.greatoutdoorsla.org. Great Outdoors LA invites you to join them for an afternoon in Echo Park.
LETTER-WRITING ACTION 
1220 N Highland Ave, Los Angeles, CA 90038. 11am-pm. Info: www.proudout.com/po-event/letter-writing-action/. Organized by the Los Angeles LGBT Center, a letter-writing campaign, urging our California legislators to pass SB 918, creating an Office of Homeless Youth and a $60 Million grant program, and AB2119, clarifying that foster youth have the right to access-gender affirming care.
TUESDAY, APRIL 10
MICHAEL IMPERIOLI 
West Hollywood City Council Chambers, 625 North San Vicente Boulevard, West Hollywood, 90069. 7pm-9pm. Book Soup and the City of West Hollywood's WeHo Reads program present: Michael Imperioli discussing and signing his debut novel, The Perfume Burned His Eyes.
FRIDAY, APRIL 13
14TH ANNUAL TRANSGENDER DAY OF EMPOWERMENT 
San Diego LGBT Community Center, 6pm-9pm. Info: www.sdpride.org/tdoe. Celebrate the rich diversity of San Diego's transgender community. This year's program is will include trans speakers, entertainment, refreshments and community awards.
THE LGBT BAR ASSOCIATION 39TH ANNUAL GALA: ENDEAVOR TOGETHER 
California Science Center, 700 Exposition Park Dr, Los Angeles, CA 90037. 6:30pm-10:30pm. Honors individuals and organizations that have made unselfish contributions to education, human rights, and equality for the LGBT community.
FOXHOLE 
Bullet Bar, 10522 Burbank Blvd, North Hollywood, CA 91601. 9pm-2am. Mr. Bullet Leather Edition. A bathhouse theme party celebrating the golden days. $10 Cover (includes $5 ticket off first drink).
SATURDAY, APRIL 14
MR. BULLET LEATHER CONTEST & CIGAR BAR 2018 
The Bullet Bar, 10522 Burbank Blvd. EAST NoHo CA 91601. 9pm. Find out who will be MBL 2018. Cigar Bar hosted by Master Kevin.
SUNDAY, APRIL 15
LOS ANGELES COUNTY MUSEUM OF ART PRESENTS: DAVID HOCKNEY
LACMA, 5905 Wilshire Blvd., Los Angeles, CA 90036. In 82 Portraits and 1 Still-life, David Hockney offers a vibrant and intimate view of people with whom he has developed relationships over the past 50 years.
AIDS/LIFECYCLE LOTERIA FUNDRAISER
Redline Gay Bar—DTLA, 131 E 6th St, Los Angeles, CA 12:00pm-5pm. A Sunday brunch Loteria in support of AIDS/LifeCycle. Hosted by the fabulous Lola with special guest appearance Bearonce. Brunch 12noon/Loteria 2pm. Raffle, Brunch, Drink Specials and Drag entertainment.
TUESDAY, APRIL 24
SINISTER WISDOM
West Hollywood Library—Council Chambers Auditorium, 625 N. San Vicente Blvd., West Hollywood, 90069. 7pm-9pm. Hear a group of women who have contributed to Sinister Wisdom, A Lesbian Literary & Art Journal that began in 1976 and has been publishing the words/art/images of Lesbians since that time as a non-profit and all volunteer organization.
SATURDAY APRIL 28
L.A. DRAG BECOMES HER 
The Montalban, 1615 Vine St. Los Angeles, CA 90028. 8pm-11:59pm. Info: www.themontalban.com. Peaches Christ Productions & Matthew Herrmann present: DRAG a hi-sterical parody of the '90s legendary comedy "Death Becomes Her."
MEAT RACK 11 YEAR ANNIVERSARY
Eagle LA, 4219 Santa Monica Blvd, Los Angeles. 9pm-2am. Featuring the long-awaited return of DJ TED EIEL with his signature CHUNKHOUSE sound that's defined MEAT RACK since 2007!
FLOW JAM IN THE PARK ECHO PARK
2234 W Temple St, Los Angeles, CA. 1pm-5pm. The LA Sisters of Perpetual Indulgence invite you and your friends for a free community flow event in Echo Park Lake.
SUNDAY, APRIL 29
BEER BUST FOR DYKE DAY LA 2018
Eagle LA, 4219 Santa Monica Blvd, Los Angeles, 90029. 2pm-7pm. Raise money to support the funding of Dyke Day LA.