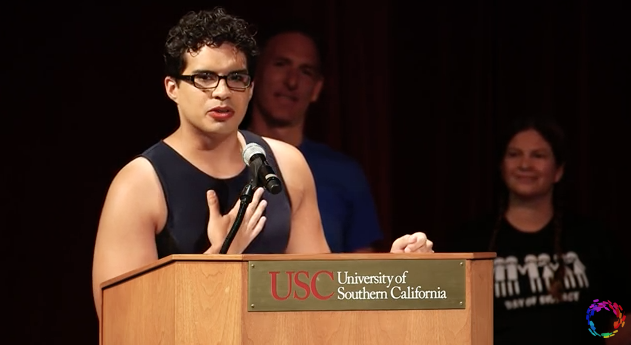 More than 1,400 lesbian, gay, bisexual, transgender and questioning youth (LGBTQ) and their allies from ten dozen cities and more than 200 schools nationwide are expected to attend the Los Angeles LGBT Center's momentous 25th annual Models of Pride conference at the University of Southern California (USC) campus on Sunday, October 29. This year's theme is "Together We Rise."
As the world's largest free conference of its kind, Models of Pride offers a full day of life-enriching programming designed to help young people build confidence and self-esteem and develop valuable life skills. Organized through the Center's LifeWorks youth development and mentoring program, the day also includes more than 100 workshops and presentations, lunch and dinner, resource/college/career fairs, and live entertainment and for all youth ages 24 and under.
Los Angeles City Controller Ron Galperin—the city's first openly LGBT person elected to a citywide position—will present a proclamation commemorating the conference's 25th anniversary. YouTube personalities (and real-life couple) Mark Miller and Ethan Hethcote, will host the conference's popular Entertainment Hour.
"For the past 25 years, Models of Pride has empowered and transformed the lives of tens of thousands of youth who envisioned a better world where LGBT people are healthy, equal, and complete members of society," said Center Associate Director of Education and Youth Development Kevin McCloskey. "Now more than ever is the time for us to unite and rise in celebration of our diversity—in defiance of the forces that seek to divide and weaken us."
In addition to the youth portion of the conference, more than 400 parents, educators, social service providers and other youth-serving professionals will attend workshops tailored to their concerns and interests involving LGBTQ youth. Known as the Parent & Professional Institute (PPI), this full-day program for adults is free and will feature keynote speaker David Windsor, co-creator and executive producer of ABC network's The Real O'Neals. Windsor brings a unique perspective to the conference, having had two incredibly loving and supportive gay dads. He is honored to be able to share stories of the LGBTQ community and foster a dialogue for those who want to be allies. California Sen. Anthony Portantino will greet PPI participants with a welcome speech.
WHAT:                      Models of Pride 25
Celebrating its Silver Anniversary, this free conference will bring
together more than 1,400 LGBTQ youth and their allies for a full day
of life-enriching workshops, panel discussions, a resource fair,
entertainment, and more to help attendees build confidence and self-
esteem and develop valuable life skills.
WHEN:                      Sunday, October 29
7:30 a.m. – 8:30 p.m.
WHERE:                   University of Southern California
Exposition Boulevard and South Figueroa Street
Los Angeles, CA 90089
Parking is available for $10.
Public transit is encouraged. The Expo Park/USC station on the Expo Line is located across the street from campus.
COST:                        FREE
For more information and to register for Models of Pride, visit modelsofpride.org.
For more information about LifeWorks, the Center's youth development and mentoring program, visit lifeworksla.org.