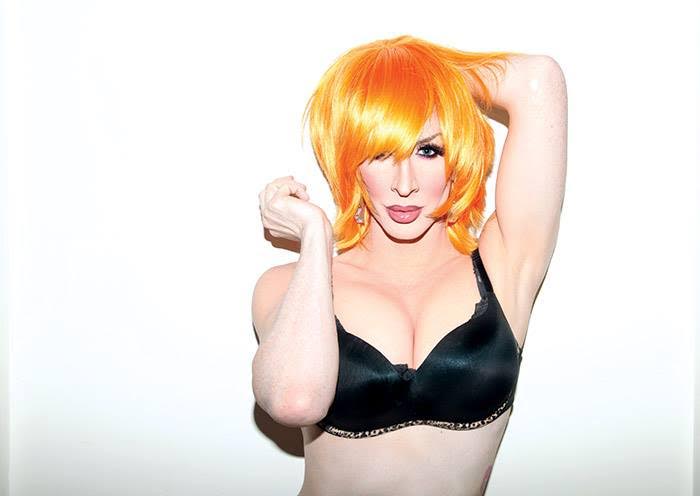 "LE BAL" RETURNS TO THE ACE THEATRE
Friday, March 4th at 9pm at The Theatre at Ace Hotel (929 South Broadway, Los Angeles).  $15 – $40 tickets are available online at www.acehotel.com/le-bal.  For more information, visit website lebalrevue.com.
BY JOE FARAGHER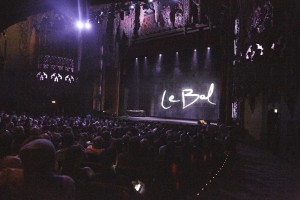 Los Angeles, CA:  On Friday, March 4th, the fabulous art of drag returns to Downtown LA in "LE BAL" at The Theatre at Ace Hotel. Following the success of its fall debut, the next installment in the series is being produced by Cesar Hawas and Carly Usdin with Ace Hotel and presented by men's grooming brand, Dollar Shave Club.
"LE BAL," beyond simply being a night of divine (pun intended) entertainment, makes everything bigger. Drag has traditionally, and fabulously, occupied bars and clubs; although the Ace Theatre certainly has the liquor part covered, the venue itself is large, and the performances must live up to the grandeur of the stage. At the previous "LE BAL," no one seemed to have much of a problem; Mariah Paris Balenciaga and Delta Work stomped the apron into oblivion and snatched our lives with what exists in my mind as high-drag witchcraft. This go-round has a mostly new line-up, though still to be hosted by the immaculate Candis Cayne. I reached out to Raja (as seen at the last "LE BAL" in a technicolor glowing venus flytrap), Detox Icunt and Trixie Mattel for their thoughts on the upcoming evening and drag in entertainment.
What was your first experience in a big theatre? As an audience member? As a performer?
TRIXIE: I remember seeing The Phantom of the Opera at 15 years old. It was my first real immersive big-theatre experience. Being a former musical theatre performer, I've been on many large stages for productions.
Le Bal draws its inspiration from a long history of variety entertainment, but recent projects such as Rupaul's Drag Race have placed Drag in a more long-form narrative style (the characters have story-lines, relationships; we are thinking of these characters as belonging to a bigger story). Do you think Drag will always be primarily variety or do you see your drag taking on more narrative projects?
DETOX: Obviously, performance is a huge aspect of what I do, but I also don't see myself touring constantly the way I am now when I'm older. I'm currently working on a ton of projects that you'll see throughout the year that are, indeed, more on the narrative scope. Luckily, with the success and popularity of RPDR, we're given a platform in which allows us to create more sustainable work and the opportunity to make a lasting stamp on the world of entertainment. And if that doesn't work, you better believe I'll still be doing Mannequin in my 80s…..I'll just be wearing Talbots instead of Mugler!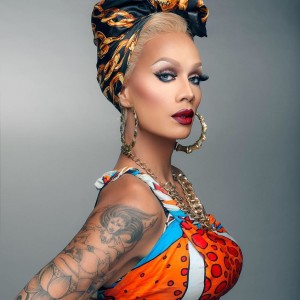 How does your process for putting together a performance change or develop when working in a space as big as the Ace Theatre, versus entertaining in a bar or a club?
RAJA: I estimate attendance, demographics, and what the stage floor is made of. I hate falling in front of an audience.  I love spontaneity in my performances. The size of the stage will dictate my movements and the amount of grandiose I can allow into a gesture. So LeBal will be grand!
There is something undeniably magical about Drag Queens lip synching, but some queens prefer to use the mic. Do you have a preference between live singing, talking, using the mic and lip synching?
TRIXIE: I think of Trixie as a pretty little toy. Like you'd wind Trixie up to make her dance or pull the string on her back to make her say pre-recorded phrases. So for me I prefer to lipsync for my performances.
One goal of "Le Bal," apart from being fabulous, is to take part in bringing Drag to a more diverse, mainstream audience. As Drag comes more into the mainstream, do you see things that emerge such as "Lip Synch Battle," and lip synch battles on Jimmy Falon as a form of cultural appropriation? Or do you see it more as legitimizing lip synching?
RAJA: I see lip synch as fun. Only fun. Pretend, if you will. If anyone has any intentions of appropriating or insulting anyone, that isn't fun. I also believe that over thinking is not fun either. It is merely a pantomime, don't we all love Marcel Marceau? Or puppetry, is anyone mad at Kermit?
Without any spoilers, what can we expect from "Le Bal?"
RAJA: You can expect provocative, mind alterations, and cannabis vapors…I love LA.
DETOX: Well, you'll probably see one of my Le Balls.
Annd if you had to switch wardrobes (wigs included) with one other working drag queen in the world today for two weeks, who would it be?     
DETOX: Raja. She's impeccable and everything will smell like weed. I'm not much of a smoker, but I enjoy the smell!
TRIXIE: I require large, platinum Barbie-blond hair. So I would say Lady Bunny, but… the smell.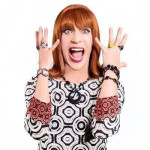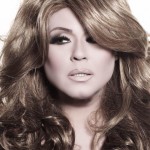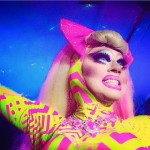 The one-night spectacular will celebrate the evolution of drag by showcasing some of the world's leading performers including Coco Peru, RuPaul's Drag Race season 3 winner Raja Gemini​ and fan favorites​ from the popular television show: Detox, Trixie Mattel and Delta Work."LE BAL" will take place Friday, March 4th at 9pm at The Theatre at Ace Hotel (929 South Broadway, Los Angeles).  $15 – $40 tickets are available online at www.acehotel.com/le-bal.  For more information, visit website lebalrevue.com.