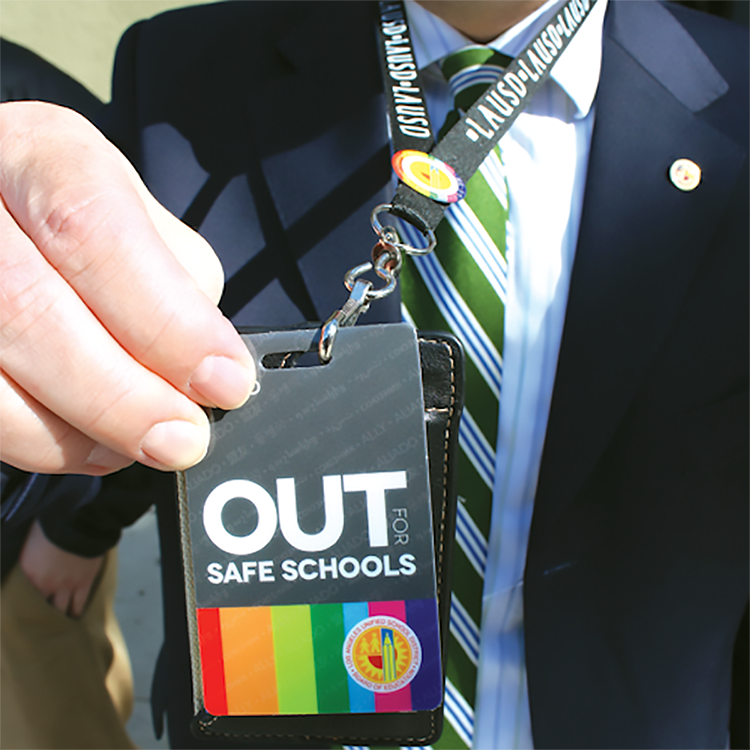 Los Angeles LGBT Center's student safety program goes nationwide.
BY VICTOR MELAMED
A pilot program developed and launched two years ago by the Los Angeles LGBT Center and the Los Angeles Unified School District (LAUSD) with community partners to help make schools safer for LGBTQ students, has proven so successful—with students, teachers and administrators—that it's being adopted by school districts throughout the country with the support of the Center and the Gay-Straight Alliance Network (GSA Network), reaching millions of students.
Since the "OUT for Safe Schools" initiative was launched in the nation's second largest school district in October 2013, more than 30,000 LAUSD teachers and other staffers have been wearing rainbow badges that proudly identify themselves as LGBTQ allies and protectors of students who are LGBTQ.  Now, nine other school districts throughout the country—in New York, Chicago, Boston, San Francisco, Oakland, San Diego, Duval County (Florida), and Washington, D.C.—are adopting the program, reaching more than 2.5 million students (grades K-12).
"Despite increased public acceptance of LGBT people in general, many school campuses remain toxic environments for LGBTQ students, contributing to higher rates of suicide, depression, homelessness and HIV infection," said Los Angeles LGBT Center CEO Lorri L. Jean. "We approached the LAUSD about developing this program to create visible adult allies throughout the entire school system, helping LGBTQ youth feel safe and supported while helping to deter would-be bullies. Now, wherever students look, they're sure to see adults who proudly identify themselves as LGBTQ allies for students."
Staff in all participating districts will be trained by GSA Network staff, with funding from a grant, to improve the campus climate for LGBT students.