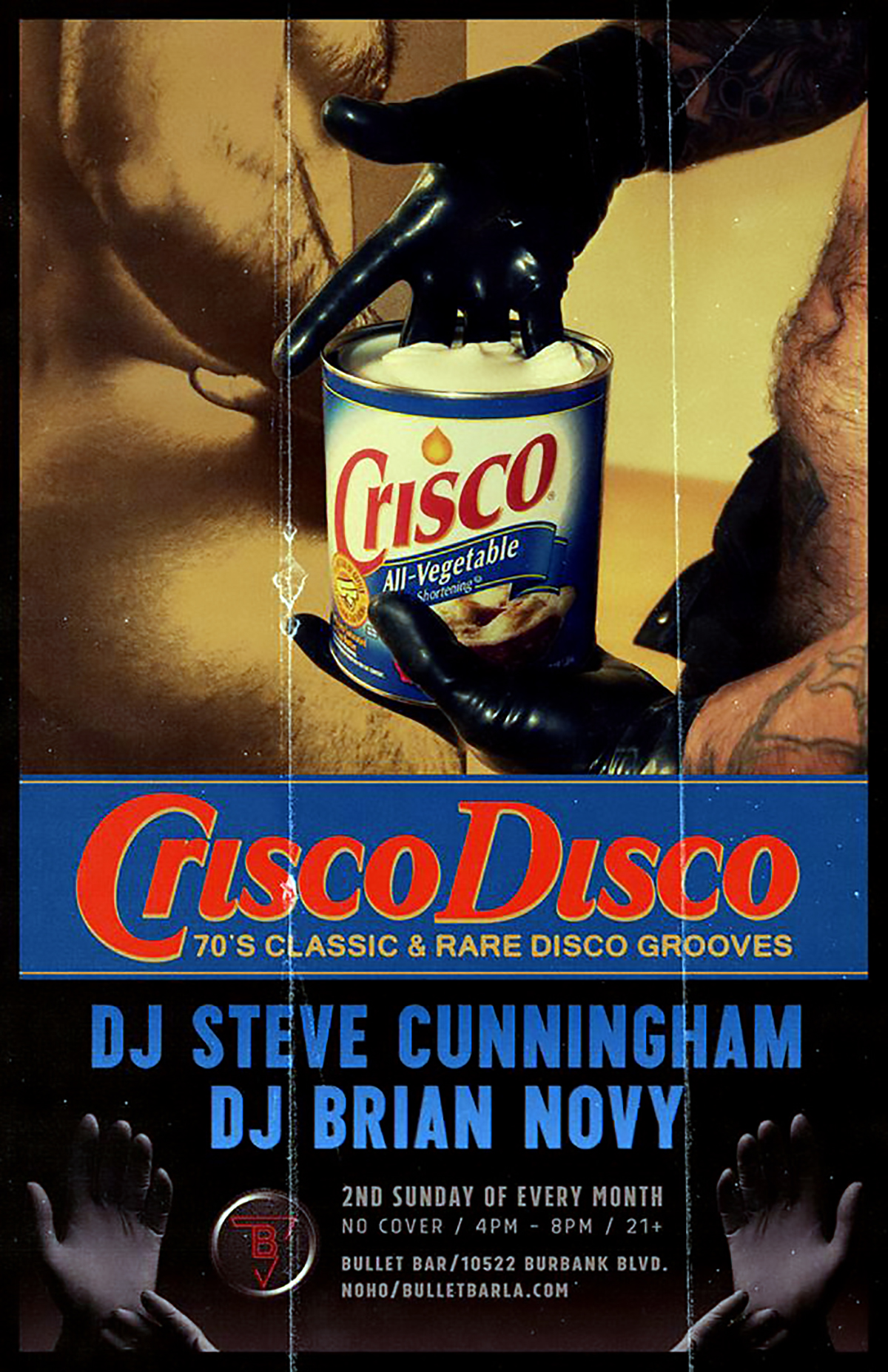 SUNDAY, OCTOBER 11
AIDS WALK LOS ANGELES
West Hollywood, for more info visit: la.aidswalk.net.
The 31st annual AIDS Walk Los Angeles (AWLA), which starts and ends in West Hollywood, is expected to  draw a crowd of more than 25,000 and raise millions of dollars in support of the tens of thousands of people living with HIV/AIDS in Los Angeles County. The 10k route travels through the streets of West Hollywood and Los Angeles, starting at Melrose Avenue and Santa Monica Boulevard.
PROJECT NUNWAYLA
The Mayan Theatre, Los Angeles, 5pm. For more info and to purchase tickets visit projectnunwayla.com.
Come witness the amazing creations of over 25 Designers as the LA Sisters stomp the Nunway. An extravagant celebration of design, art, fashion, and music, with Special Guest Performances will have you cheering the night away for your favorite Designer.
All event proceeds are donated to HIV/AIDS services organizations.
CRISCO DISCO
The Bullet Bar, 10522 Burbank Blvd, 4pm-8pm. Visit bulletbarla.com for more info.
Come slide into The Bullet Bar for a new sensual experience. DJ's Steve Cunningham & Brian Novy deliver 70's Classic & Rare Disco Grooves. Special visual presentations will stimulate your senses and transport you back in time.
ONYX SOCAL-SW "MASQUERADE"
Eagle LA, 4219 Santa Monica Blvd, 4pm-8pm. Visit eaglela.com, for more info.
Join the Men of ONYX SoCal-Southwest for their "Masquerade" Beer Bust. The hottest men on the west coast will be in attendance! Donate $5 at the door to benefit charity & get your chance to win a $350 Oxballs gift basket donated by The Fight Magazine.
MR. REGIMENT 2016 VICTORY PARTY / BEER BUST
The Eagle LA, 4219 Santa Monica Blvd, 3:30pm. Visit eaglela.com for more info.
Let's celebrate our new Mr. Regiment 2016 Leather Titleholder with a Beer Bust and BBQ at the Bullet!
MONDAY, OCTOBER 12
MUSTACHE MONDAYS
Globe Theatre, Basement Level 740 Broadway St. 10pm-2am.
An absolutely jam-packed shit show. The Globe Theatre built a stage in the basement for this event only. FADE-DRA will be on hand to start fights with Christeene, DJ Josh Peace and MA, the new heaviest of heavyweight selectors on the Left Coast will do his thing.
WEDNESDAY, OCTOBER 14
REAL DISCO WEDNESDAY AT RAGE
RAGE Restaurant & Bar, 8911 Santa Monica Blvd., 8pm-2am. Contact Grant Smith on Facebook or at clubmusic4u@aol.com with questions.
Special Guest DJ John Torres will be playing classic REAL DISCO of the 70's and 80's all night long! The dance floor will open at 8PM, and the Rage kitchen will be open until 10PM for this special night, so you can come and dine and dance early if you like! PLUS: Any Drink will be HALF PRICE until 10:30PM! So, you just can't lose.
THURSDAY, OCTOBER 15
PUNK DRUNK
Akbar, 4356 W Sunset Blvd 10pm-2am. Visit akbarsilverlake.com for more information.
Join this Rock 'n' Roll Dance Party featuring Glam, 60's Garage, Dance Metal, Punk, Post-Punk, Goth and more… NO COVER!
SATURDAY, OCTOBER 24
GLOW ME: HAUNTED HORROR HOUSE
The Bullet Bar, 10522 Burbank Blvd, 9pm-2Am. Visit bulletbarla.com for more info.
The fun and kinky black light party is back, or BAAAccck!
SUNDAY, OCTOBER 25
HUSTLE HEAVEN TEA DANCE HALLOWEEN HUSTLE
Oil Can Harry's, 11502 Ventura Blvd., 5pm-10pm. Visit facebook.com/events/967308139978841, for updates.
Join the fun at the 4th Anniversary and hustle Halloween Dead Celeb Party. $10 includes a hustle lesson provided by Shay Dixon & light dinner buffet. Be there for the costume contest for best dead celebrity.
SATURDAY, OCTOBER 31
MASTERBEAT MAYHEM #2: THE OFFICIAL HALLOWEENIE X AFTERHOURS
The Mayan, 1038 S Hill St, 2am-6am. Tickets available at masterbeat.com.
Everyone's favorite holiday is back and it's the 10th anniversary of Fred & Jason's now legendary Halloweenie immediately followed by Mayhem, the official after-hours from Masterbeat.