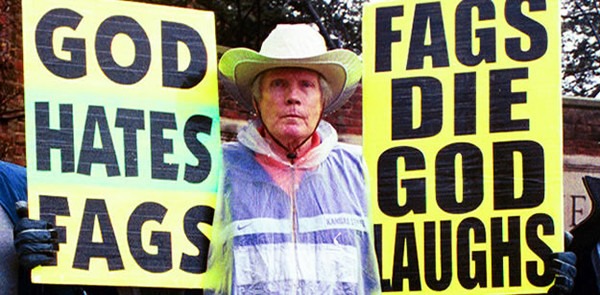 Fred Waldron Phelps, Sr — the founding pastor of Westboro Baptist Church (WBC) — in independent Kansas church known for anti-gay protests at public events, including military funerals — has died at age 84, according to a statement from the WBC.
Phelps died from natural causes at 11:15 p.m. Wednesday, March 19, said church spokesman Steve Drain.
Phelps founded Westboro Baptist Church of Topeka, Kansas, in 1955 and molded it in his fire-and-brimstone image. Many members of the small congregation are related to Phelps through blood or marriage.
Phelps was excommunicated from WBC in 2013 for reasons that are still not clear.  He was also a disbarred lawyer who founded the Phelps Chartered law firm.
Phelps's followers frequently sought media attention by picketed various events, such as gay pride events, military funerals, high-profile political gatherings, university commencement ceremonies, performances of The Laramie Project, or anything related to LGBT.  He also led his followers to protest mainstream Christian gatherings in which he had no affiliation, arguing that it was his church's sacred duty to warn others of God's anger.
He was known for the slogan "God Hates Fags" that he and his ministry used against LGBT people who were deemed sinful.  The slogan "God hates fags," remains the name of the group's main website.
The church is considered a hate group and is monitored by the Anti-Defamation League and Southern Poverty Law Center.
"Fred Phelps will not be missed by the LGBT community, people with HIV/AIDS and the millions of decent people across the world who found what he and his followers do deeply hurtful and offensive," the National Gay and Lesbian Task Force said in a statement. "While it is hard to find anything good to say about his views or actions, we do give our condolences to his family members at what must be a painful time for them."
Shirley Phelps-Roper, Phelps' daughter, said Westboro will not hold a funeral, presumably out of fear of a massive protest at the service.  
"We do not worship the dead," Phelps-Roper told CNN.