DAVID MCFARLANE, CO-PRESIDENT OF THE LESBIAN AND GAY LAWYERS ASSOCIATION OF LOS ANGELES (LGLA), ON MARRIAGE, KIDS AND BEARS.
BY MARK ARIEL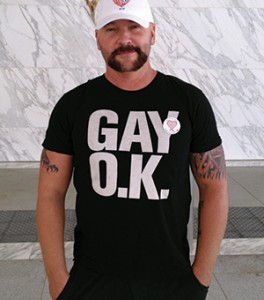 A SPECIALIST IN HEALTH CARE REFORM LAW, Employee Retirement Income Security Act and employee benefits in the U.S., David McFarlane is an American and Canadian lawyer practicing and living in Los Angeles.
McFarlane, Co-President of the Lesbian and Gay Lawyers Association of Los Angeles (LGLA), is currently hard at work, diligently preparing for LGLA's 35th Annual Awards Dinner Gala, taking place on March 8 at L.A. Live/JW Marriott Hotel.
"It's gonna be awesome," says McFarlane. "We have Judge Vaughn Walker (who struck down Prop 8) coming as Keynote Speaker. We have the handsome Zach Wahls of Boy Scout Equality. Gorgeous transgender Navy Seal Kristen Beck. We are honoring Toyota for its corporate citizen- ship to the LGBT community and Laurie Aronoff of the Los Angeles County Bar Association's AIDS Legal Service Project. The "Cuddlers" will be performing (cutest gay guys belting it out!) Plus MUCH more… If you want tickets go to www.lgla.com. I'm shameless, I know."
In an interview with THE FIGHT McFarlane talks about his previous marriage to a woman, his kids and bear culture.
---
"WHEN I THINK OF 'BEARS' I THINK OF A DEN—A CLOSE SOCIAL GROUP—AND THE BEAR COMMUNITY IS VERY MUCH SO… I'VE RARELY SEEN A GROUP SO EMPATHETIC TO THE PLIGHT OF OTHERS, RAISE FUNDS, DO MOTORCYCLE DRIVES AND SUPPORT ONE ANOTHER. CLICHÉ BUT BIG BEARS/BIG HEARTS."
---
WHEN DID YOU COME OUT YOUR WIFE?
I was married to my wonder- ful ex-wife Susan for nearly 10 years and we had 4 amazing children together—3 sons and 1 daughter. That time was, of course, fraught with self-decep- tion and self-loathing. In part it was my generation's struggle in breaking through so many barriers in societal and personal life—but after a young life of having sex with both women and men I figured I was bisexual and I need to "choose" one or the other in order to have a "normal" life. I was wrong. I was/ am gay. And when I planned to end my life because of the mess I had created—and I couldn't actually kill myself—I realized I REALLY wanted to live and if I was going to live it would be honestly as a gay man. I also realized that one day my kids would know that I lived a lie if I didn't come out—and all my lessons to them about honesty and self-character would be betrayed. We often cloud our minds as gay men with so much self-deception—so many veils of different characters.
Coming out to my ex-wife was perhaps one of the hardest things I've had to do in life. She was pregnant with our 4th child. I had misled her about who I was—al- though I had mislead myself and everyone else. I couldn't speak the words so I went into a closet and jumped out! She said "what are you doing?" Anyways, she handled it like she always had. With kindness, intelligence, love and support. To my straight friends, marry a feminist…they rock! She and I are still very close—in fact, she, our kids and my past boyfriends used to live together. We will wait for some television network to develop that story, lol.
HOW DID YOUR KIDS REACT?
My kids were easier to tell as kids just accept. They love their parents and love honesty. I didn't, however, realize that while I came out to the world once—my kids have to keep on "coming out" on my behalf every time they have a new boyfriend or girlfriend, every new school etc. Builds strength of character I say! My eldest son Hayden has graduated from Berkeley and now works in Toronto. My second son Parker attends Cal State Long Beach. My gorgeous daughter Madison is at college in Santa Barbara and my "baby" boy Tennyson, is a football player and junior at San Marino High School. Tempus fugit.
DO YOU CONSIDER YOURSELF A BEAR? IF SO, WHAT DOES THAT MEAN TO YOU IN THE LARGER CONTEXT OF THE LGBT COMMUNITY?
See hairy chest and tattoos above. Kidding. I don't think of my- self as a bear but with my shaved head, facial hair and all my tattoos, everyone else does. I'm not keen on absolute labels in life but I'd consider myself an attorney, LGBT activist, father, partner, bear….and insanely energetic. And if I gravitate towards gay bars it's usually the Eagle, Revolver, Faultline type of places. It's interesting that when I think of "bears" I think of a den—a close social group—and the bear community is VERY much so. Notwithstanding a rough appear- ance, I've rarely seen a group so empathetic to the plight of others, raise funds, do motorcycle drives and support one another. Cliché but big bears/big hearts.
HOW DID YOU GET INVOLVED WITH THE LESBIAN AND GAY LAWYERS ASSOCIATION OF LOS ANGELES (LGLA)?
I was an attorney at a large law firm called Skadden Arps and was looking to get the firm (and myself) more involved in the L.A. LGBT community. I discovered LGLA—they liked how outspoken and feisty I was I guess—and asked me to join the Board of Governors about 12 years ago. I think they elected me to a leadership position this year because I love change and am I'm great at fundraising…did I mention I was outspoken and feisty! I tell my kids all the time "Never say no to yourself first. Let someone else say it to your face—and gener- ally they don't' in life!"
---
For more info on LGLA's 35th Annual Awards DinnerGala—visit:www.lgla.com.