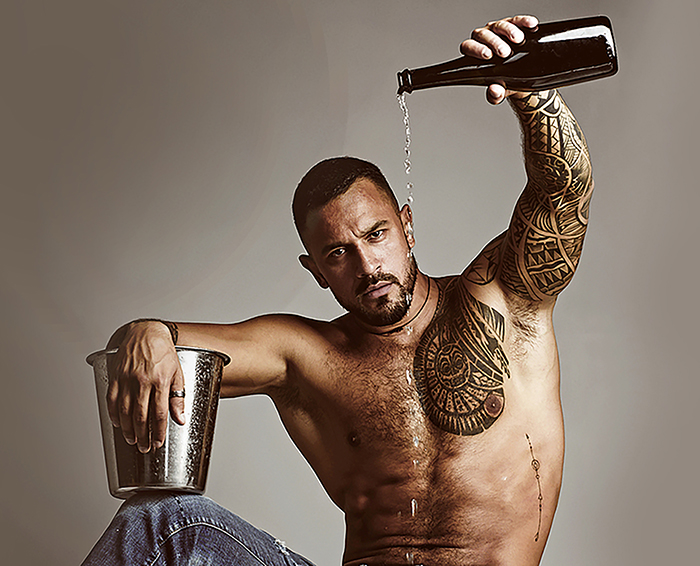 I eagerly await the day we all can skip through the gates at The Abbey, make eyes with Lance Bass at Rocco's, or catch a show at Precinct—but when, with who, and at what bar?
BY ALEJANDRO CERVANTES
If one more gay bar closes you'll find me outside its front door, mourning with flowers and candles. It broke my heart to read about the closing of iconic LA mainstays, such as Gym Bar and Gold Coast. These are the spaces that lift us to our greatest highs, and bless the LGBT+ community with a playground and a safe haven. I eagerly await the day we all can skip through the gates at The Abbey, make eyes with Lance Bass at Rocco's, or catch a show at Precinct—but when, with who, and at what bar?
I fixed a living room martini and made some calls.
Every good story starts at brunch, so I hopped on a Zoom with the legendary Morgan McMichaels, one of the best brunch babes in the state. She's the sharp tongued star of RuPaul's Drag Race Season 2 and All Stars 3. Born in Scotland, the ever-booked queen has been werkin' hard since she started doing drag in 2001. Miss McMichaels has spent her quarantine releasing new music (buy "Ass Like Mine" on iTunes), a podcast ("Funk What You Heard") and washing over 300 wigs (damn). We gabbed about the formula for a perfect drag show, her Joan Collins impersonation and that how Rage bar in WeHo was actually owned by Republicans. When I asked her about her favorite bar, "oh well, obviously," she flips her hair and says "Executive Suite in Long Beach."
Morgan is one of the lucky queens to have broken through the local bubble to national attention, but when discussing the pandemic and its side effects, she was emphatic on the need for financial aide for the nightlife community, "my sister queens have lost jobs, bartenders have lost jobs, DJ's, go go boys—a whole chunk of our community is unemployed." To get the other side's perspective, I called up one of the best local girls I know, Kornbread The Motherf*cking Snack Jeté.
In 2018, Kornbread TMF Jeté quit her day job, threw on a wig and booked a brunch gig all within a week. Since then she's quickly become one of the most in-demand queens in Los Angeles. I asked Kornbread about how work was in the regular world, "2019 was the year of no sleep" she reminisced, "working 4-6 gigs a week, the money was lookin beautiful, it shaped me into the queen that I am now." The nightlife community is a very close-knit support system, but Kornbread isn't far from her fellow queens and queers, "my entire drag family, the House of Jeté, we all bought a house together. We have a 4 bedroom home in North Hollywood, so it's literally a drag house."
One of the first bars to give Kornbread a start was the rambunctious country western bar Flaming Saddles in West Hollywood. With Olympic-grade go go dancers and two floors for drinking and dancing, it put the wild in wild west. Just 5 years old, Flaming Saddles was the second of a string of Weho gay bars to shut down—citing challenges with their landlord. It leaves many, including Kornbread, without a job to return to when the world reopens. "I would give anything to walk on that wobbly ass stage right now" she sighed on the phone, "I became family with everyone there. To hear the news that it was shutting down was soul crushing." No more pole dancing cowboys or Drag Race viewing parties, Flaming Saddles was a Santa Monica Boulevard stronghold, "if there was a bar to call my home, it would definitely be Flaming Saddles in West Hollywood" Kornbread said. The closing of Flaming Saddles, one of the most popular gay bars in Los Angeles, was a sobering reminder that all our bars are at risk.
Through thick and thin, Akbar in Silverlake has remained one of LA's best gay bars, with a friendly crowd, cheap drinks and a legitimate dance floor—where people actually dance. The idea for Akbar was born in the early 90's, a tonic for the years of tragedy and loss inflicted by the AIDS crisis. A cigarette stained piano bar went up for sale and a gay bar was bought, built and funded by Peter Alexander, Scott Craig and a punk rock crew of 80's club kids. It was an honor to chat with Peter, one half of the duo that owns the Silverlake staple.
I asked him what the secret to such fast success was, he told me, "the first thing we did in '96 was institute a no Madonna policy." Some might call it sacrilegious, some savvy. I had to agree with Peter when he proudly said, "you know what it feels like in there: it's different." He's right. There's a uniqueness to Akbar, the alternative to the slick and image-focused WeHo gay bar.
He speculated on predictions for the future, but all hopes were voiced with equal uncertainty. "It'll look small. It'll be completely different. We took out the dance floor, we redid the floors, we moved furniture around—that's gonna be a lounge area back there, cause there's not gonna be any dancing for a while." Yet Peter still had to pay the city for the bar's annual dancing permit—over $700.
There's no denying the importance of queer spaces, but the responsibility of keeping those spaces funded is becoming a financial burden too big for owners to bear. Gay bars are essential, yes, but how do we keep these bars alive when small business are receiving limited financial aide, and local governments and inflexible landlords are offering businesses no leniency? Call your representatives, because something needs to be done.
Changing topics, I asked Peter what he would say if someone came up to him and said 'I want to open a bar'.
"Please open more gay bars! They're dying." he told me.
Dear everybody: please open more gay bars, because after this pandemic is done we're all going to need a drink.