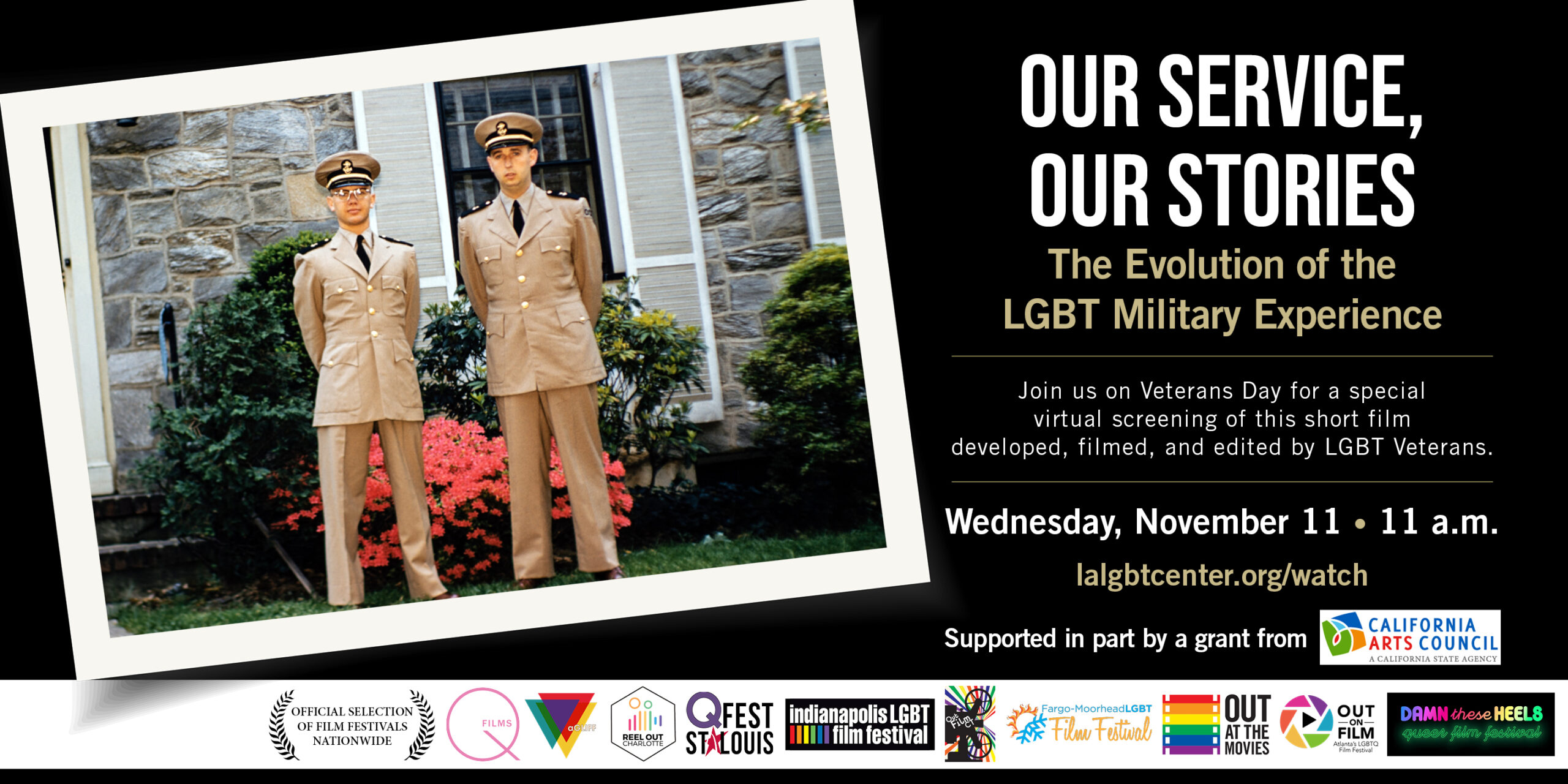 Fresh from the film festival circuit, the Los Angeles LGBT Center's documentary Our Service, Our Stories: The Evolution of the LGBT Military Experience which explores the lives and unique perspectives of LGBTQ veterans before, during, and after their military service will be streamed for free beginning Wednesday, November 11, at 11 a.m. PT in honor of Veterans Day – at   lalgbtcenter.org/watch.
The 21-minute film was produced last year entirely by local LGBT veterans ages 50+ in a Center-sponsored documentary filmmaking class as part of the Center's LGBTQ Senior Veterans Initiative. For nearly four months, the dozen participants learned documentary filming techniques—ranging from creative direction to interviewing and editing skills—from award-winning filmmaker Andrew Putschoegl.

Since its initial release in November 2019, the acclaimed short film has been accepted and screened at 10 film festivals nationwide: All Genders, Lifestyles, and Identities Film Festival (Austin, TX); Damn These Heels (Salt Lake City, UT); Fargo-Moorhead LGBT Film Festival (Fargo, ND); Indianapolis LGBT Film Festival (Indianapolis, IN); Long Beach QFilm Festival (Long Beach, CA); Out at the Movies (Winston-Salem, NC); Out Film CT (Hartford, CT); Out on Film (Atlanta, GA); QFest St. Louis (St. Louis, MO); and Reel Out Charlotte (Charlotte, NC).

"I am immensely proud of our veterans who dedicated themselves to this creative project and ensured that the often invisible stories of LGBTQ service members are preserved and shared," said the Center's Director of Senior Services Kiera Pollock. "With 10 film festivals under their belt, these veterans-turned-filmmakers are proof that you can learn new skills, share stories, and accomplish anything at any point of your life. Congratulations to all of them!"

The veterans featured in the documentary served between 1951 and 2017 in the Korean, Vietnam, and Gulf Wars; Afghanistan; Iraq; and current military outposts. A $16,200 grant from the California Arts Council, as part of its Veterans in the Arts program, helped to support the filmmaking course and the film's development.

"My involvement in this project was life changing. It provided me with a much-needed catharsis to address some pretty heavy issues that happened while in service and the effect it had on my life for over 50 years," said Warren Tymony, one of the film's directors who served in the Air Force from 1971-73. "By having complete input in the development process, we were given a healthy way to go forward in our lives with the telling of our stories."

Following Veterans Day, the film may be viewed on the Center's YouTube channel at youtube.com/lalgbtcenter.

For more information about the Center's Senior Services, visit lalgbtcenter.org/seniors.