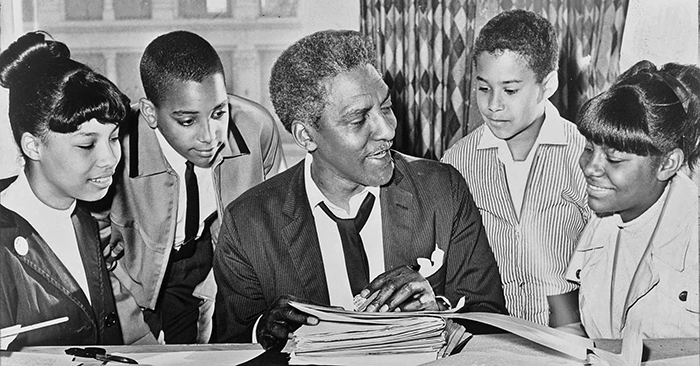 THE FIGHT TO POSTHUMOUSLY PARDON GAY CIVIL RIGHTS LEADER BAYARD RUSTIN
California lawmakers called on Gov. Gavin Newsom last month to posthumously pardon Bayard Rustin, a confidant of Martin Luther King Jr. who helped organize the March on Washington, for his conviction in the 1950s under a state law frequently used to target gay men, reports The Hill.
Rustin was arrested in 1953 on charges of "lewd vagrancy" after a police officer caught him having sex with a man in a parked car. He was sentenced to 60 days in jail and forced to register as a sex offender.
"There's a cloud hanging over him because of this unfair, discriminatory conviction, a conviction that never should have happened, a conviction that happened only because he was a gay man," Sen. Scott Wiener (D), chairman of the state's Legislative LGBTQ Caucus, told The Washington Post.
Newsom vowed to consider the matter in a statement, according to the Post.
---
SF PRIDE DEBATES BAN ON GOOGLE, YOUTUBE
Carolyn Wysinger, the president of San Francisco Pride, responded last month to reports that Google and the Alameda County Sheriff's Office had been voted out of participating in the annual event.
"Our legal team has reviewed the vote that was cast by a small group of Pride's 326 members and determined this measure is not binding," Wysinger told Event Industry News.
"This small group is not representative of the larger Pride community, and our lawyers determined it is not reasonable for them to make motions at a meeting which doesn't have enough people to equal a quorum and expect that vote to be a binding measure for the board of directors."
The board is due to meet again this month to discuss how to proceed, reports Event Industry News.
---
NEW LEGISLATION TO END HIV, STIS
CA state senator Scott Wiener introduced new legislation last month requiring the state's health agency to develop and implement a statewide plan on fighting HIV, Hep C, and other STIs, reports the Advocate.
The legislation, SB 859, will require the Secretary of California Health and Human Services and the Chief of the Office of AIDS to work with agencies across the state to set attainable targets for ending STIs.
The bill—which is sponsored by San Francisco AIDS Foundation, APLA Health, and Essential Access Health—will require the HHS and OA to build a Stakeholder Advisory Committee to help facilitate their efforts. Both agencies will need to submit a report to Governor Gavin Newsom and the state legislature by October 1.
---
TRANSITIONAL HOUSING PROGRAM FOR TRANS, NONCONFORMING
The first transitional housing program for transgender and gender nonconforming adults in the nation opened last month in San Francisco's Nob Hill neighborhood, reported SF Gate.
During a ribbon-cutting ceremony at Trans Home SF on Washington Street, located at 1033 Washington St., Mayor London Breed said the new program will help connect its residents with services and permanent housing options.
"Housing affordability and homelessness continue to impact our most marginalized communities, including our trans community members, who are 18 times more likely to experience homelessness," she said in a statement.
Under the program, residents will be allowed to stay for up to one year, or longer if needed, while working with housing navigators to find permanent housing.
---
CASTRO'S LEGENDARY 47-YEAR-OLD CAFE FLORE CLOSES
After 47 years in the Castro, historic neighborhood restaurant Flore (formerly known as Cafe Flore) has closed at 2298 Market St. reports Hoodline. 
Flore's general manager, Luke Bruner, confirmed the restaurant had closed, but declined to provide any details. It appears to have shuttered quietly at some point during the holiday season.
While Flore is no longer serving food and drink on a daily basis, a sign on the exterior says it will still be hosting private events in the "greenhouse event space," which will be "open for special events all winter long."