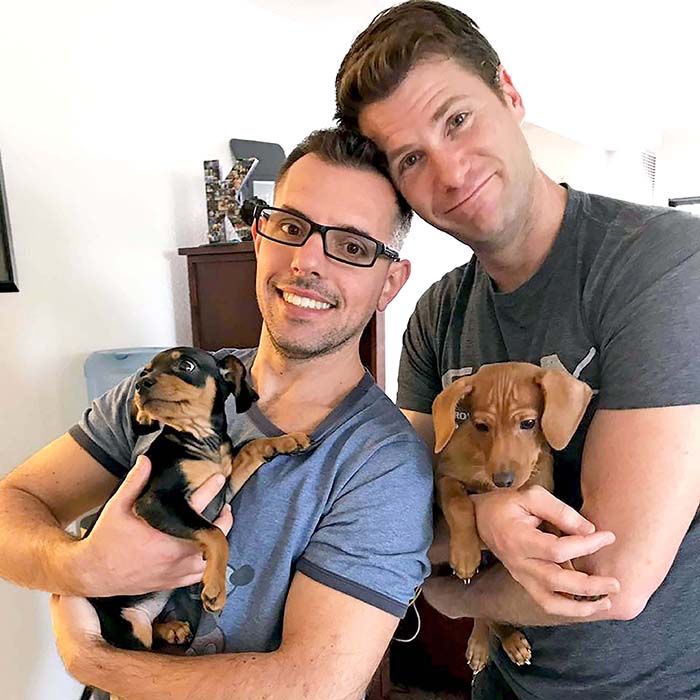 COUPLES

SOBRIETY
With Valentines Day in mind, we asked these two husbands with long term sobriety, how they make their relationship work while working a program of recovery.

BY PAULO MURILLO
KNOWING YOUR BOUNDARIES
"For me, the tools of recovery make me the best version of myself. If I'm a person of integrity and I'm honest and I'm happy, joyous and free with myself, then I'm going to be the best partner I can be.
We met in recovery. We had our first kiss at his five-year sober celebration. It wasn't easy when we officially started dating two years later. I wanted to be monogamous. He wanted an open relationship. I wasn't going to get mad at him for not wanting what I wanted. We decided we were just going to date casually. Nine months into it, he wanted a relationship. We compromised and said we were going to be monogam-ish and it was a disaster. We had a lot of conversations about being open. We had ups and downs, but at every turn, both of us kept showing up for that conversation.
Today, we are in a polyamorous relationship. It wasn't for me in the beginning, but I stayed open to it. We started meeting a lot of people in polyamorous relationships and I told him, if this is something he needed, I could give this gift to him. I was in a place where it didn't threaten me. Then something changed for me. I had this epiphany that it was something I wanted to explore. And it's been a wonderful experience. One of the gifts of the program is knowing my boundaries. When I first got sober, I didn't know myself at all. Now I feel super comfortable in my skin, which makes it so much easier to show up for this relationship.
I believe it is easier being in a relationship and being sober. Communicating and listening is what's key. We have proven that we can talk to one another in emotional situations and show up for one another. And that's something special."
—Nicholas Benko, sober since March 15, 2003.
SHOWING UP
"I don't think I could be in a longterm relationship with someone who wasn't sober. There is this language and a way that we understand each other. It provides a base that is really important to us as a couple. What Program has taught me, for example, is if I'm upset about something, it's almost always because I have expectations that the situation should be different. Recovery doesn't give me the out, or a reason to blame someone else for something I might be upset with. I think a lot of times in a relationship, it's really easy to think if that other person behaved differently, then I would be happy. Instead of thinking, gosh, how do I find happiness in the situation I'm in?
We're polyamorous and for me it wouldn't work without sobriety. It has to do with honesty. It means really being fully open. These are my wants. These are my desires. I'm telling you the truth. The first thing you have to do, is recognize that it's something you even want, because it's not allowed in so many contexts, so it's about recognizing that it's something you want and are capable of, and being okay with the other person wanting and being capable of it as well. It requires a lot of conversations. It requires saying the truth and not assuming you're going to be left for it. The tape that plays in mind–and I know it does for a lot of people in recovery–is, if you knew the truth, you'd leave me. If you knew what I really wanted or who I really am, you would not love me anymore. That tape is so powerful. To make it stop playing is really revolutionary. I have to credit Nick for helping me get passed it, because he keeps learning stuff about me and he doesn't leave me. He shows up."
—Kevin Held, sober since, March 22, 2004.
---
THIS PAGE IS SPONSORED BYImage