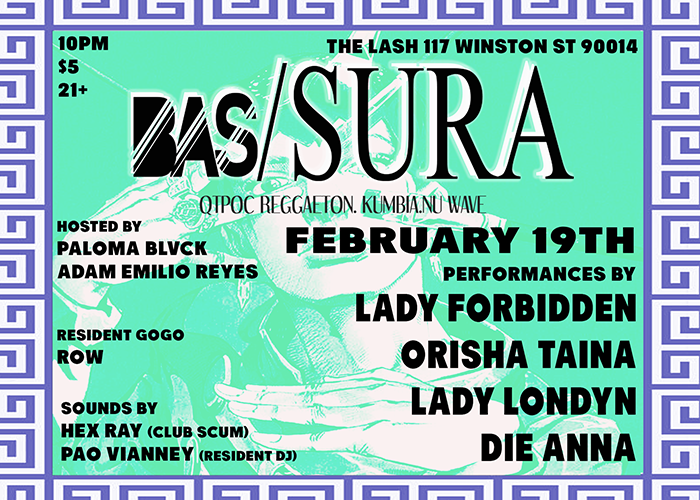 FEBRUARY 8—FEBRUARY 29
FUN HOME
Chance Theater, Bette Aitken Theater Arts Center, 5522 E La Palma Ave, Anaheim. An achingly beautiful journey of self-discovery as an LGBTQ writer, artist, and woman.
FEBRUARY 8—FEBRUARY 13
HEAVEN AND HELL
Tom of Finland Foundation, 1421 Laveta Ter, Los Angeles, 90026. A Group Exhibition Curated by Artists Seth Bogart and Jess Scott. Scott and Bogart were inspired by a comic panel by Tom depicting two men boarding a metro train bound for "Hell—Heaven." The destination was a twinning of oppo—pleasure and pain, camaraderie and isolation, truth and disguise, and a total disassembling of the binary itself.
FEBRUARY 8—FEBRUARY 9
MR. BULLET LEATHER 2020 WEEKEND
Bullet Bar, 10522 Burbank Blvd, North Hollywood, CA. Saturday, February 8: MBL 2020 Contest. Sunday, February 9: MBL 2020 Beet Bust.
FEBRUARY 8 – FEBRUARY 16
DEL SHORES' THIS SIDE OF CRAZY: L.A. PREMIERE
Zephyr Theatre,7456 Melrose Ave, Los Angeles, CA 90046. Award-winning playwright Del Shores returns home to the Zephyr where he produced Sordid Lives, Southern Baptist Sissies, Daughters of the Lone Star State and The Trials and Tribulations of a Trailer Trash Housewife.
REVENGE SONG
Geffen Playhouse,10886 Le Conte Ave, Los Angeles, CA 90024. A rousing, romping, music-filled look at the real life of Julie d'Aubigny, a queer 17th century French swordswoman and opera singer.
A LITTLE MORE LOVE CONNIE 8PM
Cavern Club Celebrity Theater, Casita Del Campo Restaurant, 1920 Hyperion Ave, Silverlake, CA 90027. A musical TV special tribute to Olivia Newton-John. LOVE CONNIE (John Cantwell) is back with her annual Valentine's performance at the Cavern Club at Casita Del Campo and 2020's is going to be "totally hot!"
SUNDAY, FEBRUARY 9
ONYX SOUTHWEST: LOVETAP! 4PM–8PM
Eagle LA, 4219 Santa Monica Blvd, Los Angeles. Party with the men of ONYX Southwest.
SATURDAY, FEBRUARY 15
MATTE PRESENTS: RHONDAVOUS: A LOVER'S BALL
Catch One, 4067 W Pico Blvd, Los Angeles. A One Night Festival for the fabulous & free where love looms loud and large.
MY (SECRET) DATING GAME LGBTQ 7:30PM–10PM
Theatre of NOTE, 1517 N Cahuenga Blvd, Los Angeles, CA. An LGBTQ Live singles event that takes spin on the old 70's TV show by empowering the audience to select who wins a lunch date based on each contestant's level of self-awareness, honestly and vulnerability, as demonstrated in their answers to thought- provoking questions.
GLOW ME 5TH ANNIVERSARY 9PM–2AM
Bullet Bar,10522 Burbank Blvd, North Hollywood.
SUNDAY, FEBRUARY 16
WHITE DRESS PARTY 4PM–8PM
Gold Coast Bar, 8228 Santa Monica Blvd, West Hollywood. The Los Angeles Sisters of Perpetual Indulgence and The Gold Coast Bar Present: The 2snd Annual White Dress Party, a benefit for Life Group LA. Tunes by Dj Hazmat. White dress of other white festive attire strongly encouraged.
REBELLION RUGBY DRAG BINGO 8PM–10PM
Hamburger Mary's WeHo, 8288 Santa Monica Blvd, West Hollywood. The Rebellion returns for a legendary drag bingo night. Proceeds benefit the Los Angeles Rebillion's mission to promote inclusivity and and equality through the sport of rugby and their journey to the 2020 Bingham Cup!
WINE TASTING: FALL IN LOVE WITH CALIFORNIA 3PM–5PM
Total Wine & More,1505 Hawthorne Blvd, Redondo Beach. Looking for the perfect way to end your Valentine weekend? Together with the South Bay LGBTQ Center and Total Wine, Redondo Beach, come enjoy and explore the red and white wines that have brought acclaim to Napa Valley, Sonoma, Amador and the Central Coast.
WEDNESDAY, FEBRUARY 19 
BAsSURA, 10PM–2AM
The Lash, 117 Winston St, LA, CA 90014. A trans, queer, and intersex centered Latinx/POC party every 3rd Wednesday of the month.  With performances by Lady Forbidden, Orisha Taina, Lady Londyn and Die Anna. Sounds by Hex Ray (of Club sCum LA) and Pao Vianney. Hosted by Adam Emilio Reyes & Paloma Blvck.
THURSDAY, FEBRUARY 20
MAGIC MALE XXL SHOW 8PM–11PM
Faultline, 4216 Melrose Ave, Los Angeles. Ladies Night Out showing off chiseled bodies, seductive dance routines, cheeky humor and boy-next-door charm that you won't be able to resist.
SATURDAY, FEBRUARY 29
DRAG BINGO HOSTED BY TWLMP 6PM–9PM
Faultline, 4216 Melrose Ave, Los Angeles. A special night to benefit Albergue Las Memorias AIDS Hospice in Tijuana, MX.