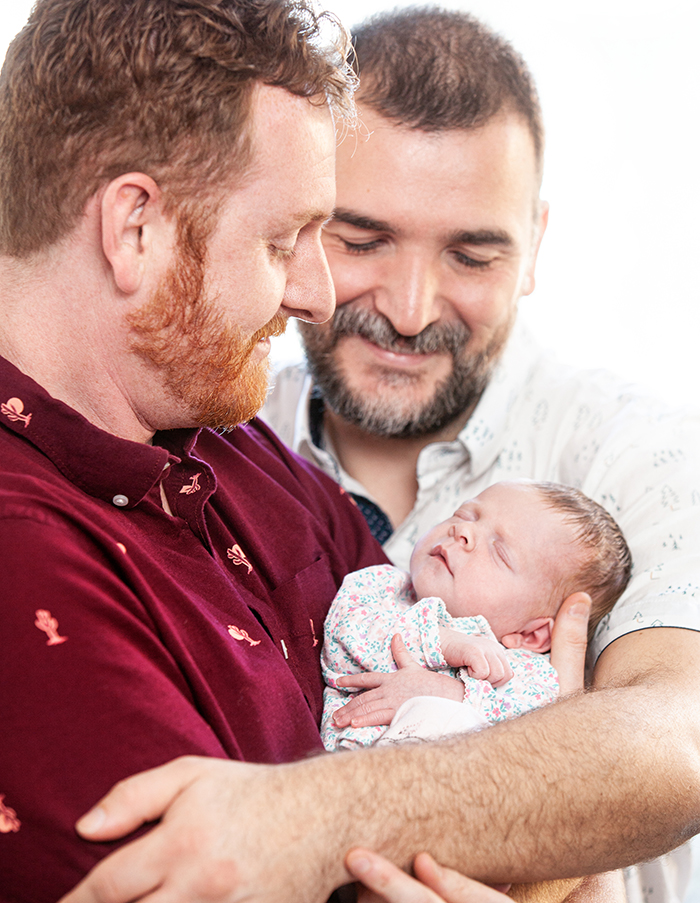 "We both come from large families, and while we enjoy the life we share together, we knew we both wanted kids early in the relationship"
BY MARK ARIEL  |  PHOTO BY DUSTI CUNNINGHAM
Kevin Niehaus and Ryan McGann knew from the beginning of their relationship (they've been together for six years) that they wanted to be parents. "Children were always a hope for both of us.," says McGann. "We both come from large families, and while we enjoy the life we share together, we knew we both wanted kids early in the relationship. It came up while dating as something both of us wanted, but the real discussions came after we were married and as we like to say, waiting for our next adventure."
In an interview with THE FIGHT the couple talks about how they began the process, the services they utilized and the joys of parenthood.

Can you walk our readers through the process—what are the steps you took after making the decision?
Niehaus: We've learned that this process is one few fully understand. A lot of people asked whether the surrogate is the egg donor as well—in our case, she was not. The process started with us doing a lot of research on whether we wanted to do adoption or surrogacy. From the start we were leaning towards surrogacy. The first step was finding the agency for our surrogacy. After some deep research we found Dr. Bradford Kolb at HRC in Pasadena. Being a same-sex couple there is always the fear of rejection or discrimination, but Dr. Kolb treated us no differently than any other client with the hopes of starting a family. From there we began the search for an egg donor. This step was the hardest for us since we quickly found that we had different ideas for an intended egg donor. Let's say the process is, as we refer to it, like online dating for the genetic make up for your children.
Over the summer of 2018 we found who were thought was the perfect donor. Unfortunately, the first cycle didn't take with that donor, and we were depressed. Our hopes were down. After taking some time to get started again, we selected a second donor based on the feedback from our doctor. We cannot express enough how important it is to have a great doctor advocate for you, since everyone at HRC was very supportive.
How did you find a surrogate?
McGann: We had to select an agency for the surrogacy. We ended up going with Same Love Surrogacy, who deals with same sex couples going through this journey, so they had lots of experience. They matched us with a surrogate in Washington state, simply because there are so many people looking into surrogacy and there's a shortage of surrogates. We virtually met our surrogate via Skype, who lived in the state of Washington. She was going to be the one we would interact with and who would care for our baby until they, he, or she were here so it was important that we had a good connection.
Once matched—the surrogate flew down to LA to meet with our doctor to get approved to be a surrogate. Once our doctor gave the green light, we began the legal portion for the surrogate. This is important…a lot of people think there's a fear that she may try to "steal the baby," but really the legal agreement lays out all aspects of the journey so there are no surprises for anyone. Once all the documents were signed, our surrogate could start medications and we would expect the embryo transfer mid-May. We were able to be there during the transfer, and from there the dreaded 2-week wait to see if we were pregnant. And we were! During the first 12 weeks of the pregnancy our surrogate was under the care of our doctor. After 12 weeks she graduated to the care of her own doctor.
How was your relationship with her?
Niehaus: We were lucky to stay in communication with our surrogate weekly. We mainly communicated via text, but she became like a distant relative to us. She would send us ultrasounds, and heartbeat recordings. She has three children of her own, so she would tell us about how the kids were reading and talking to the baby. She also invited us to record our voices so she could play the recording to her. Around 20-weeks were able to go for an ultrasound and we got to see our little girl in the womb. It was surreal and VERY cool.
From there we just waited for the call to jet up to Vancouver, Washington for the delivery. And, despite all our fears, we arrived in time to hear our baby's first cry.
Let's recap: what services did you utilize—doctor, surrogacy agency, egg donor agency, fertility lawyer, etc?
McGann: Doctor—Dr. Bradford Kolb of HRC Pasadena.
Surrogacy Agency—Same Love Surrogacy, a company founded by same-sex couples to help same-sex couples have children.
Egg Donor Agency—Beverly Hill Egg Donor (BHED). An amazing team and easy to work with.
Lawyer—Steve Lazarus Law Firm in Marina del Rey. Amazing team and Escrow company.
Your new baby is only a few weeks old (congrats!)—how has it been—being new parents?
She is amazing! Everything after her first cry has been great. Everyone told us to make sure we get enough sleep before she comes, but we are adjusting. We are also expecting a second baby in July, only six months after the first baby. The process took so much less time the second time, and we were matched right away with an amazing couple, also out of Washington state that we couldn't say no. So, within the same year, knock on wood, we will have two new babies. Twins, we call them with separate birthdays. But, being a parent, is an amazing and VERY scary feeling. But we'd never change it.