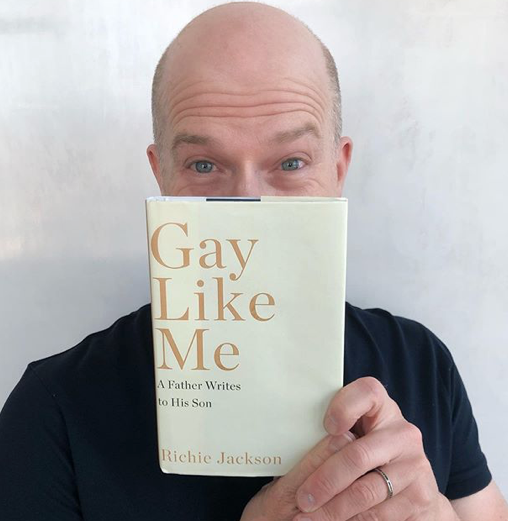 Veteran producer Richie Jackson penned a "love letter" to his gay teenage son, drawing parallels between the turmoil LGBTQ people faced decades ago and the repeated strikes they still face today, reports The Hollywood Reporter.
The book Gay Like Me: A Father Writes to His Son is published by Harper Collins.
Though Jackson has built a successful career in theater, film and television — having produced commercial hits such as Broadway's Harvey Fierstein's Torch Song and Showtime's Nurse Jackie — fatherhood was always his biggest dream.
His wish came true at the turn of the millennium when he welcomed his first-born son, Jackson, whom he shares with his ex, actor B.D. Wong, and co-parents with husband Jordan Roth. (Richie Jackson and Roth also share toddler son Levi together.) But an added bonus came around three years ago when 15-year-old Jackson revealed to his parents that he, like them, was gay, reports The Hollywood Reporter.
"I was thrilled. It was my other greatest wish. I hoped he was gay," Richie Jackson said. . "But as he was telling us, he kept saying, 'It's no big deal, it's no big deal. Daddy, my generation thinks being gay is not a big deal.' And I thought, 'Oh no, being gay is a really big deal.'"
Part of the reason Jackson decided to write Gay Like Me — what he described as a "love letter" to his eldest son — is because he wanted to draw parallels between the political and cultural turmoil LGBTQ people faced decades ago and the struggles they currently face as bigotry is on the rise again in Trump's America. "As I was thinking of all the things I would tell him, Donald Trump was elected president [in 2016] and all of a sudden, he was going to Washington with Betsy Devos and Jeff Sessions and Mike Pence, all of whom are more of an imminent threat to my son than ISIS or North Korea," Jackson said.  
READ MORE HERE:
https://www.hollywoodreporter.com/news/richie-jackson-political-significance-memoir-gay-like-me-1257303