BY PAULO MURILLO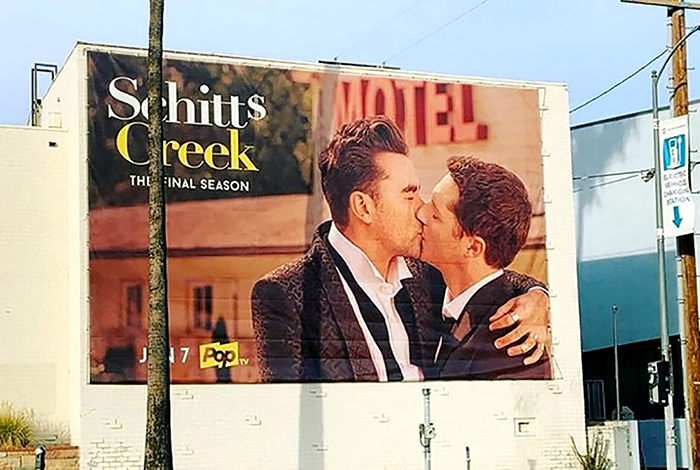 LOS ANGELES
BIG ASS GAY KISS BILLBOARD FOR "SCHITT'S CREEK" FINAL SEASON
A billboard with a giant gay kiss was put up in Los Angeles to advertise the show Schitt's Creek.
The billboard shows gay actor Dan Levy, who plays David Rose, kissing Noah Reid, who plays David's fiance Patrick Brewer.
"F*ck yes we did. Shine bright, friends," tweeted Levy with an image of the billboard, thanking networks POP TV and CBC, which air the Canadian show.
"Their support on this campaign that my teenage self would never have dreamed to be true."
WEST HOLLYWOOD
CHI CHI LARUE'S CIRCUS TO OPEN AT CIRCUS OF BOOKS LOCATION
Chi Chi LaRue's Circus is moving to the newly re-imagined Circus of Books location. The new adult retail located on 8230 Santa Monica Blvd., is having their grand opening on Saturday, January 11, 2020. Rob Novinger, the CEO of Channel 1 Releasing and part owner of Chi Chi LaRue's in West Hollywood plans to bring the historical Circus of Books adult bookstore into a new decade, but also keep as much of the history as possible. The most noticeable change will be the big picture windows that are being restored to reflect the building's original facade as well as the return of the circus stripes. Additional elements will include an art gallery and a new Tom of Finland store-within-a-store.
SAN DIEGO
CONSTRUCTION OF HARVEY MILK NAVAL SHIP BEGINS
Future USNS Harvey Milk naval ship began construction at a San Diego shipyard last month. The fleet oiler's General Dynamics NASSCO was named after the slain gay rights leader and the first openly gay man elected in the state. Milk was elected to the San Francisco board of supervisors in 1978 and was assassinated 10 months later by an ex-supervisor. Milk was a Naval dive officer based in San Diego. His nephew, Stuart Milk, attended an event celebrating the launch of the new construction. According to his nephew, Harvey Milk was forced to resign from the Navy in the 1950s after being caught in a San Diego park popular with gay men. He acknowledged how times of changed following the honor of having his uncle's name on a ship.
PALM SPRINGS
LGBT RETIREMENT COMMUNITY COMING TO THE DESERT
A luxury retirement community for LGBT seniors is coming to Palm Springs. The Los Angeles Times reports that a retirement condo community for LGBTQ seniors is set to break ground in January. The $60-million $70-million amenity-rich "Living Out" complex is the vision of longtime developer partners Paul Alanis and Loren Ostrow of Los Angeles-based KOAR International. The resort-style property's 105 one and two-bedroom units will be priced from $699,000. Developers are billing their project as the first of its kind in Southern California with comforts that include two pools, pickleball and bocce ball courts, a dog park, putting green, gardens, a salon, screening room, restaurant and bar, gym, massage studio, and card and game rooms.
LONG BEACH
MAYOR ROBERT GARCIA HONORS DRAG QUEEN
Mayor Robert Garcia honored drag performer Jewels, with a Key to the City last month. According to a City press release, the mayor is recognizing Jewels for being an incredible philanthropist and artist within the LGBTQ community. Jewels posted on her Facebook page that her mission in Long Beach for the past 20 years has always been to ensure that everyone who interacts with her leaves feeling entertained. Jewels is known for hosting charity fundraisers and attending local community events in and around Long Beach, as well as events and clubs in West Hollywood, Orange County, and Palm Springs.