BY PAULO MURILLO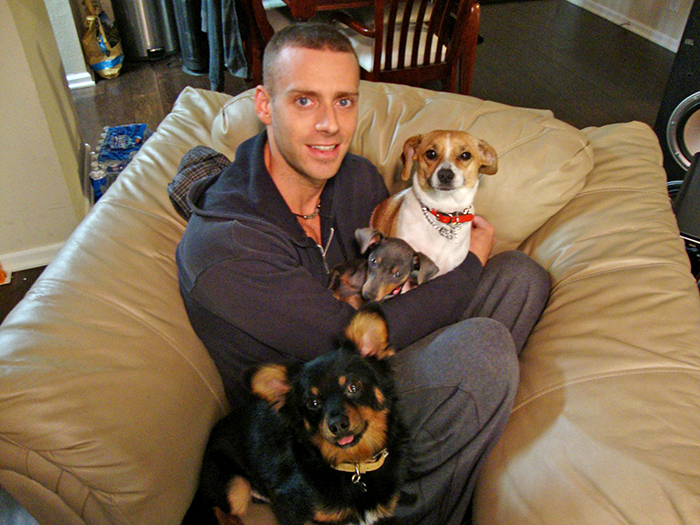 LOS ANGELES
JUSTIN WELLS, WESTWIND RECOVERY TREATMENT CENTER CEO, FOUND DEAD. RIP
Justin Wells, the co-founder and CEO of Westwind Recovery Treatment Centers and Sober Livings in Los Angeles was found dead in his home last month by his husband Zack Ament, who is Chief Operating Officer at Westwind Recovery. No official report has been released about Wells' cause of death.
Wells and Ament recently celebrated a two-year wedding anniversary. Wells struggled with chronic pain and underwent surgery to remove a portion of an intervertebral disc last month.
A public "Celebration of Justin's Life" will be held on Dec. 7th at Plummer Park in West Hollywood, Rooms 5 and 6 between 3:30pm and 6:30pm.
PALM SPRINGS
MAYOR PETE HOLDS FUNDRAISER IN THE DESERT
Democratic presidential hopeful Pete Buttigieg took his campaign trail to the desert city of Palm Springs last month. He stopped in the valley to raise money for his campaign. The reception took place at the Andreas Hills Private Resort in Palm Springs. Then he was off to meet and greet supporters and potential voters for an hour and a half at Thunderbird Heights in Rancho Mirage.
The Desert Sun reports that Buttigieg has raised $52 million in campaign contributions this year, according to third-quarter campaign filings that cover up until Sept. 30. He's collected less funds than Sens. Elizabeth Warren, D-Mass., and Bernie Sanders, I-Vt., but earned envy from the rest of the field by outraising all other candidates, including former Vice President Joe Biden and Sen. Kamala Harris, D-Calif.
LONG BEACH
DEMS DRINK AND PARTY WITH DRAG QUEENS AT HAMBURGER MARY'S
Senator Kamala Harris and Long Beach Mayor Robert Garcia helped kick off the California Democratic Party's fall nominating convention at Hamburger Mary's in Long Beach last month. The event, "Dems, Drinks and Drag Queens," was an LGBTQ Reception at the California Democratic Party Convention hosted by Equality California with Mayor Garcia serving as Honorary Chair. Others in attendance included Lt. Governor Eleni Kounalakis, State Controller Betty Yee and Equality California Executive Director Rick Zbur, as well as local drag queens including Jewels and Vancie Vega.
SAN DIEGO
TRANS FLAG FOUND BURNED IN HILLCREST NEIGHBORHOOD
Police are investigating the discovery of a transgender pride flag was left charred on a bench at a bus stop in San Diego's Hillcrest gayborhood, late November.
The burned blue, pink and white flag was found by Christian Macneal stop near 10th Street and University Avenue Friday morning.
The burned flag was discovered days after Transgender Day of Remembrance, a day that honors the memory of trans people whose lives were lost to acts of violence.
NBC San Diego reports that police were called to investigate but it was too early to tell if the incident could be considered a hate crime.
WEST HOLLYWOOD
#BOOM! ALCOHOL-FREE NYE PARTY RETURNS TO WEHO
#BOOM!, the alcohol-free New Years Eve Party returns to the City of West Hollywood. This year's costume theme is Icons. Attendees are encouraged to dress up as their favorite icon for a chance to win prizes throughout the night. The event takes place onTuesday, December 31, 8pm to 1am, at West Hollywood Park Auditorium, 647 N San Vicente Blvd.
Sponsored by the City of West Hollywood, APLA Health, West Hollywood Recovery Center, Los Angeles LGBT Center and others. Admission is free, so capacity limited.
Reserve your spot now at boom2020.eventbrite.com.