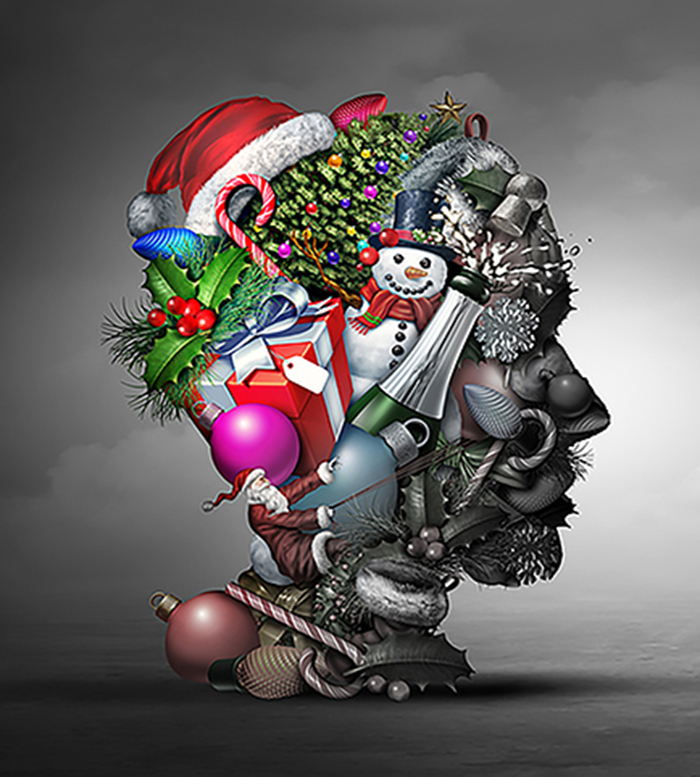 Coping with prejudice, discrimination and end-of-year stressors
BY JAMES GUAY, LMFT
Holiday experiences are so wide and varied that they can conjure up a diverse array of thoughts, feelings and memories. For some, they're the best time of the year and for others it's a continual reminder of what's missing. As LGBTQ people, we face additional challenges.
So how do we learn to move from merely surviving the Holidays to thriving in the present moment?
Holiday Blues—including loneliness, disappointment, grief, stress, and sadness—hits people of all genders, sexual orientations, ages, races, bodies and differing abilities.
Frequent holiday stressors are: too many or too few holiday commitments; financial strains of gift giving & extra expenses; grief from breakups and lost loved ones; family estrangement; family drama; travel stress; and less daylight & colder weather.
It's not our job to make other people, family included, feel more comfortable with their prejudices and discrimination, whether through their actions or inactions… It's perfectly fine, however, to table those conversations to another time or to pick and choose our battles.
When we're expected to be happier and are around people who have an extra step in their stockings, it can highlight that we're not in sync and increase our holiday blues. When we'd rather not celebrate THAT holiday or feel inundated with constant reminders, it can increase our holiday blues.
Typical advice for coping with the holidays include: get organized; budget; don't overcommit; take breaks; pace yourself; don't bring up politics/religion at family events; remember what it's all about; and be grateful.
And while those might be helpful reminders, what do we do when we're just not into it or worse, experiencing holiday-related rejection, abandonment or trauma?
While there's greater acceptance of us overall in society there are still far too many families that are intolerant or even hostile toward their LGBTQ relatives. Given that we usually don't have LGBTQ parents, we often miss out on the validation, support and instruction on how to cope with a homophobic, biphobic, and transphobic society…especially in the Trump era of decreasing protections and increasing hate.
How do we cope with prejudice and discrimination in addition to the other end-of-year holiday stressors?
First, let's be honest with ourselves. Let's admit that this is actually happening, if not to ourselves, to others within our community. We don't need to gloss over things. That can be a form of gas lighting where we know something is very wrong but others around us ignore or question our reality. When we resist or minimize the facts of the present moment, this often leads to stuckness and voluntary entrapment.
Let's also recognize that not all families are alike. Blood is not always thicker than water in many of our lived experiences. While some of us have rockstar families who vote with us, march at Pride and welcome our chosen family, others of us face continual and repeated assaults to our very being-ness. Family estrangement is real, and strong boundaries including no contact can be exactly what's needed in certain circumstances. Not pressuring others or ourselves to conform to some societal ideal at the expense of our own health and well-being is necessary during this time and always.
We're often encouraged to avoid talking about politics with those that disagree with our positions. We can be labeled as being "PC", a "Social Justice Warrior," "too sensitive," a "liberal" or a "snowflake." But can we just admit that the personal is political and the psychological is political?
When the current Administration immediately rolls back Obama-era protections of LGBTQ rights, including reinstating a ban of transgender people serving in the military, is the personal not political? When the current Administration encourages the Supreme Court to allow employers to turn away or fire LGBTQ employees, isn't the personal political? When the current Administration attacks LGBTQ rights at every turn, including additional areas like healthcare, housing, education, prisons and sports, isn't the personal political? How are we supposed to sit idly by without voicing our concerns and asserting our rights? How do all these policies enacted by harmful politicians affect us psychologically and as a community? And how does all this show up during the holidays as impeachment proceedings are happening?
It's not our job to make other people, family included, feel more comfortable with their prejudices and discrimination, whether through their actions or inactions. We get to use the instrument of our voices to speak our truth to power, and yes, maybe even at the dinner table.
It's also perfectly fine to table those conversations to another time or to pick and choose our battles. This doesn't have to be an all or nothing proposition but rather case dependent and based on our emotional reserves.
Secondly, if we've learned anything as an LGBTQ Community, it's that being authentically who we are leads to greater freedom to enjoy our lives and our relationships.
We know the slogan from the beginning of the AIDS pandemic, "Silence equals shame." It's in the deep crevices of hiding that shame and its resulting psychological warfare can take root and grow exponentially. When we bring our shadow material—the stuff we don't accept about ourselves—into the light of day and work on it, we no longer have to be at the mercy of our unconscious. All of this [is] to say, when we act in integrity with who we are at our core we naturally feel more alive and connected. We thrive.
This doesn't mean that we don't feel sad, disappointment or grief, it just means that we honor those feelings in a different way and that there's a rightness to them in the moment we experience them. When we give ourselves permission to feel what we feel and think what we think, and be kind to ourselves in the process, we learn to thrive. It's not our thoughts, feelings or physical sensations that are problematic, it's how we respond to them that makes all the difference in the world.
When we practice self-compassion, when we give ourselves space to be exactly as we are in the present moment, we learn to navigate holiday stressors and life stressors differently. This is not about perfection, but rather about the consistent practice it takes to build a better relationship with ourselves and those around us. This is about recognizing our inherent value and worth, regardless of how we experience the holidays. 
WATCH:
---
James Guay, Licensed Marriage and Family Therapist (#39252), has provided individual and couples counseling in private practice since 1999. A former elite Gymnast and life-long lover of nature, he focuses his social justice activism for the LGBTQ population. Digital content available at: www.livingmorefully.com.