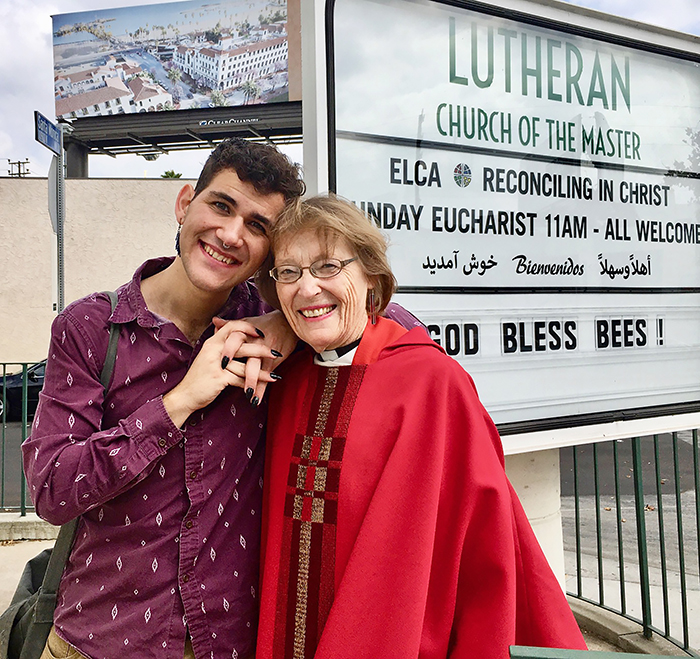 An interview with Pastor Peg, from the Lutheran Church
of the Master (LCM).
Can you tell our readers about your journey with the church?
Church community has long been a part of my life. I grew up assuming, however, that serving as a pastor was reserved only for men. The predecessor bodies of the Evangelical Lutheran Church in America (ELCA) decided to change this by voting to begin ordaining women in 1970. Gradually, the leadership of ordained women has been embraced, though sexism, as with homophobia, continues to need advocates who work for deep change.
My work with the LGBTQ+ community began in the early '80s when an openly gay man came to worship and asked if he would be accepted. I was new myself and didn't know how the church would respond, but I personally delighted in welcoming him and worked to educate and open the doors. Today that church is a Reconciling in Christ congregation. As a pastor I have presided at numerous same-sex unions/weddings since 1988 and expect the same commitment to pre-marital counseling as with any other couples. I am always honored to be entrusted with this journey.
Was LCM always gay friendly?
Lutheran Church of the Master (LCM) has long been a welcoming congregation. In 2001 we voted to be designated a Reconciling in Christ congregation. LCM welcomes people from all over the world and proudly affirms that God's love embraces lesbian, gay, bisexual and transgender people.
What would you say to a queer person who feels alienated from any faith due to many church's anti-gay stances?
I would take seriously and share their grief or outrage, and would understand any mistrust of faith communities. I would walk with them toward regaining trust by assuring them of my personal advocacy, as well as the congregation's, demonstrating our support, not only by how we talk, but by how we "do" life together in Christ. We seek to be a place of healing for people who have been hurt by past experiences of anti-gay stances. We want you to know yourself as cherished by us and loved by God.
Is there anything we haven't asked that you would like to share with our readers?
Yes! If you are seeking a place to call home this Christmas Eve, we welcome you into our accepting family of God, 7:15 pm Festive Christmas Eve Worship.