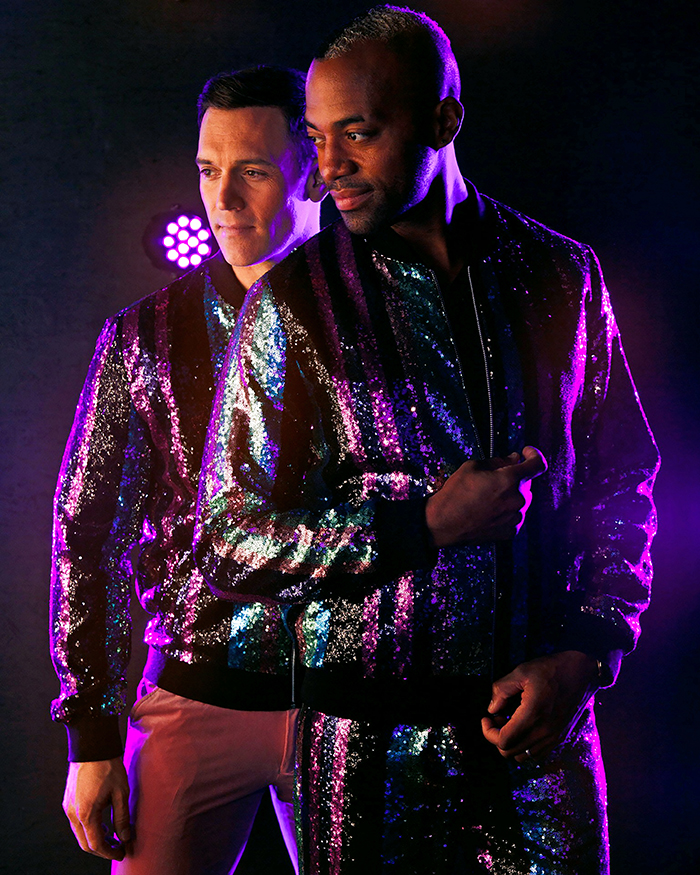 Palm Springs Pride headliners OneUp Duo on living and working together, pushing each other to be better versions of themselves and love at first sight.
BY MARK ARIEL  |  PHOTO BY JOSH DRAKE
OneUp Duo is a pop/soul vocal combo comprised of husbands Adam and Jerome Bell-Bastien. The Duo was featured on Season 15 of NBC's The Voice and made history as the show's first ever same-sex duo.
Since performing on The Voice, OneUp Duo has traveled extensively across America and headlined various Pride Festivals, sang the National Anthem for the Brooklyn Nets and NY Yankees, and lit up stages as lead singers for "The Disco Nights," NYC's premiere disco experience.
OneUp Duo will perform at this month's Palm Springs Pride Festival on November 3.
In an interview with THE FIGHT the Duo talk about living and working together, pushing each other to be better versions of themselves and love at first sight.
Were you both singers/entertainers before you met?
Adam: We both had full-time careers in music before we met each other. Jerome has been a professional singer since his teens and began his career at the age of 17 as an opening act for Destiny's Child. I had been singing full-time since 2009—I got my start as a lead vocalist aboard cruise ships.
"Our upcoming music video release Let Me Come Home is an atypical holiday song that speaks to the strained family relationships many LGBTQ+ people experience during the holidays."
When, where and how did you meet?
Jerome: We met on September 24, 2017 in Minneapolis, MN. At the time, Adam was singing with a MN-based vocal group and I was cast to be Adam's love interest in the group's video for Toxic by Britney Spears. We were residents of NYC at that time which made it seem even more incredible that we met in the middle of the country! 
When did you realize you wanted to be together?
Adam: We knew we wanted to be together the instant we met. You know that whole "love at first sight" thing? Well, its very real! 
You live and work together. How has coupledom been for you?
Jerome: It has been inspiring, challenging, beautiful, and rewarding. We constantly push each other to be better versions of ourselves, not only for each other, but for the world around us. 
How did the idea for OneUp come about?
Jerome: Our first winter together was spent mostly hibernating in our apartment, playing a LOT of Super Mario Brothers! When we were thinking of what to name our duo before auditioning for The Voice, "1up" (a free life in Mario Bros.) was ringing loud in our heads. We liked the sound of it and quickly thought of a couple ways to justify the name….Just like getting a free life in the video game, we felt as though we each gained a free new life when we met each other. Sappy?? …we know lol…  The other thing we like to say is that our voices one-up each other in a positive way. Our individual ranges, tones, and skills come together to support one another in ways we could have never imagined.
How was your experience on The Voice?
Jerome: It was truly a beautiful experience. The casting process was a lot of fun and began with a member of the casting team seeing a video we posted on Instagram. One thing led to another and we found ourselves singing together on a stage for the very first time in front of a studio audience, cameras, and four superstars with their backs turned to us! Even though our time on the show was short, we felt that we gave it our all and that we are still winning in life. The show was a great way for us to be seen, heard, and to share our non-traditional love with America. It also opened doors to amazing performance opportunities which are still unfolding and surprising us!
You are performing at Palm Springs Pride this year—how did that come about?
Jerome: Performing at Palm Springs Pride is a direct result of being contestants on The Voice! We now have an awesome booking agent named Stephen Ford (divasanddjs@gmail.com)  who has been booking us at Pride Festivals throughout the country, as well as HRC events. We feel so fortunate to have someone like Stephen who believes in our talent and message of love and positivity. 
What are your plans for the future?
Adam: We have so many plans for the future, but the most pertinent plan is our upcoming music video release for our original holiday song. Let Me Come Home is an atypical holiday song that speaks to the strained family relationships many LGBTQ+ people experience and the hurt we feel during the holidays when we desire closeness with family the most. The song is currently available on all digital platforms, but the video will be released on November 29 and really enhances the hopeful message of the song. We believe that its time for the holiday music genre to embrace real stories about how difficult this time of year can be. 
---
For more on OneUp Duo visit: www.oneupduo.com.