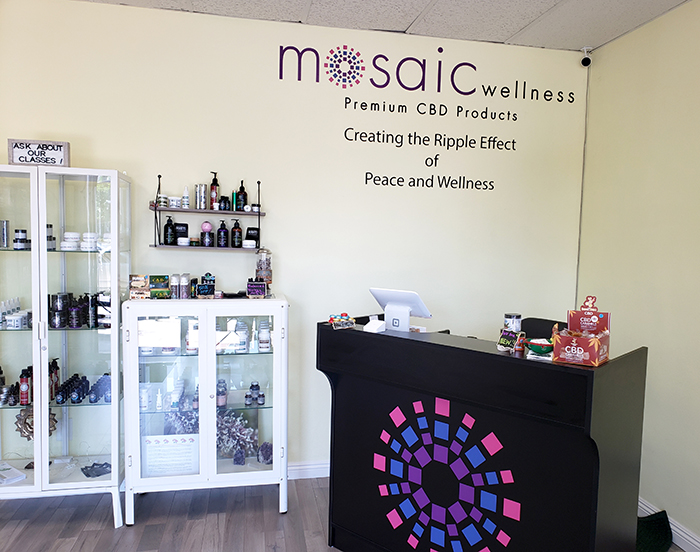 Mosaic Wellness
"I have not taken an OTC or prescription drug for inflammation, pain, arthritis, lack of sleep or anxiety since discovering all the benefits of the different CBD products."
Karin Clarke, a certified integrative health coach and owner of Mosaic Wellness, has been working in the cannabis industry for close to a decade.
"I have seen so many people helped by this amazing plant. Over the past several years I became the 'go-to' person among my friends and family about questions surrounding cannabis and CBD use. I have practiced my own personal sobriety for the past 31 years and getting high was never my intention," reveals Clarke in an interview with THE FIGHT.
"I opened Mosaic Wellness with the intention to help create the ripple effect of peace and wellness," states Clarke.
Clarke started using CBD and cannabis topicals nine years ago for arthritis in her back. "I was on an arthritis medication and it wasn't very effective. I found a brand called Xternal, ordered their products, LOVED the relief I experienced and immediately became a sales rep for them here in the LA area… I have not taken an OTC or prescription drug for inflammation, pain, arthritis, lack of sleep or anxiety since discovering all the benefits of the different CBD products."
In addition to CBD and other products – Mosaic Wellness also offers classes. "We do not believe in the 'take a pill for your ill' model of healthcare. My team and I are all healers and certified coaches in different modalities of health and wellness.  Our Wellness Studio offers intimate classes to help people relax, connect with themselves and others. We offer Reiki, meditation, Yoga and Education workshops.
---
For more info call (818) 927-4062 or visit: www.MosaicWellnessShop.com.