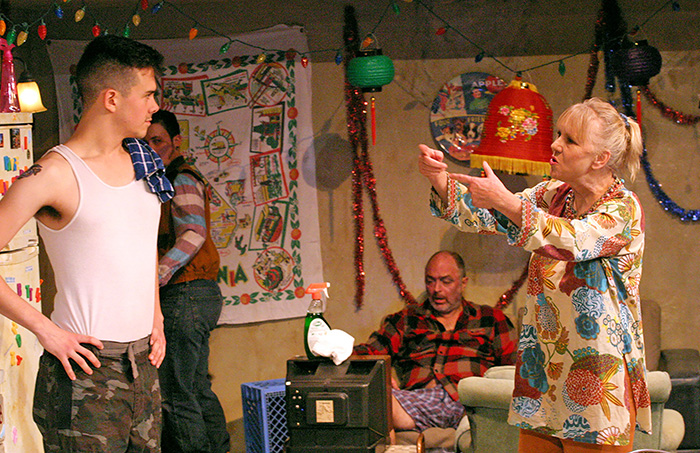 THROUGH OCTOBER 20
LIBERATE THE BAR! QUEER NIGHTLIFE ACTIVISM, AND SPACEMAKING, 11AM–6PM
ONE Archives Gallery & Museum, 626 N Robertson Blvd, West Hollywood, 90069. A multimedia exhibition that sheds light on the intricate relationship between nightlife, activism, and creative expression across space and time. 
SATURDAY, AUGUST 10
24TH WOMEN ON A ROLL CELEBRATION
Los Angeles LGBT Center/Renberg Theatre, 1125 McCadden Place, Los Angeles, CA 90038. Live Performance and After Party with Dinner Buffet, DJ & Dancing under the Stars! Celebrating 24 years of fun and friendship! A night of comedy and community!
BEARRACUDA: ADAM & STEVE
Precinct DTLA, 357 S Broadway, Los Angeles, CA. Get on your knees and get sweaty with the Bearracuda go go alter boys and 600 men inside of Precinct.
SUNDAY, AUGUST 11
BONDAGE NIGHT—SANCTUARY LAX STUDIOS 7:30PM–11PM
Sanctuary LAX Studios, 10914 S La Cienega Blvd, Lennox, 90304. Once a month at the centrally located, well equipped bondage space Sanctuary Studios in Los Angeles near LAX. Admission is $20 cash at the door and $15 for full dues paying members.
BEARS IN SPACE W/TRUNCATE & SHARIF LAFFREY
Akbar Silverlake, 4356 W Sunset Blvd, Los Angeles, CA. With Sharif Laffrey (Special Forces/ESP Institute, NYC) and Truncate (50 Weapons, LA). Prepare to energize!
ONYX: LINKED BY KINK, 4PM-8PM
Eagle LA, 4219 Santa Monica Blvd, Los Angeles, CA. Party with the men of ONYX SoCal-Southwest.
FRIDAY, AUGUST 16
GMCLA 40 / STONEWALL 50—WALT DISNEY CONCERT HALL
Walt Disney Concert Hall, 111 S Grand Ave, Los Angeles, 90012. A milestone event concluding GMCLA's 40th anniversary season and commemorates the 50th anniversary of the Stonewall riots in New York City. For more info visit www.gmcla.org.
SATURDAY, AUGUST 17
FILMS4FAGS: DADDY + THE MUSCLE ACADEMY/YOU WILL NEVER BE A WOMAN 8PM–11PM
Tom of Finland Foundation, 1421 Laveta Ter, Los Angeles, 90026. For more info visit: www.tomoffinlandfoundation.org
THURSDAY, AUGUST 22
THE ROLE OF LGBTQIA+ SOCIAL MEDIA INFLUENCERS IN TODAY'S WORLD
LA Plaza de Cultura y Artes and QTalk Radio, 501 N Main, Los Angeles, CA. A panel discussion with queer influencers that look into how they affect and are affected by today's social media driven society.
FRIDAY, AUGUST 23-25
DTLA PROUD FESTIVAL 2019
Pershing Square, 530 S Olive St, Los Angeles, 90013. Celebrating the culture, history, and diversity of the growing LGBTQ+ community in Downtown Los Angeles and beyond. More info: www.dtlaproud.org.
SUNDAY, AUGUST 25
BEYOND THE HEDGES WITH KATE BERLANT AND JOHN EARLY—2PM–7PM
Tom of Finland Foundation, 1421 Laveta Ter, Los Angeles, 90026. For more info visit: www.tomoffinlandfoundation.org
HIR BY TAYLOR MAC 8PM–9PM
Odyssey Theatre Ensemble, 2055 S Sepulveda Blvd, Los Angeles, 90025. Bart DeLorenzo directs this darkly funny, shockingly absurd and endlessly surprising vision of a world in transition by MacArthur "genius" Taylor Mac. Somewhere in the suburbs, Isaac has returned from Afghanistan with a dishonorable discharge, only to discover a household in revolt. More info: www.odysseytheatre.com/hir.php
SATURDAY, AUGUST 31
FILMS4FAGS: TICKLED / EXCITABILITY 8PM–11PM
Tom of Finland Foundation, 1421 Laveta Ter, Los Angeles, 90026. For more info visit: www.tomoffinlandfoundation.org