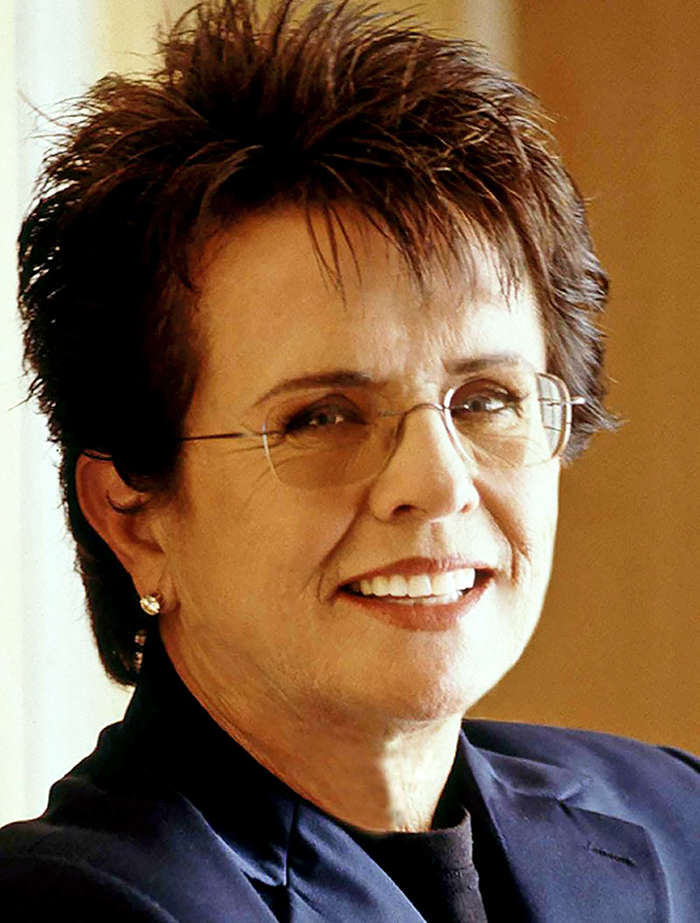 LONG BEACH
CITY NAMES NEW LIBRARY AFTER BILLY JEAN KING
The City of Long Beach named its new main library after Long Beach native and tennis icon Billie Jean King. The new Billie Jean King Library is a 93,000 square foot building located downtown at the southwest corner of the intersection of Broadway and Pacific Avenue. 
The Billie Jean King Main Library is scheduled to open September 21, reports Q Voice News.
In a letter to the city, King wrote that "it is deeply humbling" to have her name in consideration for the new library.
"This honor would represent my life coming full circle, and my complete belief of having a commonplace for the community, where all are equally welcome and have access to visit, learn, and grow."
---
WEST HOLLYWOOD
FAMILY, FRIENDS REMEMBER GEMMEL MOORE 
Family and friends of Gemmel Moore joined activists in West Hollywood last month to remember him two years after his death. A crowd gathered outside former Democratic donor Ed Buck's apartment to renew calls for District Attorney Jackie Lacey to prosecute Buck for the deaths of Moore and Timothy Dean who was also found dead in Buck's apartment—eighteen months later after Moore was carried out in a body bag. Moore, 26, died of a crystal meth overdose. His death was immediately classified as an accidental overdose by the coroner. The Los Angeles County Sheriff's Department's homicide bureau opened an investigation after his death however prosecutors declined to file charges against Buck in connection with Moore's death, citing insufficient evidence. 
---
SAN DIEGO
ANTI GAY HATE CRIMES INCREASE IN SAN DIEGO
Data obtained by NBC 7 shows that anti-gay hate crimes increased in San Diego in 2018. According to a recent investigation, less than 17 percent of all anti-LGBTQ hate crimes reported in San Diego result in arrest. Numbers reveal hate crimes against LGBTQ+ remains a reality Advocates say the lack of arrests and San Diego's history of anti-gay violence has resulted in the reluctance for many victims to report the crimes. 
While anti-LGBTQ hate crimes statewide dipped in 2018 when compared to 2017, the number of hate crimes against the community increased from 11 attacks in 2017 to 14 in 2018 in San Diego.
---
LOS ANGELES
LGBT CENTER MOURNS LOSS OF FORMER BOARD MEMBER ROSE GREENE
The Los Angeles LGBT Center is mourning the loss of former Board of Directors Member Rose Greene, who served The Center twice, from 1989-1995 and 2006-2011. Greene led the first-ever LGBT capital campaign, which led to the opening of The Center's McDonald/Wright Building located on Schrader Blvd. (the former headquarters before the completion of The Center's flagship facility, the Anita May Rosenstein Campus). 
Greene died of bone cancer. She was 72.
---
PALM SPRINGS
WHITE PARTY MOVING TO AIR MUSEUM IN 2020
Jeffrey Sanker's White Party Palm Springs is moving from the Palm Springs Convention Center to the Palm Springs Air Museum in 2020 for the April 24-27, 2020 event.
"Twenty-five years in one location is a long time, and I've been eyeing the Palm Springs Air Museum for a couple of years now," Sanker told The Desert Sun. "It's a new decade and I feel like doing something new, not just for me, but for my attendees. People get a little tired of being in the same place and we're growing. [The air museum] has three large hangars and these beautiful iconic airplanes. It's part of Palm Springs history."