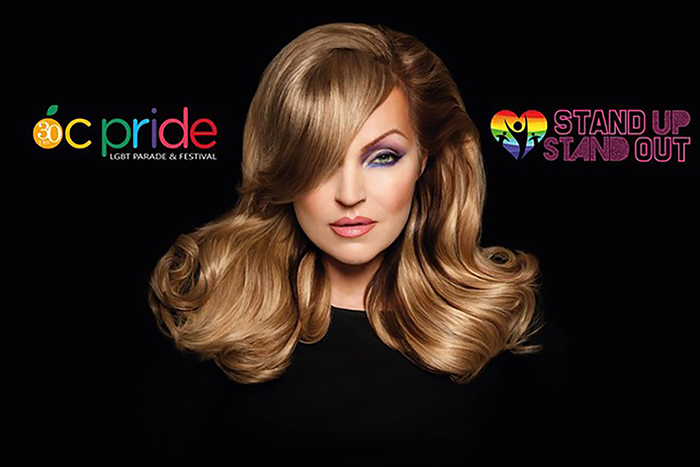 ORANGE COUNTY
"STAND UP STAND OUT" AT OC PRIDE
OC Pride 2019 will be held on  Saturday, June 22, 2019 in Downtown Santa Ana with an expected attendance of over 25,000.  The theme this year is  "Stand Up Stand Out."  
Dance legend Kristine W, ranked #3  in Billboard's "Top Dance Artists of the Decade," will perform her classic dance hit Feel What You Want along with songs from her soon-to-be-released summer album.
Other performers include Deborah Cox, Willam, David Hernandez and Zee Machine.
For more info visit: www.prideoc.com.
---
WEST HOLLYWOOD
PRESIDENTIAL HOPEFUL PETE BUTTIGIEG
VISITS WEHO
Gay Democratic presidential candidate Pete Buttigieg visited the City of West Hollywood last month. He appeared at a sold out town hall fundraiser which was hosted at The Abbey Food & Bar. 
West Hollywood Mayor Pro-Tempore Lindsey Horvath was joined by Jennifer Childress, Sam Greisman, Ira Madison III, Brandon Sharp, Brent Weinstein, Sue LaVaccare, and David Cooley, the owner and founder of The Abbey, in welcoming Mayor Pete to the city. 
Buttigieg spoke about cyber security, election security, voter suppression and the rising tide of white nationalism. 
Mayor Pete also joined Los Angeles Mayor Eric Garcetti at a community event in support of Measure EE. If passed, the Measure would raise about $500 million a year, or about $750 per student, by instituting a new parcel tax on residential and commercial property throughout the school district.
---
LONG BEACH
LEGENDARY CLUB RIPPLES CLOSING
The owners of Club Ripples, the oldest gay bar in Long Beach, have announced  they are shutting down the two-story gay dance club that first opened in 1972. Owners Larry Herbert and John Garcia say they will sell the bar and soon retire. They will ring in the bar's last call this summer. They have owned the bar for the past 40 years. 
---
SAN DIEGO
CALL FOR INCREASED ARMED SECURITY
AT LGBT CENTER
San Diego LGBT activists are raising funds to increase armed security in and around the San Diego LGBT Center after recent hate-based attacks around the the gay Hillcrest area. San Diego Gay & Lesbian News reports that the shooting at a San Diego synagogue, which left one woman dead and three others injured, as well as the shooting at the busy Asian Bistro on University Avenue, could mean The Center may be next if left exposed without adequate defenses.
---
COSTA MESA
LGBT FLAG TO FLY AT COSTA MESA FAIRGROUNDS
Orange County Fair Board voted last month to fly a LGBT Flag at the Costa Mesa Fairgrounds all year round. 
The vote was made following Costa Mesa and Laguna Beach's decision to raise the LGBT banners at their city halls during Harvey Milk Day and throughout Pride Month in June. 
The board also voted to adopt a resolution recognizing the history and contributions of the LGBT community.