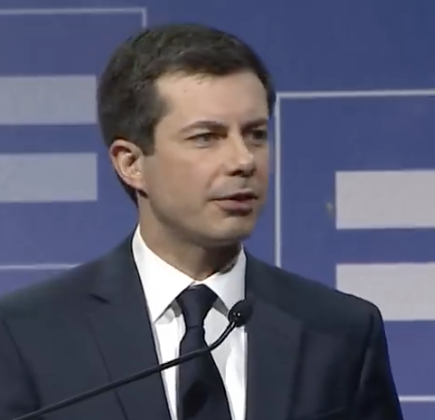 Openly gay Democratic presidential candidate Pete Buttigieg addressed identity politics and America's "crisis of belonging" during the Human Rights Campaign's 14th annual gala Saturday night in Las Vegas, reports Las Vegas Review Journal.
"I am here to build bridges and tear down walls," Buttigieg said to an audience of about 750 people at Caesars Palace. "With your help, we can tear down walls between fellow Americans."
Most of the mayor's 30-minute speech focused on his values, tearing down barriers and recognizing his own privilege as a white man running for the presidency.
"I may be part of the LGBTQ community, but being a gay man doesn't even tell me what it's like to be a trans woman of color in that same community," he said. "Let alone an undocumented mother of four, or a disabled veteran, or a displaced auto worker."
Buttigieg said all Americans could look to their personal stories to find empathy and a reason to create "a new form of American solidarity."
WATCH: