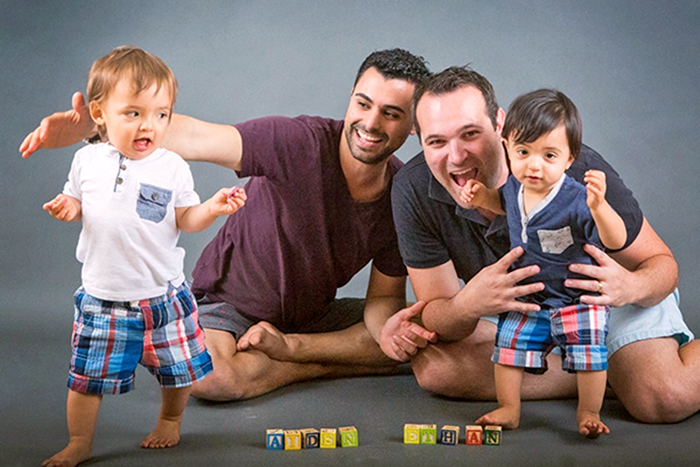 ---
"… In good news, a twin baby born to a bi-national married gay couple finally got his U.S. citizenship after a federal court in California bitch-slapped some Trump Department bureaucrats."

---
THE HEROIC FIRE FIGHTERS AND THE BRAVE RAT
I have a giant list of important LGBT topics this month, and yet I want to start with the story of the German firefighters who spent a half-hour or so freeing an overweight rat who got stuck in a manhole cover. Alerted to the emergency by a couple of kids, no less than eight rescue personnel restrained the terrified animal while they lifted the cover up and slowly managed to push the shrieking rat through the small aperture from behind. The rat was unharmed, and upon being freed, seemed to pause and look back at the crew with gratitude before running off. Check out the video.
I don't know why I find the story so compelling. There's so much unexpected kindness involved. I am listening to the Cohen hearings with half an ear as I write and, in general, I've been feeling drenched by soul-killing Trumpian hostility for months. So the heroic fire fighters and the brave rat made me feel better.
THE METHODISTS AND 20TH CENTURY VALUES
Let's carry on with the Methodists, who voted to remain opposed to gays in the ministry and same-sex marriage by a 53-47 margin at their big February Hoo Haw in St. Louis. These LGBT church stories used to dominate headlines a decade or so ago, and indeed, the Episcopalians, the Presbyterians and the Lutherans have all since moved to recognize gays and lesbians and perform same-sex marriages after contentious battles of their own.
By contrast, the Methodists have a significant presence in Africa and other conservative spots around the globe that seems to have kept the United Methodist Church firmly rooted in 20th Century values. Still, the vote for traditional anti-LGBT policies was something of a surprise, and came at the expense of an alternative plan that would have allowed local churches to set their own standards.
Just as conservatives have split from the other major denominations on account of their gay-friendly evolution, it's expected that progressive Methodist churches will now split from the Methodists, particularly those in the U.S.
HATE CRIMES AND SAVING YOUR PETS
Hate crimes are insidious because they affect all of us. When someone is harassed for, let's say, shopping while Latino or barbecuing while Black, every person of color knows that he or she could be the next target. Here in Austin, Texas where I live, two men were attacked for holding hands in the gay section of town in January, and our whole community rose up—even organizing night patrols for a little while until the perpetrators were caught.
Conversely, when a hate crime turns out to be a scam (Jussie Smollett), our capacity for sympathy is diminished. This, even though we all know that only two percent of hate crimes are faked (percentage off the top of my head). Meanwhile, I bring up Smollett in order to highlight an even worse transgression, a 54-year-old gay activist in Michigan who seems to have burned his own house down in the summer of 2017 in an effort to win attention. Transman Nikki Joli has now been charged with arson in the case that many thought was a hate crime at the time.
According to Jackson, Michigan, police, Joli bought gasoline, smelled of gasoline, and was the only one in the house when the fire was set. Oh, except for his two dogs and three cats, who were killed in the blaze. He also allegedly saved pictures from the wall before starting the fire. And he picked up $50,000 or so in donations after the event.
He goes to court March 6, so we'll see. Faking a hate crime is bad enough, but killing your pets? If you're going to save the photographs, can't you at least open the window for Fluffy, Puffy, and Muffy and let the dogs into the yard?
DISCRIMINATION LAWSUITS AND THE FANTASY SUPREME COURT
I could tee up a lot of legal news for you this month, starting with a couple of victories before the Missouri Supreme Court; first, a case of workplace discrimination, our favorite area of jurisprudence now that marriage equality is a thing, and second, a transgender school case. My wife is from Kansas, and I may have mentioned that she and my beloved step children will actually drive over the state line in Kansas City to avoid paying sales tax in Missouri, home of the "slavers" who attacked people in Kansas in the 1850s or whenever. They know the details.
Speaking of discrimination lawsuits, we are still waiting for the U.S. Supreme Court to take action on three big LGBT petitions which have just been shelved for the umpteenth time and scheduled for discussion at the March 1 conference. If nothing happens, it's fine with us, since we don't trust this particularly High Court to pass judgment on our civil rights.
Then there are the various anti-gay small business owners who piously insist their faith demands that they reject gay wedding clientele. It feels as if every week there's another incident. Another wedding cake baker in Tennessee. A photographer out of Denver. A stationary store in, where was it, Indiana? Oh here it is. It's the Brush and Nib Studio in Phoenix, Arizona, whose owners want to be able to ignore a city ordinance that forbids LGBT discrimination in services. That case was just heard by the Arizona Supreme Court. Meanwhile, an ongoing battle over Arlene's Flowers in Washington continues before the state supreme court, which was told by the High Court to revisit its earlier pro-gay ruling in the context of last year's Masterpiece Cake decision.
And don't worry, we're not going to rehash the frustrating result in Masterpiece, Anthony Kennedy's final mixed-message to our community, which left the status of every law against gay discrimination in public accommodation in limbo. Suffice to say that the whole issue remains completely muddled and will no doubt be sent back to the Supreme Court at some point. We can only hope that it winds up at my falling asleep fantasy Supreme Court. The one that President Harris creates after Thomas decides to retire and Alito runs away to Fiji with one of his law clerks.
THE BEAUTY OF FILING MULTIPLE LAWSUITS
Oh, I could tell you more. The transgender military cases continue, and in the good news department, an injunction against Trump and Mattis's anti-trans policy remains in place for the moment even though the High Court trashed two others. That's the beauty of filing multiple lawsuits.
You also might remember a weird case in Texas, where the state supreme court seemed to suggest that the city of Houston might be able to ignore marriage equality. They sent that case back to a lower court, and the lower court just ruled that, um no, marriage equality is still the law of the land. I have to make clear that Houston, itself a progressive burg, had no desire to treat gay unions differently. It was just some random homophobic citizen who somehow got standing to file suit. Watch out for that anomalous case to wander back up the ladder.
And in good news, a twin baby born to a bi-national married gay couple finally got his U.S. citizenship after a federal court in California bitch-slapped some Trump Department bureaucrats. The men had twins in Canada through a surrogate, but after being subjected to forced DNA testing, only the baby with the American father was approved for citizenship. The other boy's father was the Israeli half of the pair, who as I mentioned was married to his American husband. Up until this recent ruling, the boy, who is now two, has been living with his family in L.A. on a tourist visa. Really!
---