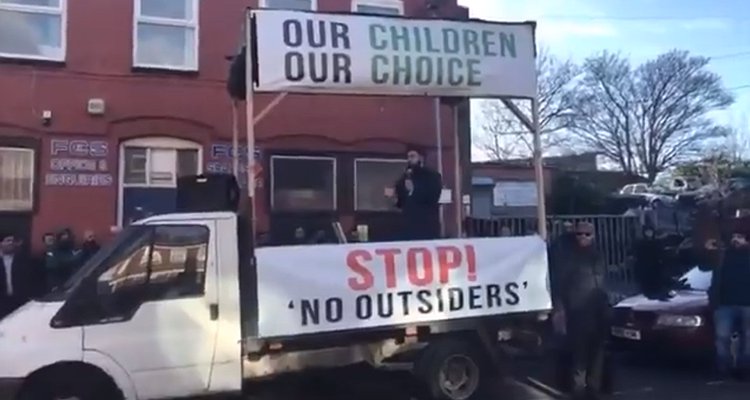 Shocking new footage shows the extent of the anti-gay bigotry being aimed at Parkfield Community School in Birmingham in the UK and its assistant head teacher Andrew Moffat over the school's recent discussion of LGBT acceptance, reports Attitude.
The school has been thrust into the national spotlight in recent weeks after hundreds of parents began protesting against age-appropriate discussion of LGBT people as part of the Muslim-majority school's 'No Outsiders' diversity programme.
A video posted on Twitter today shows a group of adults and children assembled outside the school in front of a banner mounted to the back of a van reading 'Our Children, Our Choice – Stop! 'No Outsiders'.
Among other statements an unidentified man tells cheering protestors that they're going to have the LGBT acceptance program "abolished in every school in Birmingham, every school in the country."
READ MORE AND SEE THE VIDEO HERE:
https://www.attitude.co.uk/article/shocking-footage-shows-parents-directing-chants-of-shame-against-gay-teacher-outside-parkfield-school-watch/20468/