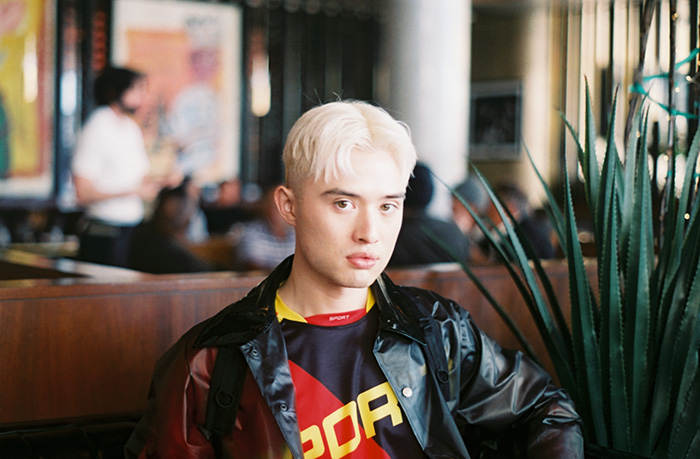 BEING CHESTER
Pickle breaks bread with internet personality, actor, singer, dancer and musician Chester Lockhart at Paley Hollywood.

BY PICKLE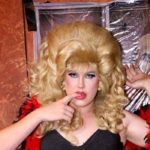 Chester Lockhart's ears shimmer. I mean that literally. When we settled in to our booth at the beautiful Paley in Hollywood, I couldn't help but notice that his ears almost seemed as if they were coated in some kind of holographic glaze. This made perfect sense to me though; Chester's entire being is rather etherial, as if he wasn't born but rather transported here from some magical Elvin Kingdom where the water is made of virgin tears and wrinkles simply don't exist.
His skin is almost eerily smooth, his lips are always in a slight pout. Long story short, he's gorgeous. But Chester is a goofball. I asked him what he thought of himself first, before anything else. "I would say I'm a comedian first, honestly. A sense of irony pervades everything I do, and I'm never off. Right, I'm always on?" He directed this last question to his dear friend Soju, a lovely queen and recent transplant from Chicago, who quietly tinkered on her phone.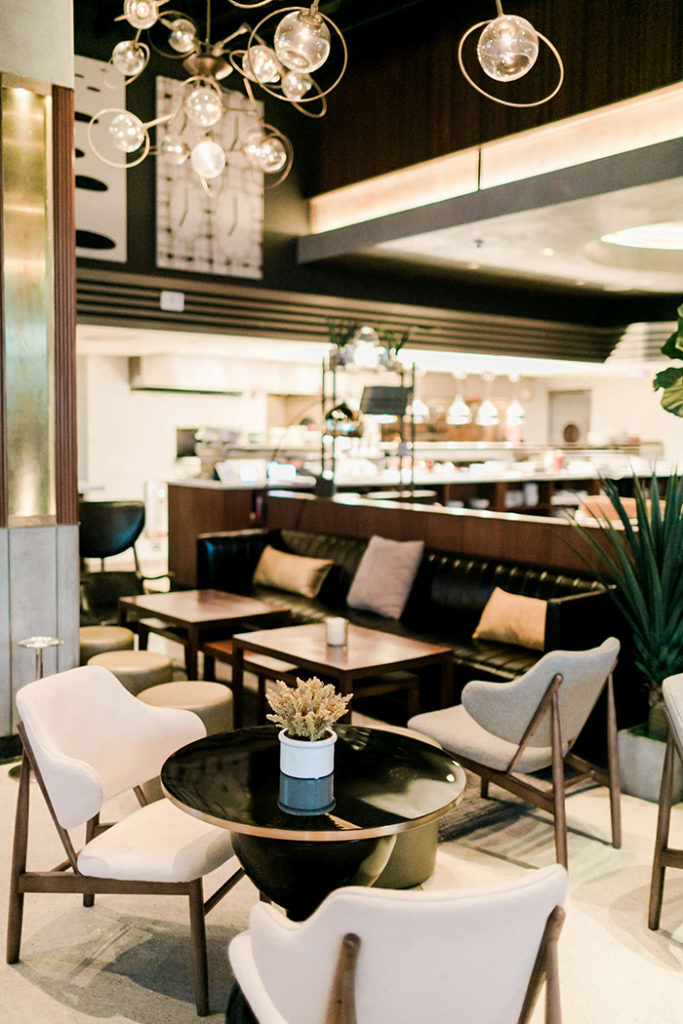 When our food arrived—I ordered the delicious Wagyu Burger with cheese and no bun but with tater tots because they are TATER TOTS for god's sake—Chester enjoyed a fried chicken sandwich and Soju ordered the fabulous Salmon Burger. We all ordered Cold Brew iced coffee because, well, homosexuality. Our server, the delightful Johnny, brought us steak knives which I admitted made me nervous; sure enough not ten seconds had passed before Soju shrieked, realizing his nail polish hadn't dried, and the steak knife hurtled to the ground, narrowly missing poor Johnny's toes. We chuckled and got to Chester's mysterious past.
"PRAY AWAY THE GAY" CAMP
Chester is from Riverside County, born in Chino Hills and raised in Lake Elsinore (which does sound like an Elvin Kingdom, right?!), "Where the meth runs freely," he sighed. He moved to Los Angeles at 17 to pursue a career in entertainment, leaving his doting Korean mother and a father who is "very Danish," whatever that means. Both are deeply conservative and religious, which has been a challenge for Chester, who was sent to "Pray Away the Gay" camp at 14. An experience he said was laughable because "try to pray this gay away, bitch! Ain't gonna happen mawma *tongue pop*." Their home is decorated in Trump paraphernalia, but recently, Chester has found a stronger connection to his parents, who seem to have realized that loving each other should be the priority in their increasing age.
Unleashed in the big city, Chester struggled to find parts as an actor. "I was too gay, or too Asian or too white. It was like, you need to butch it up and can you imagine me trying to be butch, bitch? So I was dancing because that's where I was getting work, but it was so frustrating."
He worked as a dancer on various projects including VicTORIous with a younger, paler Arianna Grande and eventually landing with Todrick Hall in a production of Hairspray in Long Beach. I asked who he played. "One of the white kids. They put glasses on me to make me seem whiter." Mentally adding that to my long list of grievances against the whitewashed nightmare that is Hairspray the Musical, I asked about his experience with Todrick, who is his best friend and long time collaborator. Turns out, Chester was a key behind the scenes player in a good deal of Todrick's work from 2012 to 2016; he stepped behind the scenes producing, editing, connecting the dots. It was in doing that work that Chester built the skills he would need to launch himself as a musician.
AN AFFINITY FOR DARKNESS
Chester describes himself as an outcast. He's never quite felt a part of, so his work is important in grounding his soul in something that makes sense to him. A darker side seems to emerge in Chester's recent music which is slightly macabre-not necessarily what you would expect from a bleach blonde dancer twerking behind Todrick Hall in a Disney Parody. He laments with "In loving Memory," "Here lies a boy, dearly departed, killed for no reason at all. […] You stole, you lied, you buried the best parts of me. My heart has died, it rests in loving memory."
Chipper, right? This is dedicated to the fact that, in his own words, all of Chester's romantic relationships have been "disasters." The music video takes place in a Morgue, which Chester divulges was actually a set for food-based kink porn (fun little tid-bit over salmon burgers). His voice is smooth and whispered, a lovely tone from a lovely boy.
Chester has always had an affinity for darkness, comic books and villains. I asked who his favorite villain of all time was, and he said Ursula from The Little Mermaid. When I asked him what the greatest love story of our generation was, he said Britney and Justin Timberlake. As people poured into Paley Hollywood for the lunch rush, delayed thanks to the Holiday Weekend, we laughed about cold brews and Katy Perry, the remnants of our tater tots being picked up by Johnny, our server who, according to Chester, looks like he might play Jesus in a live action movie. Or Moses.
In spite of this sinister streak, or perhaps not in spite but in synergy with, Chester is a bright, sharp presence. He really is always "on," but not in a way that feels invasive or cloying. He is an entertainer, through and through, good and bad. He and Soju, who was just announced as a Season 11 cast member of Rupaul's Drag Race, have recently collaborated on an ongoing series of K-Pop Parties, called "Seoul Train," dedicated to celebrating fans of the stunning Korean Pop genre. These parties, beyond the theme and the fans, are about celebrating one's love for something bigger, in this case the seemingly outrageous production value of Korea's music superstars. Sometimes, one can feel like an outcast but it would appear that in the flash and drum of a K-Pop mosh pit, it's that very feeling that keeps you connected.
---
Seoul Train Party is ongoing and can be found at the Oasis in San Francisco the second Friday of each month.