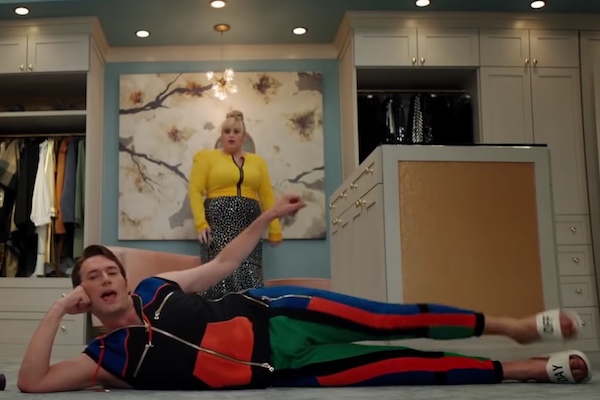 (Photo: Brandon Scott Jones, Rebel Wilson)
Isn't It Romantic, the anti-romantic comedy, which debuts nationwide today, follows Natalie (the hilarious Rebel Wilson), a cynical architect in the thick of her worst nightmare. After a bonk on the head, she seems to be living inside a romantic comedy, with the over-used tropes that often come with the genre, reports The LA Times.
Yes, there's a kiss in the rain. Yes, Vanessa Carlton's "A Thousand Miles" plays. Yes, crowds break out in perfectly choreographed dance sequences.
But among the laughs, the film also "plays with and shatters" the stereotype of the gay best friend, reports The LA Times.
As Natalie navigates this "matrix for lonely women," she's greeted by a very different version of her neighbor Donny, played by Brandon Scott Jones of NBC's The Good Place and best-picture Oscar contender Can You Ever Forgive Me?
Though Natalie often spots women coming and going through his apartment, Donny in her new reality has transformed into her flamboyant "gay sidekick, who's setting gay rights back, like, a hundred years."
"Being the producer of the film, it was really important to me that obviously we cast an openly gay actor for the role of Donny so that the character could not in any way be construed as mocking a gay guy," Wilson told The Times outside the Ace Hotel in Los Angeles on Monday night.
Toward the end of the movie, Donny returns to his "normal" self and informs Wilson's character that he is gay — much to her surprise. He asserts that all gay men aren't the same and explains that the women who pass through are just buying weed from him.
READ MORE HERE:
https://www.latimes.com/entertainment/la-et-isnt-it-romantic-red-carpet-premiere-gay-character-20190212-story.html