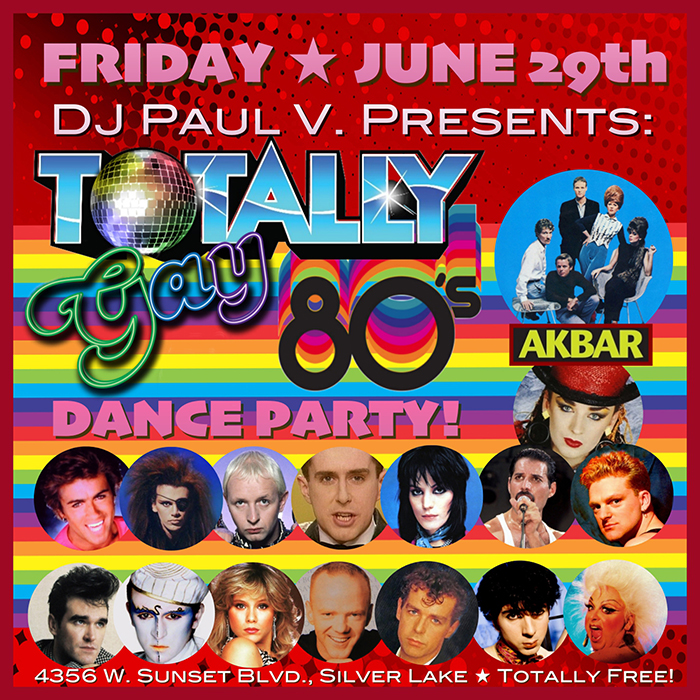 SATURDAY, JUNE 9
LA PRIDE
West Hollywood Park, 647 N San Vicente Blvd, West Hollywood, CA. Info: www.lapride.org .The annual LA Pride Festival makes its return to West Hollywood Park. 
SPLAASH 2018: LOS ANGELES PRIDE POOL PARTY
Hotel Indigo Los Angeles Downtown, 899 Francisco St, Los Angeles, CA. 12pm-6pm. Downtown at the rooftop pool at the all-new luxury Hotel Indigo -boys, beats, BBQ and fun!
MASTERBEAT TOY FACTORY
The Mayan, 1038 S Hill St, Los Angeles, CA. 9pm-6am. Superstar DJ/Producer Ralphi Rosario returns to take you through the night.
DRAGBALL 2018
Poinsettia Park, 7341 Willoughby Ave, Los Angeles, CA 90046. 1pm-3pm. Two Teams. Two Charities. One Game of Kickball. Photo Ops for Days!
GLOW ME: SPACE MADNESS
Bullet Bar, 10522 Burbank Blvd, North Hollywood, 91601. 9pm-2am. Glow Me is back!
SUNDAY, JUNE 10
RISE: AFTERHOURS AT THE FACTORY
Exchange LA, 618 S Spring St, Los Angeles, CA. 4am-11am. Immediately following Masterbeat Toy Factory a special Pride after hours party with music by the legendary Morabito. 
BEARS IN SPACE 9 YEAR ANNIVERSARY
Akbar, 4356 W Sunset Blvd, West Hollywood, CA. 2pm-2am. Critter Control Chris Bowen & Victor Rodriguez bring New Orleans's TRAX ONLY and Mexico City's POR DETROIT together to celebrate.
TUESDAY, JUNE 12
CHICO'S ANGELS 
Oscar's Cafe & Bar, 125 E Tahquitz Canyon Way #108, Palm Springs, CA 92262. 8pm-9:30pm. A flashback and flash forward variety show, featuring the Angels performing sketches, beloved musical numbers and of course their HIT single "You Don't Know My Life." 
SATURDAY, JUNE 16
VARSITY GAY LEAGUE SUMMER SOCCER 2018
Poinsettia Park, 7341 Willoughby Ave, West Hollywood, 90046. 11am-2pm. Up to 12 teams compete for champion of the park. 
FRIDAY, JUNE 22
BOOTIE LA
The Echoplex, 1154 Glendale Blvd, Los Angeles, CA 90026. 10pm-2am. Paying tribute to the last decade in full mashup style with '00s Mashup Night! Resident DJs Shyboy and Nubar take your favorite songs from the turn of the millennium. 
SATURDAY JUNE 23
THE PINK CARPET: LGBTQ & THE SILVER SCREEN
Alex Theatre, 216 N Brand Blvd, Glendale, CA. 2pm-4pm. GMCLA's summer concert event, The Pink Carpet, will highlight many of the iconic films that have depicted LGBTQ culture. They'll be joined by Emmy Award-winner actor, comedian, and LGBTQ activist Leslie Jordan for an unforgettable experience. 
15TH ANNUAL SOUTHLAND HONORS
Taix French Restaurant, 1911 W Sunset Blvd, Los Angeles, 90026. 6pm-9pm. Formal Leather Dinner, hosted by Lady Scarlett Sin. The Southland Honors awards were created to nurture an attitude of integrity and community pride, preserve leather community tradition, and to recognize community service.
THURSDAY, JUNE 28
2018 PURPLE LILY AWARDS
La Plaza de Cultura y Artes Museum, 501 N Main St, Los Angeles, CA 90012. 6pm-10pm. Latino Equality Alliance presents: The third annual Purple Lily Awards in Downtown Los Angeles. A celebration of the Latinx LGBTQ community and pride month. Food, drinks, and entertainment. 
FRIDAY, JUNE 29
TOTALLY GAY 80'S DANCE PARTY
Akbar, 4356 W. Sunset Blvd. Info: AkbarSilverlake.com End Gay Pride month with a bang as DJ Paul V. presents the "Totally Gay 80's Dance Party" at Akbar in Silver Lake, celebrating with a night of ALL LGBTQ icons like The B-52's, Culture Club, Erasure, Joan Jett, Wham!, Dead Or Alive, Soft Cell, Bronski Beat, Divine and tons more. Totally free.
SATURDAY, JUNE 30
GENDER FLUID CONSCIOUSNESS RAISING
Community Meeting Room, West Hollywood Library, 625 North San Vicente Boulevard, West Hollywood, 90069. 7pm-9pm. Tickets & Info: https://fluid.bpt.me/ The 1st interactive Gender Fluid Consciousness Raising Event.