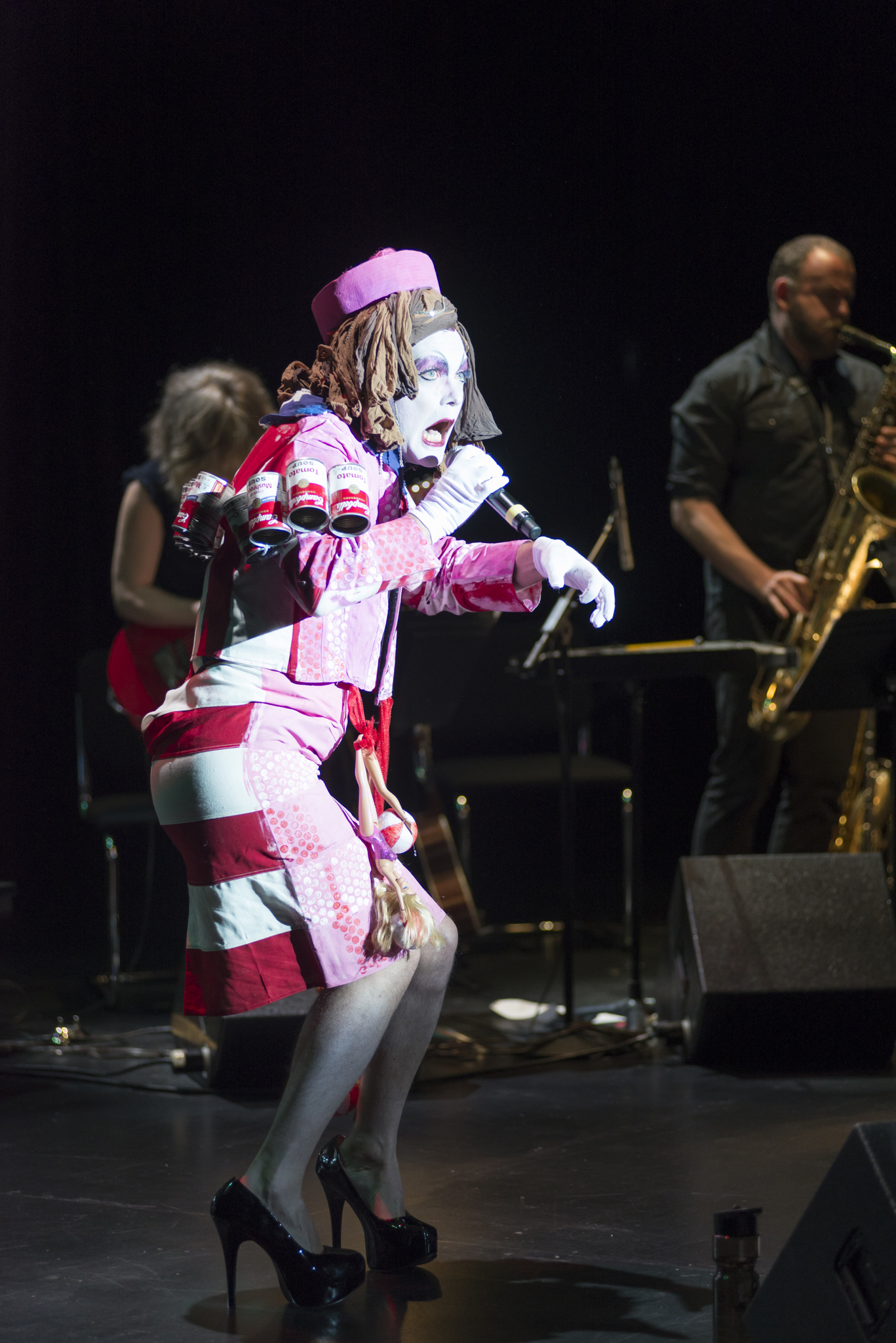 March 15, 17, 22 & 24 at The Theatre at Ace Hotel
Taylor Mac's 24-hour concert was one of the great experiences of my life."
—The New York Times
UCLA's Center for the Art of Performance (CAP UCLA) welcomes the return of Taylor Mac, the genre-defying winner of a 2017 MacArthur "Genius" Grant, recipient of the 2017 Edward M. Kennedy Prize for Drama, and a finalist for the 2017 Pulitzer Prize for Drama, in the epic 24-hour performance art concert, A 24-Decade History of Popular Music, in its entirety in four six-hour chapters March 15, 17, 22 and 24 at 6pm at The Theatre at Ace Hotel in downtown Los Angeles. 
Single tickets are now available for $45–$250 online at cap.ucla.edu and theatre.acehotel.com, via AXS by phone at 888-929-7849 and in person at The Theatre at Ace Hotel box office.
Having presented A 24-Decade History of Popular Music: The 20th Century Abridged to great acclaim in March 2016, CAP UCLA welcomes Taylor Mac back to perform the complete work.
"UCLA's Center for the Art of Performance is proud to have been one of the early co-commissioners of this uncompromising and brilliant work of art. Taylor Mac's creative capacity for shaping American history through the marginalized voices of each era is nothing short of genius," said Kristy Edmunds, CAP UCLA's executive and artistic director. "Los Angeles is the perfect city to celebrate how the persistence of this artist's vision serves to ignite what is possible in the live theater space, how collaboration lifts a democracy of inclusive principles, and why the arts are vital to our cultural commons, communities and continuity of belonging."
A 24-Decade History of Popular Music is Mac's multi-year effort to chart a subjective history of the United States through 246 songs that were popular throughout the country, and in its disparate communities, from 1776 to the present day. Costume designer Machine Dazzle, a longtime Mac collaborator, has handmade an outrageously imaginative, world-unto itself costume specific to each decade.
In performing the work, Mac is joined by an orchestra—led by Music Director Matt Ray, who created new arrangements of all 246 songs—plus an ensemble of "Dandy Minions" and a variety of special guests, including Grammy-nominated stand-up comedian Margaret Cho, singer-songwriter Amber Coffman and Tongva-Acjachemen artist L. Frank. Los Angeles-based artists include the Centennial High School Marching Band, all-female Mariachi Lindas Mexicanas, choral group Tonality and theatrical circus company Troupe Vertigo, plus local musicians and burlesque dancers. Members of the audience are cast as colonial needle workers, World War I soldiers and Yum Yum from The Mikado to help make the 24-hour journey a true community experience.
"A 24-Decade History of Popular Music is a reenactment of how the individual(s) may lose the long game but communities and movements, if continually brought together, have the potential to thrive and bend toward justice," said Taylor Mac. "I'm not a teacher. My job is to be a reminder. I'm reminding the audience of the things they've forgotten, dismissed or buried—or that others have buried for them. In this time of obstacle, of political cynicism, amnesia, polarization, oppression and upheaval, we are in desperate need of a physical, emotional, sensorial, and intellectual reminder that we can use the obstacles to strengthen our bonds and communal actions."
CAP UCLA presents
Taylor Mac
A 24-Decade History of Popular Music [1]
Thursday, March 15 at 6 p.m., Chapter I: 1776-1836
Saturday, March 17 at 6 p.m., Chapter II: 1836-1896
Thursday, March 22 at 6 p.m., Chapter III: 1896-1956
Saturday, March 24 at 6 p.m., Chapter IV: 1956-Present
Running time: approx. 6 hours