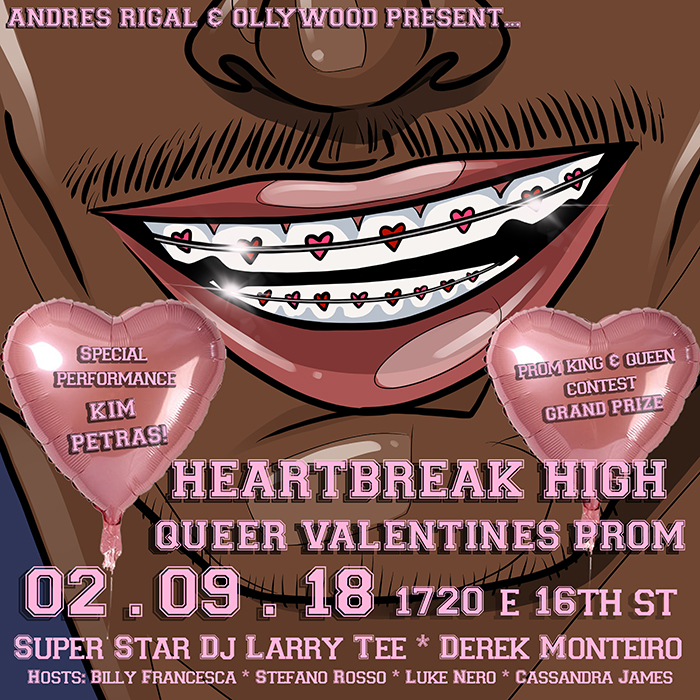 FRIDAY, FEBRUARY 2
FOX HOLE: LEATHER EDITION (MBL 2018 WEEKEND)
The Bullet Bar, 10522 Burbank Blvd. EAST NoHo CA 91601. 9pm–2am. Green Mirror Entertainment and Bullet Bar present a bathhouse theme party celebrating the golden days.
SATURDAY, FEBRUARY 3
THE GENTLEMEN 
Lyric Hyperion Theatre & Cafe, 2106 Hyperion Ave, Los Angeles, 8pm–10pm. Tickets & Info: thegentlemenplay.bpt.me An original comedic play about the infidelity that occurs when a beautifully handsome online "star" decides to break-up a seemingly perfect gay marriage.
OUT OF THE WOODS
Eagle LA, 4219 Santa Monica Blvd, Los Angeles, CA, 9pm–2am. An all-new social event where all types of fuzzy creatures are welcome. Featuring DJ Brian Novy and DJ Remo. No cover.
VIDEODROME DISCOTHEQUE
Moroccan Lounge, 901 E. 1st St., 10pm-2am. Info: themoroccan.com. Dance to Vintage Disco, Hi-Nrg, Italo, New Wave, Sleaze, and Classic Pop!
BIKES TO BROADWAY
Faultline Bar, 4216 Melrose Ave., 4pm–8pm. Join an afternoon of Drag Queens, Broadway Musicals, and fundraising. Hosted by Sister Bearonce Knows, a drag revue of some of Broadway's greatest hits performed by members of AIDS/LifeCycle's Team Cyclepaths.
LEARN TO CURL SUPPORTING AIDS/LIFECYCLE
Pasadena Ice Skating Center, 300 E Green St., 10:15pm–12:15am. One-night-only event benefiting AIDS/LifeCycle.
SUNDAY, FEBRUARY 4
VOICES—LGBTQ CHRISTIANS & ACTIVISTS
Central Avenue Church, 725 N Central Ave., 10am–11:30. Untangling the Mess with Kathy Baldock—a straight LGBT+ activist dedicated to repairing the division between social and Christian conservatives and the LGBT+ community.
THURSDAY, FEBRUARY 8
GAAAYS IN SPAAACE: LIVE LONG & BE FABULOUS!
The Three Clubs, 1123 Vine Street, Los Angeles. 6pm–10pm. Welcoming several members of the STAR TREK family as our Special Guests for the evening.
FRIDAY, FEBRUARY 9
DOG POUND: RUSH FLIGHT 
The Bullet Bar, 10522 Burbank Blvd. East NoHo, CA 91601. 9pm–2am. The focus of this Dog Pound will be moshing, socializing and working towards better unity within the pup world!
BROWN AND OUT FEST IV
Casa 0101 Theater, 2102 E 1st St., 8pm–10:30pm. A  collection of 10 world premiere short plays celebrating the Latinx LGBTQ+ experience.
SATURDAY, FEBRUARY 10
DILF PALM SPRINGS "DAMN DADDY" JOCK PARTY 
The Barracks,  67625 E Palm Canyon Dr #C7, Cathedral City, CA 92234. 8pm–2am. A Joe Whitaker & the DILF presentation. Music by DJ COREY CRAIG of New York spinning HOT DIRTY BEATS!
MATRIARCHY: LATE NIGHT LUST! 
Revolver Video Bar, 8851 Santa Monica Blvd, West Hollywood, 90069. 9:30pm–2am. This event is the day AFTER Valentine's Day when it's time to let your lust-monster out and exchange fluids! And by fluids we mean COCKTAILS!
THE 5TH ANNUAL BLACK & WHITE BALL PACIFIC BALLROOM
Long Beach Convention and Entertainment Center, 300 E. Ocean Blvd, Long Beach, CA 90802. 6pm–11:30pm. Supporting The LGBTQ Center of Long Beach.
SATURDAY, FEBRUARY 10
MR. FAULTLINE LEATHER CONTEST
Faultline Bar, 4216 Melrose Ave., 9pm–2am.  For more information, visit: faultlinebar.com.
SUNDAY, FEBRUARY 11
ONYX SOCAL-SOUTHWEST: OWNED! 
Eagle LA, 4219 Santa Monica Blvd, Los Angeles, CA 90029. 4pm–8pm. Come party with the men of ONYX SoCal-Southwest.
CELEBRATING JAMES BALDWIN—HERE AND NOW
Skirball Cultural Center, 2701 N. Sepulveda Blvd., 2pm–4pm. For ticket information, visit: skirball.org, An afternoon of readings and discussion focused on the life, contributions, and legacy of writer-activist James Baldwin.
SATURDAY, FEBRUARY 17
WEHO ARTS WINTER SOUNDS: PETER KAVANAUGH QUARTET
West Hollywood City Council Chambers, 625 N San Vicente Blvd, West Hollywood, 90069. 5pm–6:30pm. The 2017 Winter Sounds Free Concert Series.
MR. REGIMENT 2018 LEATHER CONTEST
Eagle LA, 4219 Santa Monica Blvd, Los Angeles, CA 90029. 9pm–12pm. The Regiment of the Black & Tans, the Mr. Regiment 2018 Leather Contest.
GEEK OUT UCR
Highlander Union Hioding (HUB), UC Riverside, 900 University Ave, Riverside, CA 92521. 11am–6pm  Free queer comic-con. Presented by UC Riverside's LGBT Resource Center and 4 Color Fantasies, with support from the Highlander Empowerment Referendum.
SUNDAY, FEBRUARY 18
LATRINE DUTY—YELLOW HANKY BEER BUST CELEBRATION
Rough Trade Gear, 3915 W Sunset Blvd., 2pm–5pm. Purchase tickets at latrineduty.eventbrite.com. Regiment of the Black and Tans, Rough Trade Gear and Bartholo, present for first time in Los Angeles, a party for those who love wet sports, piss, sex and fun.
SATURDAY, FEBRUARY 24
SALAD SATURDAYS 
Bar Mattachine, 221 W 7th Street, Los Angeles, CA 90017. 10pm–2am. DJ Sindri and Friends, Disco & Drag. Every Saturday. No Cover.