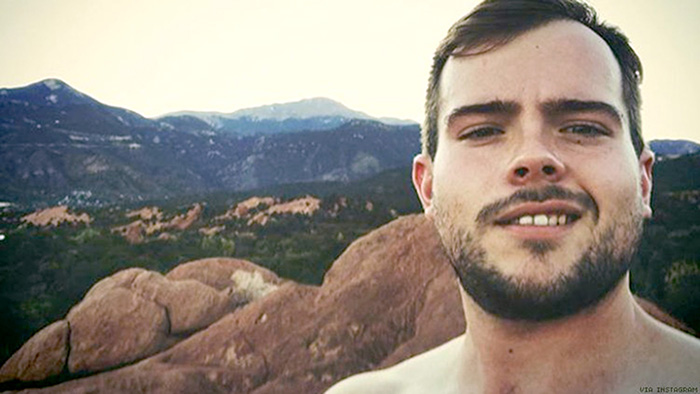 Our new Senator elect from Alabama has a 22-year-old gay son, Carson, who is handsome, single and (wait for it) a zookeeper by profession! I know. It's right out of a 21st Century made-for-TV movie."
It's A Thing!
Let's get one thing out of the way here. The Australian parliament passed a marriage equality bill, and they did so without adding a raft of antigay amendments. So good on y'all Mates, as we say here in Texas. It's about bloody time.
I believe I read that the parliament had tried to pass marriage equality but failed no less than 22 times before its recent victory. (Cue: slow clap.) It's because of these successive failures, each one accompanied by its share of gay news hype, that I vowed to ignore Australian marriage news until it was actually a thing.
In other good news that you already know about, our new Senator elect from Alabama has a 22-year-old gay son, Carson, who is handsome, single and (wait for it) a zookeeper by profession! I know. It's right out of a 21st Century made-for-TV movie. You can come up with almost anything for a plot. I like one where Carson invests so much of himself in caring for his animal friends that he has no emotional space left for anyone else.
After he befriends a small boy who spends lots of time at the zoo, he realizes that the larger world needs his contributions as well. When Carson tracks down the boy's family, he meets his gay uncle, a police officer in town, who has also been worried about the boy and the boy's disturbed addicted mother. During a life or death crisis at the elephant pen, the two men acknowledge their love for each other, the mother agrees to go into rehab and Molly the elephant saves the young boy from an injured escaped tiger (who also survives and lives happily ever after).
The Big Hard
Here's a first. We were in New Orleans last weekend and a waiter in a crab shack used the term lagniappe in conversation. I wanted to opt out of some hushpuppy thing that came with my catfish, and he told me the hushpuppy was just a lagniappe (a small extra treat) so I couldn't really switch it for something else. Nor did he try to explain the word, so it just felt as if everyone in the New Orleans area must be familiar with it. I'm not sure why that seemed so cool. But you know, New Orleans is cool, period.
I walked past the U.S. Court of Appeals for the Fifth Circuit and gave the building a curt nod of acknowledgement. One of the most conservative of all federal appellate courts, the Fifth Circuit has a bad habit of telling Texas, Mississippi and Louisiana what to do and what not to do. And it's usually not what we want to hear. Earlier this year, they gave the thumbs up to a state law in Mississippi that allows businesses and other service providers to reject GLBT customers on religious grounds.
That decision has been appealed to the Supreme Court, which has yet to decide whether to take the case. In early December, the Justices disappointed gay lawyers by refusing to accept review of a lesbian workplace discrimination case out of Georgia that could have made legal history on our behalf. They also declined to touch a Texas Supreme Court ruling that appeared to leave the door open for marriage discrimination, and they left a few other big cases in limbo along with the Mississippi lawsuit.
The Cake Is In The Oven
So the High Court is not on our "nice" list, shall we say, as 2017 draws to a close.
But it gets a little worse actually. On December 5, the High Court heard arguments in the famed Masterpiece Cakeshop case, the litigation that pits antigay baker Jack Phillips against the state of Colorado, which bans GLBT discrimination in public accommodations. We know we have four votes in our favor, but whither the fifth? Naturally, we assume that Justice Kennedy will tip the balance our way, but he seemed alarmingly sympathetic to Mr. Phillips and he seemed alarmingly annoyed at the Colorado officials who condemned the baker's behavior in previous legal contests.
Was that just a facade designed to shade nuance into a complex picture before offering a black and white opinion? Or does the gay rights champion now think that "enough is enough" and it's time for the other side to win one, much as a basketball referee might blow his whistle at the home team after calling fouls on the visitors four times in a row. Even if the home team didn't foul!
And finally, what about John Roberts? Some analysts believe he's turning ever so slightly towards the center, and most analysts think he finds Neil Gorsuch annoying (as does everyone else on the bench). Will he have an impact on our lives going forward? Maybe a small one? Look for the Masterpiece opinion this spring. It could be a killer. It could be a sigh of relief. It could be sent back on a technicality. It probably won't be a big step forward. Sad.
Banning The Trans Ban
In other highly significant legal news, two more federal court rulings came down hard on Trump's unexpected decision to ban transgender men and women from the military, again ruling that spontaneous tweets, unprompted by any discussion with experts, do not qualify for the kind of judicial respect usually accorded national security decisions by the executive branch. Trump lawyers have tried to trot out the notion that courts shouldn't interfere with Important Government Military Business, but in these cases, the courts aren't buying it.
Trump is also trying to suggest that because the deadline for the transgender ban isn't until next March, the petitioners don't yet have anything to complain about! Here again, courts have noted that the thousands of transgender soldiers and sailors, who face automatic discharge for no good reason, have every right to raise their complaints in a court of law.
So far, we have three rulings against Trump, Judge Kollar-Kotelly in the D.C. area, Judge Marvin Garbis in Maryland, and Judge Marsha Pechman in Seattle. Another federal case challenging the trans ban is pending in L.A. ,where Judge Jesus Bernal has heard oral arguments and should rule shortly.  At the moment, transgender applicants will be able to sign up for military jobs starting January 1, although some may be held back by Pentagon plans to require all gender reassignment treatment be completed 18 months prior to joining the service.
Just Say No To Bermuda
Finally, did you read about Bermuda becoming the first autonomous political entity in history to revoke same-sex marriage after it had been established. Yes yes, we had marriage in California before we didn't. (Mel and I got married in the 2008 window.) But that was ten years ago.
Now, Bermuda has passed a law outlawing same-sex marriage, which had been authorized by the Bermudian high court eight months earlier. The British Overseas Territory is part of Britain in some way that I can't figure out, but it is not controlled by Britain, so—well—they've just done this on their own, offering some domestic partner nonsense as an alternative.
True, it's just a little island. But it's essential to react. The reaction of the GLBT community and our allies to the North Carolina bathroom bill had a far reaching impact, and continues to serve as a warning to other states considering antigay laws. So now, I'd like to see Bermuda tourism wither and dry up like seaweed caught above the tide line. I'd like to see those pretty hotels start back-channeling discounts. I want the scooters sitting idle in front of the rental shops. I want the lawmakers to start lying awake at night, wondering whether they've done the right thing, whether they really thought this through.
I want Bermuda to suffer.
---
Ann Rostow can be reached at arostow@aol.com.