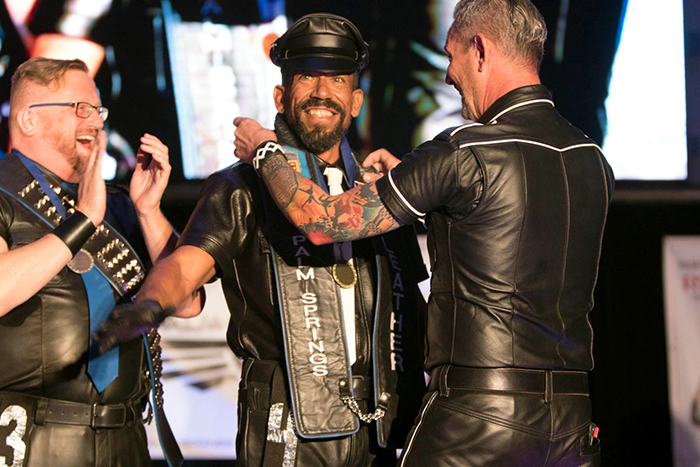 Jax Kelly, (M) upon winning the Mr. Palm Springs Leather 2018 title, last month.
Photo By Robert Green, Motorboot Photography.
Mr. Palm Springs Leather 2018 Jax Kelly: "It takes a lot of confidence to represent the leather community. And I enjoy learning from fellow leathermen."
BY JAX KELLY
I'm grateful to have been chosen as Mr. Palm Springs Leather 2018 and look forward to competing at the 40th anniversary of International Mr. Leather (IML 40) next Memorial Day weekend in Chicago.
One of the most difficult aspects of being in a leather contest is the point in the competition where I have only 90 seconds to deliver a speech. On its face, that sounds pretty simple, right? Most of us can talk about our day non-stop for more than 90 seconds.
At the contest I had judges I barely knew, an audience that came from all over the world, and a singular opportunity to tell everyone why I should win this contest. Or at least demonstrate what I had to say is worthier of the honor than my opponents.
For weeks I drafted outlines. I included being educated at Yale (B.A.), NYU (MBA) and Fordham Law (JD). I wrote about my awards for volunteer service in the Los Angeles HIV/AIDS community. My story about having only 44 T-cells and recovering from alcoholism were in there. None of that made the final cut.
I thought about writing about my move to the West Coast twenty-years ago with a partner who lived long enough to benefit from anti-retroviral medications. I wanted to include tales of my banking career in New York and my travels to Europe and Asia.
I also wanted to discuss how I rose up from bullying as a child—homophobia and racism as an adult.
Instead, I told a story about a person I met outside of a 12-step meeting in a Latino neighborhood of Los Angeles. I explained our common mixed racial heritage and our desire to stay sober and healthy as HIV-positive people. I revealed our shared interest in kink and BDSM.
I expressed a desire to raise awareness about long-term survivors of HIV/AIDS, AIDS Survivor Syndrome, and age-related illnesses. I mentioned my fundraising for a local non-profit, Let's Kick ASS—Palm Springs, a group that addresses those issues and more.
I can't say whether my speech tipped the contest in my favor, but I felt it introduced enough about me to make a point about who I am and what I cared about. As proud as I am about my accomplishments, they are better left for a résumé.
Besides, this experience is about leathermen! I am in this to celebrate that hyper-masculine, gay image that has been part of International Mr. Leather for decades. It is all about that smell, feel and look of a hot man in leather.
Don't be mistaken about what cranks people up about leathermen. I see it even when I'm dressed head to toe in leather at the airport. The brave ones start conversations about how much did my gear cost and where can they get it. The ladies and gents flirt with lines like "aren't you HOT in that?" full-well knowing the rhetorical nature of that question.
It takes a lot of confidence to represent the leather community. And I enjoy learning from fellow leathermen. I became a member of the Leather Archives and Museum to support the preservation of our history as an important, and often over-looked, segment of the LGBT community.
By the time this is published I will have led a class at Oberlin College on the impact of HIV/AIDS for people of color in the U.S. I am making travel plans to visit Cleveland, St. Louis, Dallas and Phoenix in December and Brazil in March. I look forward to being of service to the leather and LGBT communities wherever I go.
---
You can reach Mr. Palm Springs Leather 2018, Jax Kelly at JaxKellyPSP@gmail.com and most popular social media by searching for JaxKellyPSP.