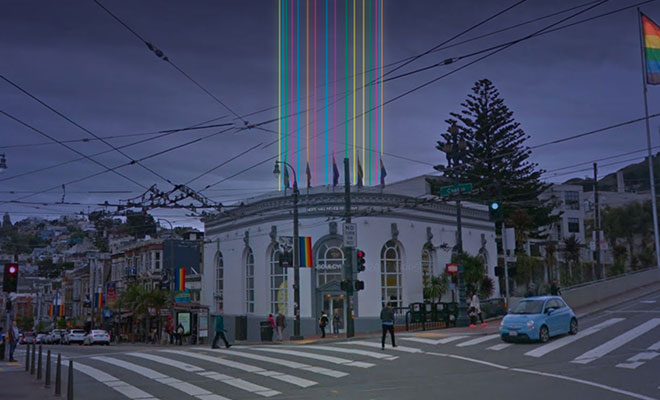 November 8th is the 40th Anniversary of Harvey Milk's historic 1977 election as California's first openly gay elected official. That night Milk returned to the Castro where he received a "tumultuous and moving welcome" home.
This November 8th, people will gather again at the famed intersection of Castro and Market streets to honor the life and legacy of Harvey Milk and reaffirm our commitment to equality for all.
In addition to speakers and performers, the 100% peaceful and positive gathering will feature the grand lighting of two signature works of public art.
Illuminate, a San Francisco group that creates public art via fabulous lighting, has created "Harvey's Halo," a rainbow beam of light above Harvey Milk Plaza at the corner of Market and Castro Streets in San Francisco. The light show, reports Queerty, launches November 8 in a public ceremony continue for seven days over two weekends.
Illuminate invite you to honor Harvey Milk's life and legacy by helping fund the cost of installing the artwork.
READ MORE HERE:
http://www.illuminatethearts.org/projects/honoring-harvey-milk-overview/