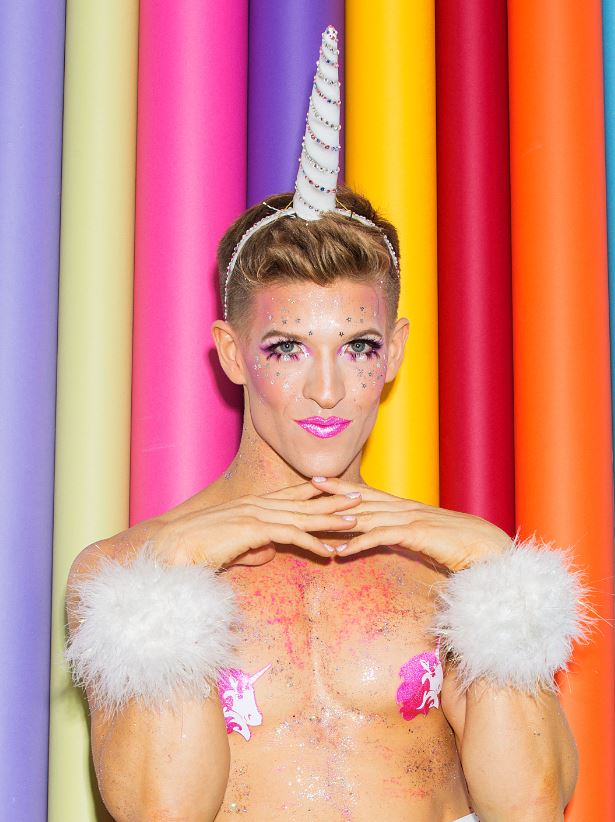 (Photo: Jake DuPree. By Ruben Chamorro/Cosmopolitan.com)
The City of West Hollywood will crown Jake DuPree, also known as Glitter Fantasy, as the Queen of the West Hollywood Halloween Carnaval.
DuPree is a shimmering web sensation as Cosmopolitan.com's first-ever Unicorn Correspondent.
The coronation will take place during the City's annual Halloween Carnaval, which will take place on Tuesday, October 31, 2017. There will be a brief program with West Hollywood Mayor John Heilman and members of the West Hollywood City Council, which begins at approximately 9 p.m.at the main stage (San Vicente Stage) located at the intersection of Santa Monica and San Vicente Boulevards.
As Glitter Fantasy, DuPree spreads sparkle, light, love, and acceptance with his unicorn food reviews and unicorn makeovers. His mission is to Make America Fabulous Again by dancing, prancing, and sparkling.
In addition to his work with Cosmopolitan.com, DuPree is a host and fitness personality for Pop Sugar Fitness, The Doctors, and Clevver. He is a member of the Actor's Equity Association and a fitness instructor. DuPree supports The Trevor Project and the Born This Way Foundation.
Staged over a one-mile stretch of Santa Monica Boulevard/Historic Route 66, from 6 p.m. to 10:30 p.m., the City of West Hollywood's annual Halloween Carnaval will feature several areas with live DJs who will entertain wildly dressed crowds for a one-of-a-kind experience.
The City invites Carnaval-goers to get into the spirit and show-off costumes by uploading photos to social media sites with the hashtag #wehohalloween.
More information about the event, including safety information, road closures, and parking and transportation options can be found via www.weho.org/halloween.