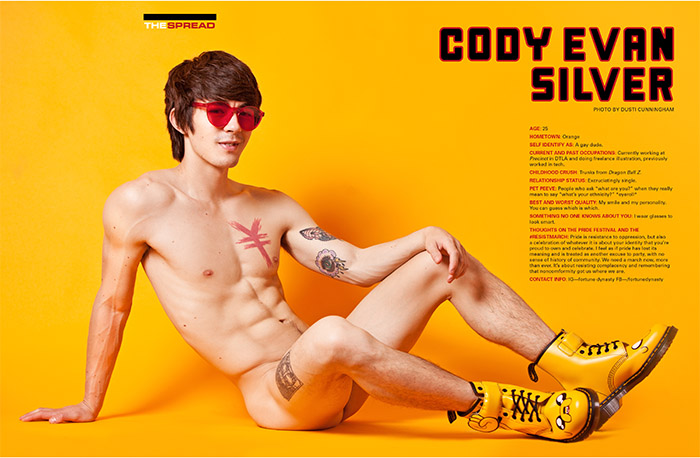 Cody Evan Silver
     PHOTO BY DUSTI CUNNINGHAM
AGE: 25
HOMETOWN: Orange
SELF IDENTIFY AS: A gay dude.
CURRENT AND PAST OCCUPATIONS: Currently working at Precinct in DTLA and doing freelance illustration, previously worked in tech.
CHILDHOOD CRUSH: Trunks from Dragon Ball Z.
RELATIONSHIP STATUS: Excruciatingly single.
PET PEEVE: People who ask "what are you?" when they really mean to say "what's your ethnicity?" *eyeroll*
BEST AND WORST QUALITY: My smile and my personality. You can guess which is which.
SOMETHING NO ONE KNOWS ABOUT YOU: I wear glasses to look smart.
THOUGHTS ON THE PRIDE FESTIVAL AND THE #RESISTMARCH: Pride is resistance to oppression, but also a celebration of whatever it is about your identity that you're proud to own and celebrate. I feel as if pride has lost its meaning and is treated as another excuse to party, with no sense of history of community. We need a march now, more than ever. It's about resisting complacency and remembering that noncomformity got us where we are.
CONTACT INFO: IG—fortune dynasty FB—/fortunedynasty