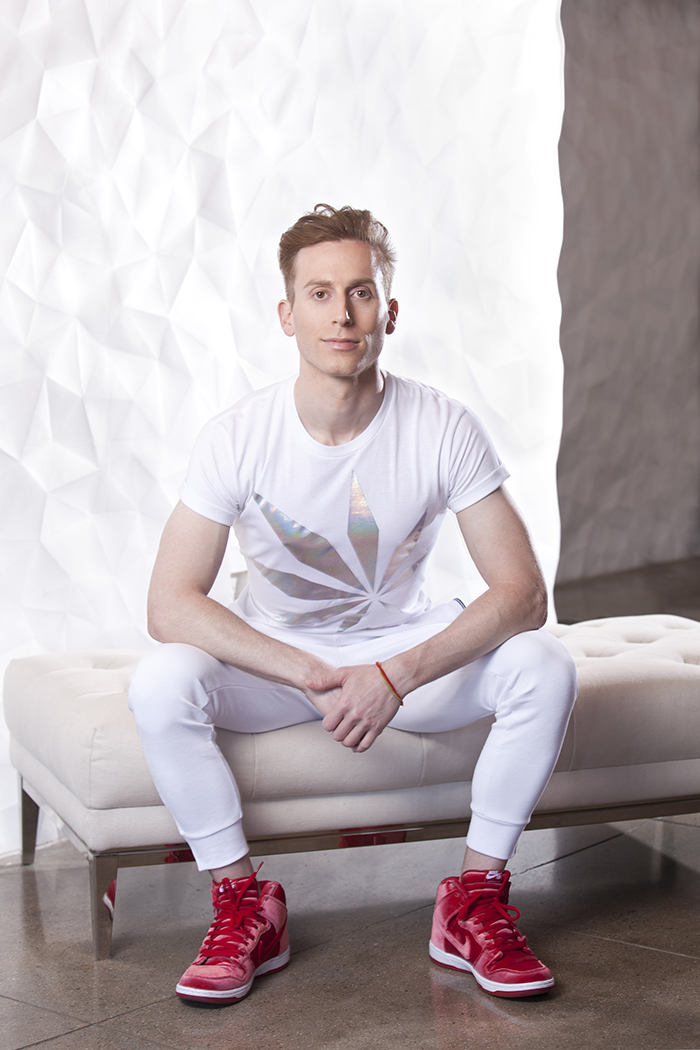 MedMen co-founder Andrew Modlin on reshaping the cannabis industry. 
BY CAITLIN DONOHUE  |  PHOTO BY DUSTI CUNNINGHAM
Over the course of his 10 year career in the marijuana industry, Andrew Modlin, oil painter turned brand designer turned co-founder of the SoCal based marijuana investment firm MedMen, has made it his firm's goal to bring professional standards and training to cannabis.
"I feel that MedMen is my canvas," says Modlin, a gay man, in an interview with THE FIGHT. "This is the biggest art project of my life. I want to create the first national, or even international, cannabis brand."
It all started back when Modlin and business partner Adam Bierman were running ModMen, their marketing and branding firm. "We were doing okay," Modlin remembers. "Then one day, we got a call from a medical marijuana dispensary that wanted to hire us."
The two were shocked at the amount of business their new client, a small Sunset Boulevard company, was doing. They decided they too wanted in on the green rush and 10 years ago, opened their own Marina Del Rey dispensary called Treehouse.
Through operating Treehouse, they learned that while the marijuana industry was flush with expert growers and passionate distributors, it lacked people with a background in skills like accounting, HR, employee training, inventory management. Sensing that they could fill this gap, Modlin and Bierman modified the name of their marketing firm to reflect a shift in focus. From now on, they'd be known as MedMen, and provide business support and training for budding (ahem) marijuana companies.
Today, the company specializes in turnkey management and has helped over 100 cultivation, extraction, production and retail businesses. MedMen currently has 10 facilities under management in California, Nevada, and New York. Last year marked the birth of their private equity fund, with to date has raised $60 million.
In addition to brains and organization, building an empire like this one involves faith that your industry is not about to be eradicated by zealous Republicans.
"Marijuana carries a particular set of circumstances, but there are ways to mitigate the risk if you truly understand them," he says.
Despite their big talk, says Modlin, there has been no former policy changes announced by the Trump administration in relation to the way that the US government will be approaching state legal marijuana industries. What's more is that current laws state the United States' Department of Justice is banned from using taxpayers' money to go after state-sanctioned medical marijuana operations.
"Every public poll in recent years show that the vast majority of Americans across the board favor legalization," Modlin says.
Lingering concerns over the industry's viability can be largely dispelled with a visit to MedMen's own West Hollywood dispensary. The Santa Monica Boulevard location eschews the sterile waiting rooms and reinforced glass barriers between customers and budtenders that used to characterize California's cannabis businesses.
Here, you get professionally grown and tested product displayed in a well-lit, walnut paneled showroom. Modlin is proud of the fact that the dispensary stocks thousands of products, from premium eighths of Pearl Pharma hybrid to a line of CBD-infused pet products.
The sleek design is indicative of MedMen's larger mission. "It is not just about changing the look of dispensaries, it is about fundamentally transforming how we deal with marijuana, taking it from its illicit drug status to a well-regulated, legal product for patients and recreational users," says Modlin.
Part of this evolution involves the acknowledgment that people from all walks of life are marijuana users. Modlin, who lives in the neighborhood himself, says that at MedMen's WeHo location both the clientele base and employees represent the same wide swath of Los Angeles society; "gay couples walking in, soccer moms, nine to five professionals, old, young," he says.
At 30 years old himself, Modlin sees this variegated employee and client base as an indicator of marijuana's evolving values. "If the tech industry reflected Gen X demographics and sensibilities, the cannabis industry very much reflects millennial demographics and sensibilities," he says.
The company also focuses on programming and events that reflect a changing world of marijuana. The West Hollywood dispensary donates cannabis to Being Alive, a local non-profit providing services to HIV/AIDS patients.
MedMen's focus on quality extends to extensive branding guidelines for all those associated with the firm. Gender neutral language is preferred and "we don't talk about stoners, we don't talk about sophomoric dispensaries," state the guidelines, which are available on the company's website. "We talk about the tremendous opportunities to shape this growing industry."
Modlin sees himself as proof that cannabis' focus has become more expansive. "I am not looking to make an impact in the cannabis industry as a gay man," he says. "I am making an impact on the cannabis industry, and I happen to be gay. I think it says something larger about what's going on in the cannabis industry itself."
"As marijuana comes out of the shadows and becomes more mainstream, it is opening itself up to a larger audience, both in terms of those who consume it and those who are looking for business or career opportunities," he continues. "Marijuana is not just for stoner dudes. It never really was."