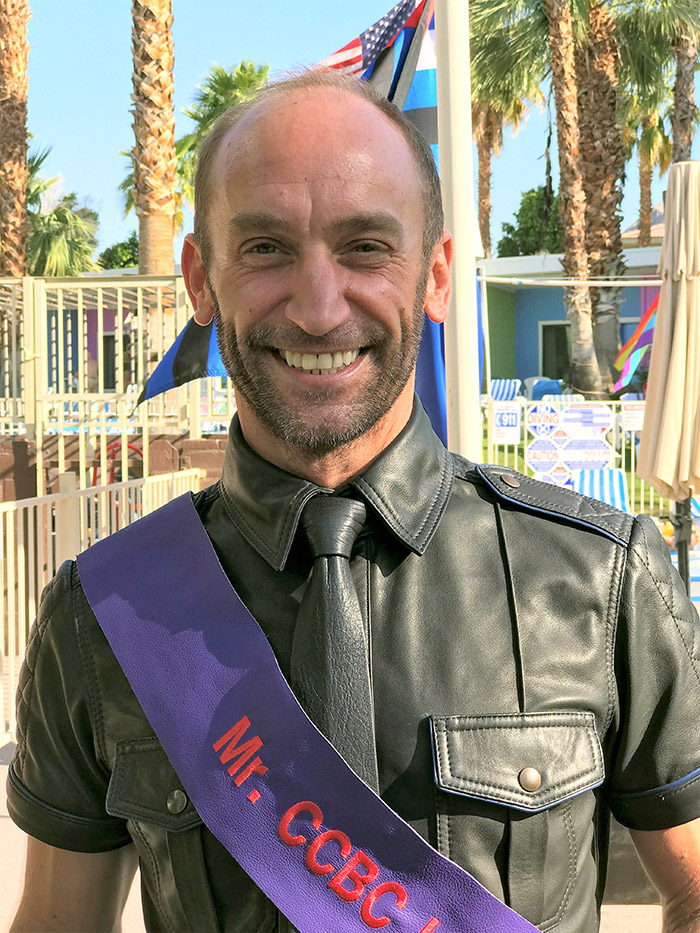 First Mr. Palm Springs Leather contestant selected for new class. 
BY VICTOR MELAMED
Mr. CCBC Leather 2018 John Thomas represents Cathedral City Boys Club—which itself is somewhat of Cathedral City/Palm Springs institution.
For years CCBC has been known as the gay men's getaway no holds bar resort. Recently undergoing a major renovation it continues be the home away from home for men of all kinds to get their kink off and sun on. Their first Mr. CCBC Leather John Thomas is no different. A native of Michigan, John is active in the Palm Springs Leather scene both exercising his kink and numerous turn-ons like group play, armpits, ass play and a hard on for leather daddies as well as supporting the needs of the community striving for a better way of life for all LGBTQ members of the greater Palm Springs area. John is working on his master's degree in healthcare and also in the process of launching a nonprofit foundation, Starcity to serve as a place where those involved in arts & entertainment can seek mentoring, advice, representation and even new skills set to get them to feeling fulfilled and contributing to their own wellbeing as well as society. It's no wonder John has a lot going on while in college he successfully competed junior Olympics.
John's looking forward to competing in Mr. Palm Springs Leather 2017 contest on Oct 26-29, 2017 which will be held at the Palm Springs Air Museum.