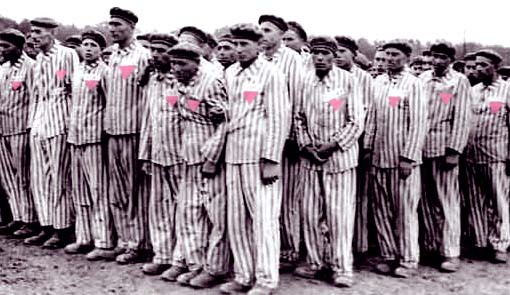 Last week the State Department issued a stern rebuke to the Russian Federation over allegations that Chechnya, a Russian republic, had extra-judicially beaten and detained over 100 gay men. Now reports are filtering out of Chechnya that this is no mere campaign of harassment and intimidation—but something much darker.
According to the Russian news paper Noya Gazetta, Chechen authorities under Ramzan Kadyrov—a local strong and close ally of Russian President Vladimir Putin—have set up at least one "secret" concentration camp where hundreds of gay men are reportedly held against their will, tortured, and even killed.
According to eyewitness reports and interviews with escaped detainees, a former military base in the town of Argun has been repurposed as a prison camp for suspected homosexuals, and the men who are taken inside are subjected to "electric shock torture and violent interrogation," in order to extract the names of other gay men. Others have been ransomed to their families.
Tanya Lokshina of Human Rights Watch wrote:
"For several weeks now, a brutal campaign against LGBT people has been sweeping through Chechnya.

Law enforcement and security agency officials under control of the ruthless head of the Chechen Republic, Ramzan Kadyrov, have rounded up dozens of men on suspicion of being gay, torturing and humiliating the victims.

Some of the men have forcibly disappeared. Others were returned to their families barely alive from beatings. At least three men apparently have died since this brutal campaign began."
When asked about the purge a spokesman for Kadyrov chillingly told reporters that "it's impossible to persecute those who are not in the republic."