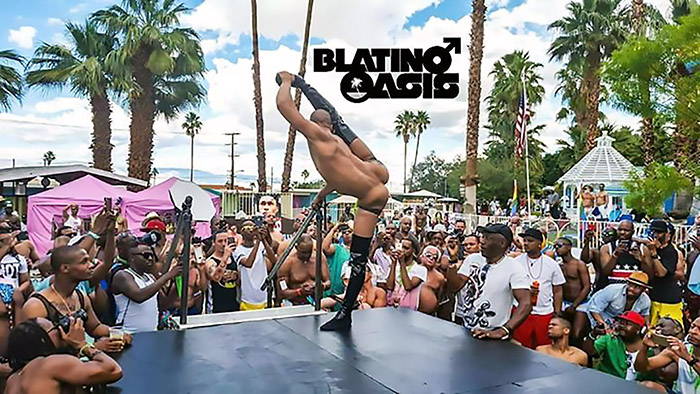 SEE THURSDAY, APRIL 27
SATURDAY, APRIL 1
MR. LOS ANGELES LEATHER 2017 CONTEST /  LEGION LEATHER DANCE PARTY
The Globe Theater, 740 S Broadway, Los Angeles. 7pm. More info: losangelesleatherpride.com. The class of 2017 assembled and ready to show you why they earned the titles they represent. Followed by Legion Leather Dance Party.
THE UNCONVENTIONAL CANVASES OF KEITH HARING 
Petersen Automotive Musem, 6060 Wilshire Blvd., Los Angeles, California 90036. 10am-6pm. Ongoing through June 4. At the foremost proponent of Southern Californian car culture, The Unconventional Canvases of Keith Haring is the first time that these five works have been shown together.
ROUGH SEX
Eagle LA, 4219 Santa Monica Blvd, Los Angeles, CA 90029. 9pm-2am. Info:www.EagleLA.com. A sexually charged gear night to meet like-minded kinky men.
QCC PRESENTS MOONLIGHT
Lure Films, 671 North Berendo St, Los Angeles, CA 90004. 7pm-10pm. Info: www.queercinemaclub.com. Queer Cinema Club is a community organization focused on celebrating prominent queer stories made for the screen.
SUNDAY, APRIL 2
VICTORY BRUNCH
LA Band of Brothers, Farmboy Kitchen, 1052 Vine St, Los Angeles. 11am-1pm. Join the gentlemen of the LA Band of Brothers to salute the winner and contestants for Mr. LA Leather 2017 at Farmboy Kitchen before heading over to the Off Sunset Festival! No cover—order off the menu and get 10% off.
OFF SUNSET FESTIVAL
Off Sunset Association, Santa Monica Blvd from Hoover to Sunset, 1044 Myra Ave, Los Angeles. 11am-7pm. More info: offsunsetfestival.com. Closing out LA Leather Pride in style, the Off Sunset Association produce one of the hottest events in town.
TUESDAY, APRIL 4
DIE KRÄNKEN: SPRAYED WITH TEARS 
ONE National Gay & Lesbian Archive, 909 West Adams Boulevard, Los Angeles, CA 90007. (Tuesday thru Fridays: 10am to 6pm Saturdays: 10am to 5pm closed on Sundays  & Mondays.) Info: http://one.usc.edu/die-kranken/. A group of artists formed in 2015 in response to the extensive holdings on gay motorcycle clubs in Southern California housed at ONE Archives. Taking its inspiration from these outlaw clubs, die Kränken's projects examine the significance and complicated history of these motorcycle groups through a variety of multimedia and performative strategies.
WEDNESDAY, APRIL 5
Outfest West Hollywood Series: HUNGRY
West Hollywood Library, 625 N San Vicente Blvd., 7:30pm. A documentary about three female chefs and restaurateurs who shatter the glass ceiling in the California food industry as they risk everything to achieve their culinary and entrepreneurial dreams.
FRIDAY, APRIL 7
THE RISE AND FALL OF ZIGGY STARDUST AND THE SPIDERS FROM MARS
Renberg Theater, 1125 N. McCadden Place, 7:30pm-10pm. The world theatrical debut of the Trans Chorus of Los Angeles (TCLA) and their performance of the planet Earth's first staged concert production of the full The Rise and Fall of Ziggy Stardust and the Spiders from Mars by David Bowie.
SATURDAY, APRIL 8
DILF UNDERWEAR/JOCK PARTY
UNION, 4067 W Pico Blvd., 10pm-4am. To purchase tickets, visit manupp.net. A hot night in your jock with L.A. daddies, bears, pups & sexy boys. Music by DJ Max Bruce of Los Angeles and DJ Nick Bertossi of Vancouver, BC.
LATIN NIGHTS 
RAGE, 8911 Santa Monica Blvd., 9pm-2am. For more information, visit ragenightclub.com. DJ SALVADOR plays your favorite Latin Music and Videos—21+ $3 Coronas until 10:30pm. HIP HOP room upstairs Go Go Dancers and Drag Performers.
SUNDAY, APRIL 9
ONYX SOUTHWEST PRESENTS: APRIL SHOWERS
Eagle LA, 4219 Santa Monica Blvd, Los Angeles, CA 90029. Info: www.EagleLA.com. Party with the Men of ONYX Southwest—beer bust.
FRIDAY, APRIL 14
PLEASURE & PAIN!
The Bullet Bar, 10522 Burbank Blvd, North Hollywood, CA 91601. 8pm-2am. Demonstrations and Guest Participation in Different Fetishes. Flogging, Bondage, Hot Wax, Electro, Needle Play. Silent Auction and Jell-O Shots.
SATURDAY, APRIL 15
BIANCA DEL RIO: NOT TODAY SATAN COMEDY SHOW
City National Grove of Anaheim, 2200 East Katella Ave., 8pm-9:30pm. Tickets available at thebiancadelrio.com/tour.  Season 6 winner of RuPaul's Drag Race, self-professed "clown in a gown," Bianca Del Rio continues her world-wide stand-up comedy tour.
TUESDAY, APRIL 25
JOHN WATERS SIGNS MAKE TROUBLE!
Book Soup, 8818 W Sunset Blvd, Los Angeles, CA. 7pm-10pm. Tickets & Info: http://www.booksoup.com/event/john-waters-signs-make-trouble. From an icon of popular culture, here is inspiring advice for artists, graduates, and all who seek happiness and success on their own terms. So what if you have talent? Then what? This is a book signing only.
THURSDAY, APRIL 27
DINING OUT FOR LIFE – LOS ANGELES
For more information visit diningoutforlife.com/losangeles. Join participating restaurants with your family and friends for breakfast, lunch, or dinner, and a portion of your check will raise funds that help APLA Health and Project Angel Food provide food, nutrition education, as well as essential medical care and social support services, to thousands of people living with HIV/AIDS.
BLATINO OASIS 2017
Palm Springs, info: www.blatinooasis.com. A sexy alternative getaway for gay and bisexual men of color from around the world. Socialize, party, and chill with adult men of all ages, in an environment that is more than just a place where you will feel welcome, but a place where you can feel comfortable being just who you are, without shame, without judgment.
SATURDAY, APRIL 29
THE DRAG QUEENS OF COMEDY
Orpheum Theatre, Los Angeles. 8pm. Go to Ticketmaster for tickets. The Drag Queens of Comedy features live performances by Alaska, Willam, Bob The Drag Queen, Sasha Soprano, Coco Peru, Lady Bunny, Jackie Beat, Peaches & Heklina and Lady Red Couture.
POOL PARTY 4ALC V2.0 
4001 Cherrywood Ave Los Angeles 90008. 1pm-4pm. Open bar, DJ Max Bruce, and plenty of surprises. All proceeds go to AIDS/LifeCycle 2017 which supports the Los Angeles LGBT Center.
RUPAUL'S DRAGCON 2017 
10am-4pm. Tickets & Info: http://rupaulsdragcon.com/about/. Spearheaded by RuPaul and World of Wonder Productions, RuPaul's DragCon provides a platform for fans of all ages and backgrounds to meet and interact with world-renowned celebrities and icons in a friendly and accessible environment.
UNITED PRIDE: CELEBRATING DIVERSITY
Eagle LA, 4219 Santa Monica Blvd, Los Angeles, CA 90029. 9pm. Info: www.EagleLA.com. Proceeds benefit BEARS LA and BEARS LA Charities.