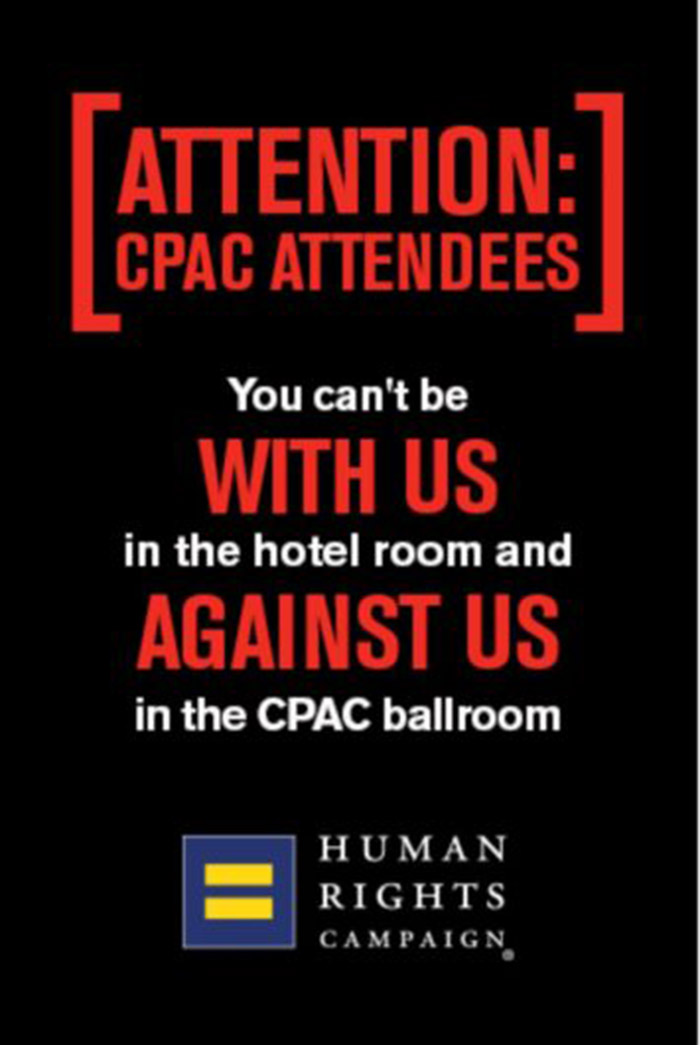 Apparent HRC ad on Grindr targets CPAC attendees.
BY ORLY LYNNE
Men using Grindr at the Conservative Political Action Conference (CPAC) last month may have seen a geo-specific ad purchased by HRC, reports Alex Bollinger at lgbtqnation.com
The CPAC is a large annual conference for conservatives held in the Washington, DC, suburb of Oxon Hill, Maryland. The CPAC's general attitude towards LGBT rights is not positive.
According to a Reddit post, the HRC sent out an ad on Grindr, with the following text: Attention: CPAC Attendees. You can't be with us in the hotel room and against us in the CPAC ballroom.
The implication being that there are certain men who oppose LGBTQ-inclusive policies and equality on a public platform, but change their tune when it comes to whom they "hook up" with.
Last year, Grindr told Broadly (broadly.vice.com) that usage increased in Cleveland around the Quicken Loans Arena during the weekend that the Republican National Convention was held. User also tended to be whiter: "When comparing Quicken Loans visitors to the Grindr community at large, the biggest trend is over-representation of white males. White men comprise only 40 percent of the Grindr community, but represent 75 percent of the visitors [at the RNC]."