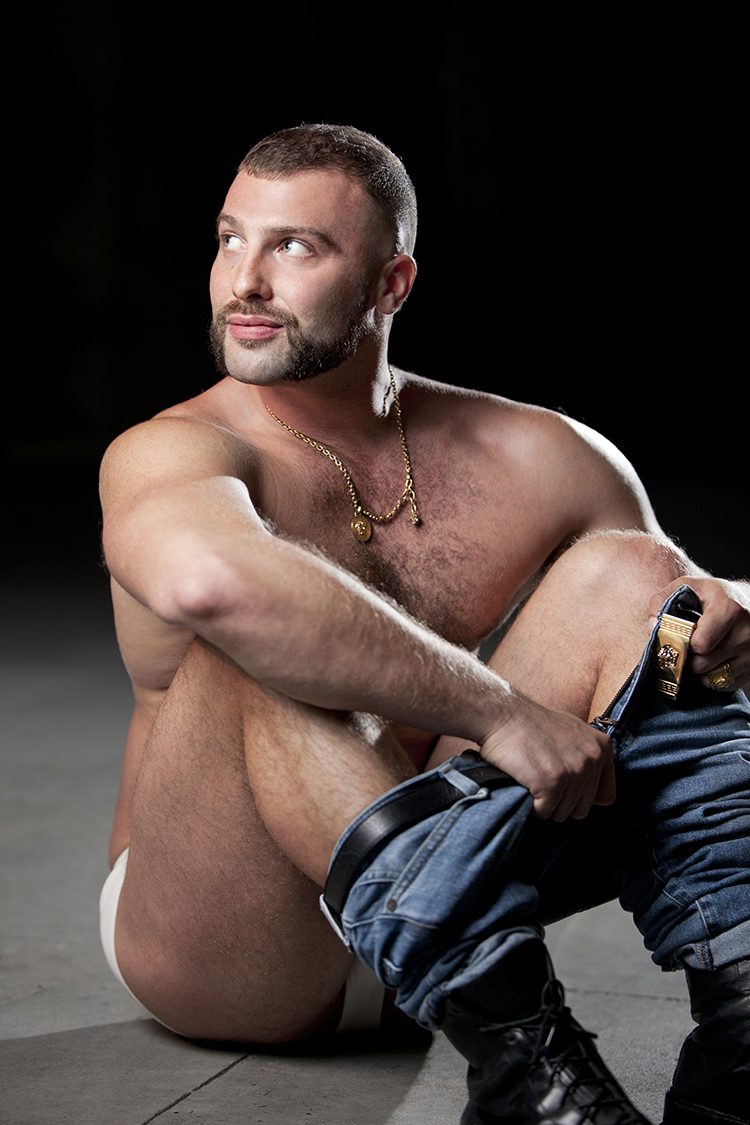 Daniel Randell on falling in love with a creative partner and bringing fashion into the toy space.
BY MARK ARIEL  |  PHOTO BY DUSTI CUNNINGHAM
Currently managing partner at AY Collection—a line of luxury fashion dolls by multi-media artist and designer Andrew Yang—Daniel Randell, 33,  has been immersed in various creative fields since childhood.
"I was a nerd," confesses Randell in an interview with THE FIGHT. "I loved costumes, comics, villains and the fashion around them. I could clock a time period and the clothes that belonged there. I knew my references…"
Originally from a small town in upstate New York, right outside of Woodstock, Randell's coming out was "a gradual process."
"Growing up in a single parent family, I actually pulled the punk move getting married. I never thought I would. But when he asked, it made sense and felt right."
"I was a queer, this was always clear, however I didn't identify as a gay man until I was in my mid 20s when I met my mother for the first time as an adult. I was raised by my father, who's also a creative, and exposed us to a lot of people and culture that I don't think I would have had in a more binary upbringing, so on the home front it was always a pretty open space. I remember early being told I can love who ever I wanted, period. That always stuck in the back of my mind as a subtle affirmation. Coming out was never an event. Just an 'oh, this is my new friend and he's not a girl.'"
Eventually Randell found his way into the world of fashion.
"I started working for a heritage stylist in New York who taught me a lot about the editorial and advertising worlds, and the realities around them. Working with top tier publications and brands like Italian Vogue, W magazine and Elle gradually helped shift my interests. I became more excited by the history of fashion, my mentor's place in it, and her evolution within the business. This took me to the publishing space where I created what started as an internal archive and then a book for Harper Collins of her 30 year body of work. This project took me full throttle into publishing, the licensing space, the legal process of creative ownership and beyond into the marketing and press elements."
BUSINESS AND ROMANCE
"During this time," reveals Randell, "I had also started working creatively with another artist in the fashion space—Andrew Yang. Andrew's work was unique. Trained as a designer, he created super high end and one of a kind products. He was discovered by Anna Wintour—while making couture fabric dolls based on runway looks. This launched him into retail fashion spaces and installations all over the world, Barneys New York and Japan, Galleries Lafayette Paris, Joyce Boutique and elements Hong Kong, as well as collaborations with beauty brand Lancôme Paris, Alexander McQueen, Marc Jacobs and more."
"When we met, he was developing a brand for a beauty mogul and had asked me to help create content and some branding around these new characters. I loved the idea of bringing fashion into a new space focusing on personal expression, play and openness. Coming from my previous experience, I was caring less about do's and don'ts and more about finding growth and bigger things. Andrew shared this vision and we started creating more and more work together, which eventually evolved into a full fledged new partnership and a little unexpected romance."
The romance flourished and after moving to Los Angeles the two eventually got married.
"It was super low key and private, just us and some witnesses. That's where I am a bit binary. I never really had a grand vision for a wedding. I sort of reveled in being stoic about it. Growing up in a single parent family, I actually pulled the punk move getting married. I never thought I would. But when he asked, it made sense and felt right. For the first time I saw the possibility. I embrace the commitment, and am up for a lovely, glowing challenge. It's pretty great."
Working together as a couple is "a lot less difficult than one would think," says Randell. "We both were very committed to our work when it was separate, and in unifying, we share the same goal. It makes it pretty clean on that end. You know the ins and outs. The challenge becomes about cultivating space in social contexts, the gym, outside the home, those little spaces. But we both try to be sensitive to the balance."
PERMISSION TO PLAY
"Our business has evolved quite a bit as we've entered the licensing and entertainment space," says Randell. "The development process is slightly different from our fashion brand collaborations. It moves at a different pace. Bringing fashion in the toy space has been our world, so it's interesting to continue to cultivate that in the classic toy space. It's become a bit of our signature. It's all about permission to play, a strong design, and a little bit of story. All the good stuff."
"Currently," reveals Randell, "we've been developing great licensed material around the signature dolls, consulting for content development as well as creating new toy products with a number of brands and classic toy companies. We'll be offering our first line of iconic classic super hero and villain dolls through Sideshow Toys. That's a little childhood dream come true."
---
Check out their website Andrew-yang.com for more details of their installation work and collaborations.