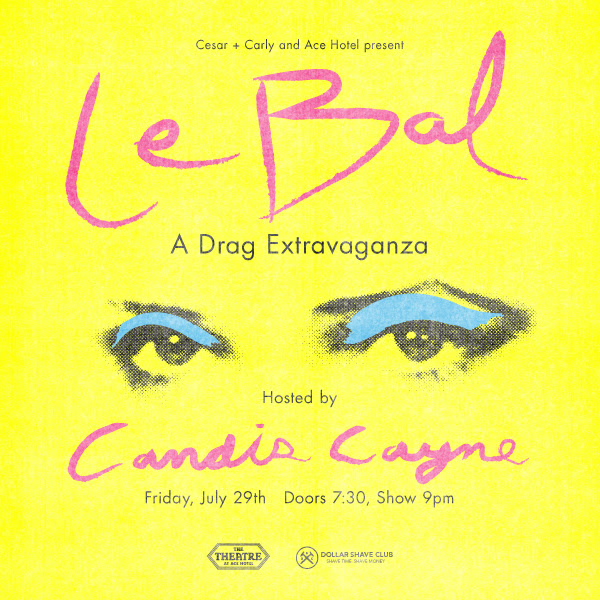 The fabulous Le Bal returns to the Ace Theatre, hosted by the legendary Candis Cayne this Friday July 29th! Seeking to celebrate the art of drag and revues of the ages, the last two installments brought earth-shatterning entertainment and revelry. Included in the line up this go round are Jackie Beat, Thorgy Thor and Manila Luzon! I look a minute to chat with the three about their upcoming performances. 
Tickets are still available (https://www.acehotel.com/calendar/losangeles/le–bal-july.)
Le Bal seeks to celebrate the art of drag, primarily by giving it a large stage and audience. How do you approach putting together a set that, to you, celebrates your own interpretation of the craft?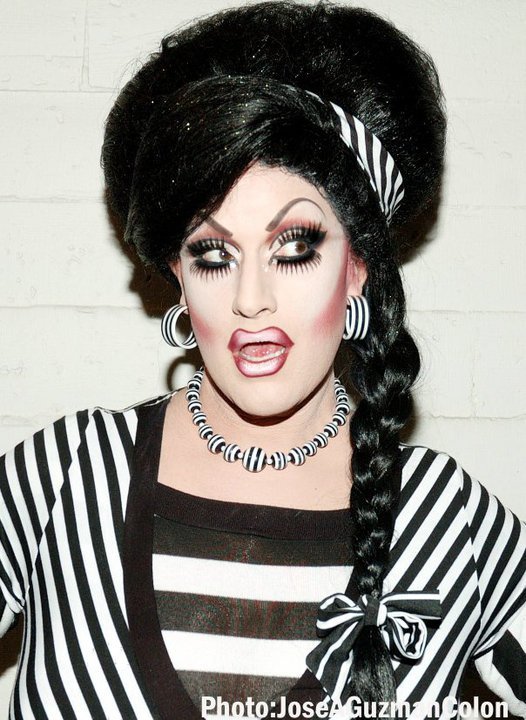 JACKIE BEAT I essentially do the kind of show that I would like to see. I also try to reach everyone in theaudience. In other words, if you're drunk or not too bright – and I am NOT judging – then you'll like my look and the dirty words. If you're sober and relatively bright then you'll appreciate the irony and layers of intelligence. You can't please everyone, but you can try to cover all your bases!
THORGY THOR First of all I love that you call it a craft. Thank you! Growing up a very artistic-minded individual,  I've always felt it difficult to choose one field of expression. Visual art, architecture, theater, sculpture, stagecraft, costuming, direction…. As a drag artist you can have so much fun decorating YOU to translate ideas in your head directly to an audience. I think in my own journey I've found solace in the craft a drag performance. Any audience that will sit and watch and appreciate is awesome! Now that I have the opportunity to travel to new cities and new stages and new audiences, it's important to me as a performer to know a little bit about the audience in every city, The venue I'm performing in, The space and confines in which I can express myself. In preparation for Le Bal, i want to stay true to my humor and have fun with a new edit of an old idea.  I'm also going to try and give the audience something that differs from the other brilliant drag clowns i'm sharing the stage with!  Diversity!
What is your favorite part of doing drag?
JACKIE BEAT Being a neither male nor female creature who can pretty much say and do anything. When you walk out on stage dressed like a rodeo clown/whore it's easy to get away with murder. No one takes what you're saying too seriously. Even if, ultimately, there is a serious side to it. You need to sneak in the "message." I guess drag is like carrot cake that way. You're eating cake, but you're also getting a serving of vegetables!
MANILA LUZON I enjoy the transformation from my regular male form to whatever goddess fantasy I've imagined in my head! I love the creation process from beginning to end. When I conceptualize a look in my sketch pad, I will go through many steps to make it as real as I can; costume construction, hair design, to how I do my makeup. I love all the steps from point A to Z.
Drag is (still) very much a queer art form and intrinsically tied to the LGBT community. Do you see your art as an extension in some way of your own queerness? Is community a driving force in your work?
JACKIE BEAT Of course. That's why I always call myself a drag QUEEN… Because the word "queen" to me is a reminder that the person beneath this character is Gay. Just like a straight guy into S&M would never call himself a "leather queen." So I don't call myself a gender illusionist or a female impersonator. I'm a drag queen! And after the recent Orlando attack I posted something on social media and some horrible troll commented with, "Just don't be Gay, problem solved!" as if we brought this on ourselves, I thought to myself, "You know what? Just for that I am now going to be three times as fucking Gay!"
MANILA LUZON Of course I'd never be a drag queen if I wasn't a flaming homosexual. And I wouldn't have found so much success without the amazing support of the LGBT community. Our community has to deal with so many heavy real world problems, so it's great to offer the fantasy within our nightclubs, our safe havens, to take our minds off things and lift spirits.
THORGY THOR Drag is absolutely still very much a queer art form, but you cannot deny the fact that shows like RDRace have made the art of drag very main stream and appealing to a much larger 'straight' audience.  As a performer who has been in drag years before Youtube and Rupaul's Drag Race, i always just NEEDED to live out the ideas in my head, regardless if they were exuded queerness or appealed specifically to the LGBT community.  I never tried to appeal to the queer community, i was just being me…. which has always been a little queer inside and out!   I have so many different ideas that i've put into my performances, so to answer your question, the queer community is not a driving force for my work.   I think it just happens naturally.  My first 'drag' performances were in the street, painted all in red head to toe, walking in slow motion for 2 hours because it was an idea!  During an early installation performance,  i wore a beard and mustache and cooked red meat on a grill and yelled at people who watched me.   Now I love to lip-sync to Mariah Carey too!
Jackie Beat, When you approach a parody, (generally speaking) do you have theidea of the issue you want to tackle, and then find the song that fits that concept, or do you choose songs that you want to sing and then work from there?
It can work both ways. Usually I'll be in my the car and hear an old song like Ghostbusters and I will suddenly hear "Tuckbusters" in my head. Then, as I drive I kind of piece together a song about drag queens having their tucks "busted" – in other words, getting erections while in drag. But sometimes I will specifically think, "I really want to do a song about the upcoming Olympics and what a total shit-show it's going to be" and then I will try to think of a song that could lend itself to that. Suddenly, I remember "Rio" by Duran Duran and the rest is history!
Manila, your looks are often a unique take on pop culture, and are always vibrant and conceptual. Can you you describe the process of having these made, from idea to fruition, and perhaps how that has changed or stayed the same over time?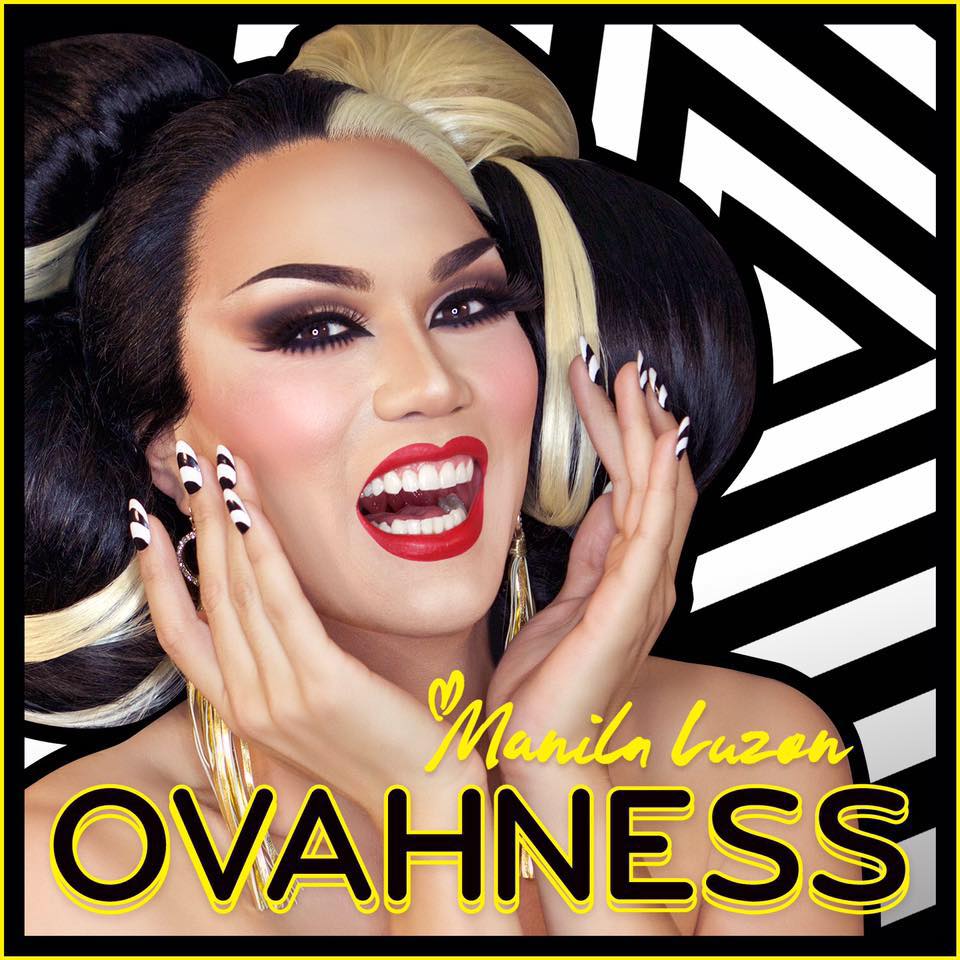 It all starts in my sketch book and I collaborate with talented costume designers to bring my look to life. But my concepts aren't just costumes and wigs. Most of the time my drag concepts are full on music videos. For example while writing my latest song "Ovahness" I was already thinking of the look, the feel and the storyline of the music video. I really enjoy putting everything together piece by piece to create whatever I I think up. My ideas are always evolving but always from the unique perspective of my imagination.
Thorgy, you touched on your dream of having a "Thorchestra" several times over the last year. What are your plans for this, and what do you feel is the most exciting part of combining classical music and drag?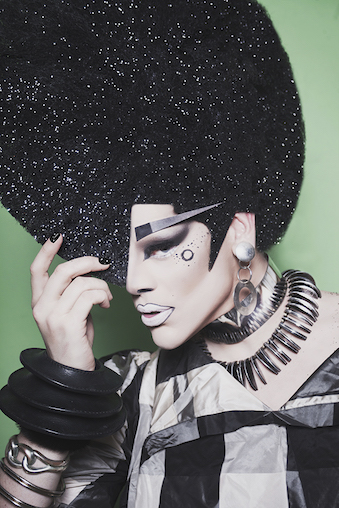 Good question!   This will most likely happen next year.  It's a large idea that quickly became overwhelming to produce in such a short time.  There is so much interest in this, but i'm in no rush to present a thrown-together show with an orchestra.  I've have a list of brilliant string players in New York that i've played with for years who have said "anytime you want me part of your drag orchestra, let me know!!".  So, it's been an idea of mine for YEARS to do this.   I will need to start a gofund me account most likely to see if I can't raise enough month to rent out spaces, and pay the players what they deserve.   Chartering a plane and flying 40 musicians around the world to perform is next to impossible for several reasons, so i'm hoping to plug on social media "HEY – I'll be in your town this week, if you want to be part of the Thorchestra show, rehearsals are this day and this day and performance on this day –  Email me if interested!"     So, i will get to meet and work with local musicians in every city without needing $50,000 to travel!  Again, a large project that i am working on.  I'm always happy to accept help or ideas to get this going, of course.  For now, i am touring a lot after the exposure on RDR, and enjoying every second of it!
Le Bal takes place Friday, July 29th at 9 pm at The Theatre at Ace Hotel (929 South Broadway, Los Angeles). $15 – $40 tickets are available now at the theatre's box office or online at  https://www.acehotel.com/calendar/losangeles/le–bal-july. The Theatre at Ace Hotel also offers in person ticket sale right under the marquee on Thursday, Friday and Saturday from 10am to 5pm. When you come in person you can grab tickets with lower fees. It's pretty great. Doors at 7:30pm, show at 9pm.