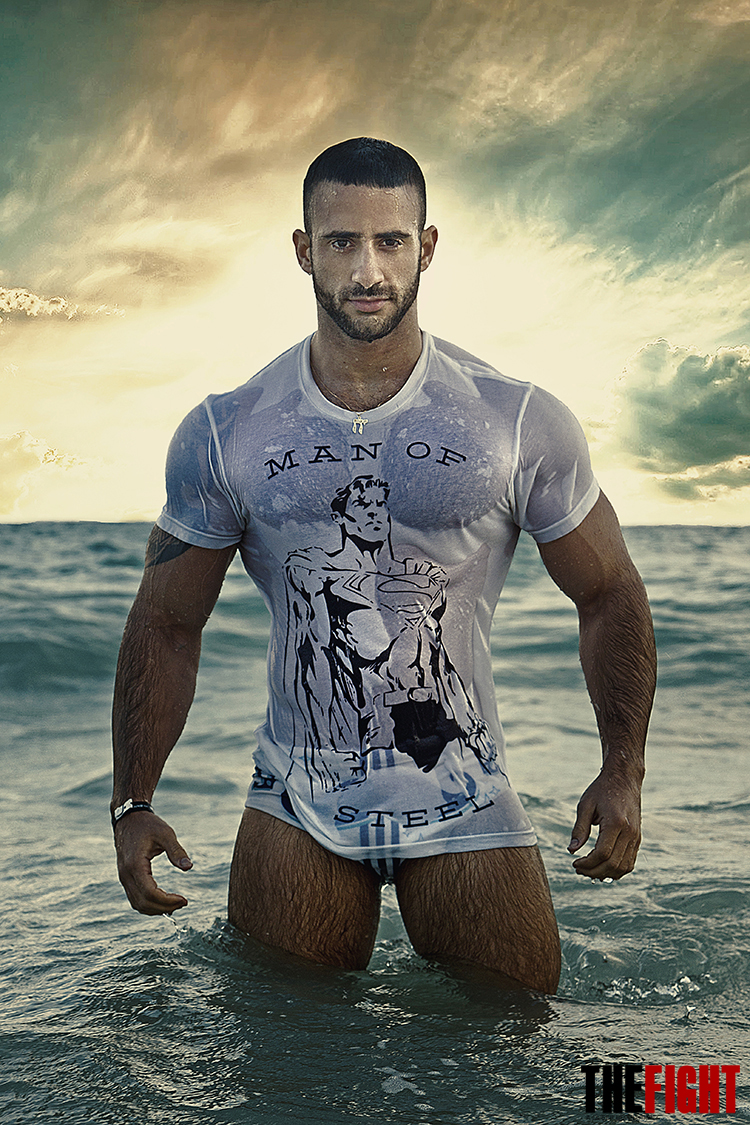 White Party's Eliad Cohen on growing up gay in Israel, his modeling breakthrough and parties with masculine vibes and music.
BY MARK ARIEL  |  PHOTO BY BRUNO OLVEZ
Eliad Cohen, 27, the host of White Party's "PAPA," in Palm Springs this month, is "the extreme embodiment of the contemporary Israeli gay man: He lives freely and openly, strives for success and self-actualization and makes no apology for his masculinity or sexuality," according to the prestigious mainstream Israeli newspaper Haaretz.
Aside from being a world renowned party promoter, actor, model and entrepreneur, Cohen, it would seem, may have what it takes to bring peace to the Middle East.  Photographs of him in underwear, a bathing suit or an Israeli Defense Forces uniform have become extremely popular, particularly on the Internet, receiving responses such as, "I want peace now with Israel after seeing you," reports Haaretz.
In an interview with THE FIGHT Cohen, originally from Acre, a small town in Northern Israel, talks about being gay in the army, his modeling breakthrough and parties with masculine vibes and music.
I came out after my army service… Looking back, I'm sure if I told [the soldiers in my unit] they would have accepted me, but at that time I didn't fully accept myself…"
What was it like growing up gay in Acre—a much more conservative town than Tel Aviv.
My childhood in Acre was actually a lot of fun. As a child I always felt that I had an attraction to men—but I didn't act upon it.  I competed in national judo contests and was number 3 in Israel… I even had a girlfriend for two years…
Being gay in Acre is alright in the sense that  no one will hurt someone because he's gay. Kids might laugh when they hear about it and and others will just think it's weird…
Now I'm totally out of the closet of course and all my family and friends from Acre know… In the beginning they were shocked, their perception of gay were the stereotypes they saw on TV, guys with pink t-shirts and long blonde hair dancing in an effeminate way.
But over time they learned to accept it and love me as I am.  Also—as the time goes by—the word "gay" isn't as negative as it used to be—at least in Western cultures.
When did you come out—and how was it for you? 
I came out after my army service at the age of  21.
I already had a boyfriend, which gave me more confidence. I told my mom first—she was very shocked and it was hard for her in the beginning—but within two months tine she was already cooking food for the weekend for me and my boyfriend and she came to visit us in Tel Aviv… My mom is just amazing [smiles]…
After telling her I felt like a huge stone had been lifted from my soul  and it made me really happy! No more lies—just be myself.
What was it like being a closeted gay man during your army service?
I was in a special, small unit and my friends there was like real brothers to me… we took showers together and even slept hugging one another…
Looking back, I'm sure if I told them they would have accepted me, but at that time I didn't fully accept myself, so even if they were accepting of me I would not have felt comfortable anymore to take showers and sleep together because I would have been worried that they would  think I was looking at them in a different way —even if that wasn't the case.
After I completed my service I told my best friends that I'm gay—they didn't believe me in the beginning— but after  they realized that was the truth—they were really cool with it— they told me that they love me as I am—and they even came with me a few times to gay parties.
You were the cover model of the Spartacus International Gay Guide for their 2011-2012 issue. How did that come about?
Right after the army I moved to Tel Aviv. I  was a personal trainer during the day and  a bartender at night.
One Saturday night I was working at a bar on the beach. Two guys from Berlin came to the bar and told me that they are doing article about Tel Aviv and asked if I would mind them taking a photograph of me for the article. I said sure, no problem.
About a month after the photo was published and I received an email from Spartacus saying that they wanted me to be on the cover of 2011—2012 issue. This was my first modeling job.
What exactly is the "PAPA series?"
I started PAPA Party six years ago at the Tel Aviv Pride Festival. I decided to call it PAPA because in Hebrew (and other languages) it is the slang term for a very hot masculine guy. I added a mustache to the logo because that also—to me—represents a sexy masculine guy.
The idea of PAPA in the beginning was about a party with masculine vibes and music.
As time went by the PAPA Party become more and more mainstream and now it's whole production with an LED screen and special visual arts, lighting, the hottest go-go dancers on stage and the the best DJs in the world.
What can you tell us about PAPAWEAR?
I started PAPAWEAR two years ago. In the beginning it wasn't for sale actually… one day I wore an "I LOVE PAPA" swimsuit to the beach and a lot of people approached me and asked where they could buy it … so I got in touch with a designer friend from Colombia—Miguel Estavez—and we decided to make a cool collections for all the PAPITOS!
How did you get involved with White Party?
Jeffery Sanker and I had a common friend—he initiated the connection between us. After the first 10 minutes of talking on FaceTime— we felt like good friends that have known each other for a long time . We have a really good connection and we liked and appreciated each other's the work…
We had our first PAPA in Los Angeles  on Valentine's Day  this year—and the party was a huge success—with amazing energy!
A few days later Jeffery told me that they want PAPA to be the closing party of White Party.
Is there anything we haven't asked you that you would like to share with our readers?
I hope to see you you all at White Party in Palm Springs this month! We are preparing an amazing high energy show with awesome music.
In the end it's all about the PAPITOS and the energy they bring that makes PAPA Party unique. I'm sure it gonna be unforgettable night!
---
Meet Eliad Cohen at PAPA—the White Party's closing party in Palm Springs— April 8-11, 2016. For more info go to www.jeffreysanker.com.
---
For more about Eliad Cohen—go to www.eliadcohen.net.