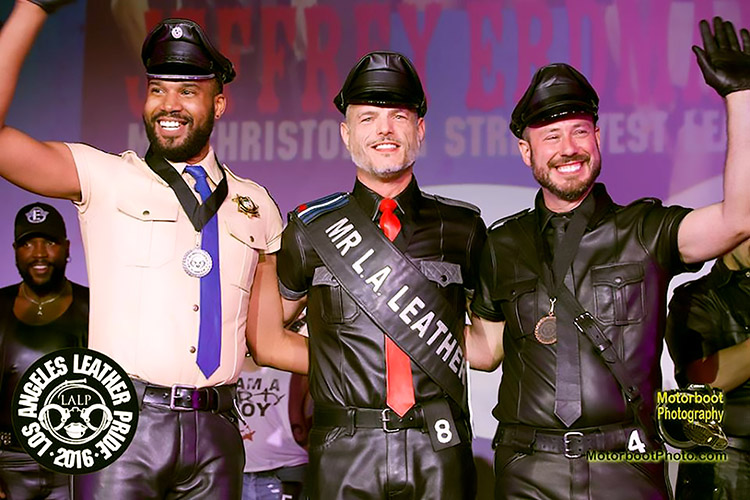 Mr. Christopher St. West Leather Jeffrey
Erdman wins the title of Mr. L.A. Leather 2016. 
BY PAULO MURILLO  |  PHOTO BY MOTORBOOT PHOTOGRAPHY
Jeffrey Erdman made history at Los Angeles Leather Pride this month for being the very first Mr. Christopher St. West Leather man to win the Mr. L.A. Leather 2016 title.
First runner up is Mr. SoCal Leather Eric Slayton; second runner up is Mr. Sister Leather Joe Gregory.
Erdman will now go on to compete at this year's International Mr. Leather (IML) competition in Chicago in May.
In an interview with THE FIGHT, moments after his name was announced as the winner, Erdman talked about what winning the title means to him, how he plans to use that title as a platform to bring awareness to an older LGBT generation and what he hopes to get out of IML.
I want to be able to use this as a platform to use my voice and speak out for positive changes—especially in my generation…"
Congratulations on your win! You're the first Mr. CSW Leather man to win the Mr. L.A. Leather title. How does that feel?
I can't breathe. I tend to hold my breath a lot. Oh my goodness. I feel amazing. This is really a rush. It's really exciting. I had no idea when I started this journey that this was going to happen.
Did you think that you were going to win?
Going into it, I thought there was no chance. I was the first contestant and I saw all the contestants come after me and I thought he's amazing, he's going to win. I didn't think this would happen until we started prepping for the contest and it was coming together and I thought, this could actually happen. People were asking me, do you really want to win? I had to ask myself the same question and thought, fuck yeah, I really do want to win.
What does wining this title mean to you?
It means a lot of things. It means respect from my community, which is really important to me. I really cherish earning people's respect and that I'm worthy of that respect. What I hope to really do is turn that respect into great things for our community. I want to be able to use this as a platform to use my voice and speak out for positive changes—especially in my generation, because I'm representing an older generation and that's an important thing I want to bring to the title, at least I hope so.
What are some of the issues you are passionate about?
When I did the work around meth addiction in my generation, it was a very particular part of our community. It was also very significant to me that more than half the people living with HIV today are over 50. There is a huge population of long-term survivors. That's very important for me, but then I started looking at the bigger picture around housing and concerns about isolation. Elder gay seniors are very likely to be isolated and fall into depression and fall into more serious complications, so we have to get them out of isolation, get them out of their homes and around people who love them and care for them. That's what I'd like to do, is provide more service and more opportunity for seniors to come together with other people.
Are there other issues you'd like to address down the line?
Yes, there are obviously many things that need to be done or can be done. I have a 20 year-old son who was homeless at the age of 13. He was HIV positive and living in shelters and I was with him and mentored him into getting into college and he's finishing his second year, and that's really been my personal journey and I hope I continue to do that kind of work with gay youth and show them the importance of education.
---
For the complete interview with Mr. L.A. Leather 2016 Jeffrey Edman—go to thefightmag.com.